This is my favorite hummus recipe and it comes together in only 5 minutes with very few ingredients. Using canned chickpeas is key! So if you ever feel a sudden craving for smooth and luscious hummus, here you go.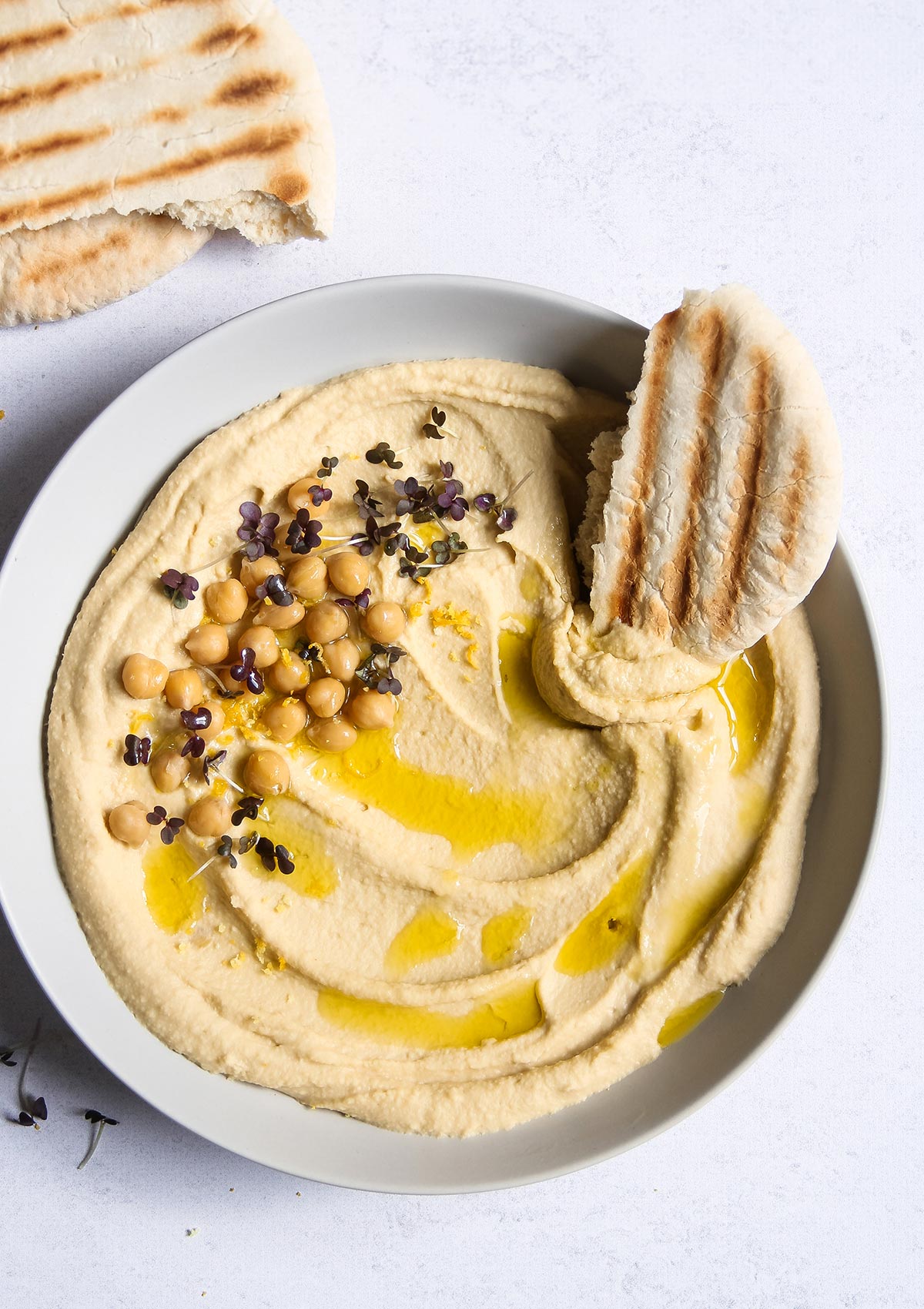 Making hummus yourself is super easy and will be far tastier than the deli-containers of store-bought hummus, which I often find too acidic and salty. You'll only need a handful of ingredients and a blender.
Dry chickpeas versus canned
I admit it: I am a huge fan of canned chickpeas, especially for using them in hummus, chickpea salads, and curries. They make a great staple, so I always have them at home. They are ready to use and do not need to cook for hours compared to dry chickpeas.
Taste precooked, canned chickpeas from different brands to find out which ones you prefer. Often times they are even better than home-cooked chickpeas because they are cooked to perfection (not mushy but rather slightly crunchy) and they taste delicious.
Especially in summer, when it's hot anyway I am not in the mood to turn on the stove and cook chickpeas for hours, making the apartment even hotter. When buying them pre-cooked, they are slightly more expensive though. But considering increased energy prices and cooking them for a long time, I am not sure that they turn out considerably more expensive in the end.
Hummus with canned chickpeas
Smooth and creamy, and ready within minutes: This is my favorite hummus and perfect for sudden cravings.
For hummus I prefer slightly more tender pre-cooked chickpeas than, for instance, chickpeas used in salads. Why? Because if you blend them, they won't turn out coarse but make for a really soft and smooth hummus.
If you want to go the extra mile for an extremely smooth hummus, cook the canned chickpeas in slightly salted water for 10 minutes. This may sounds strange, but the extra cooking time will soften them further and get you that smooth texture even if your blender is not that powerful.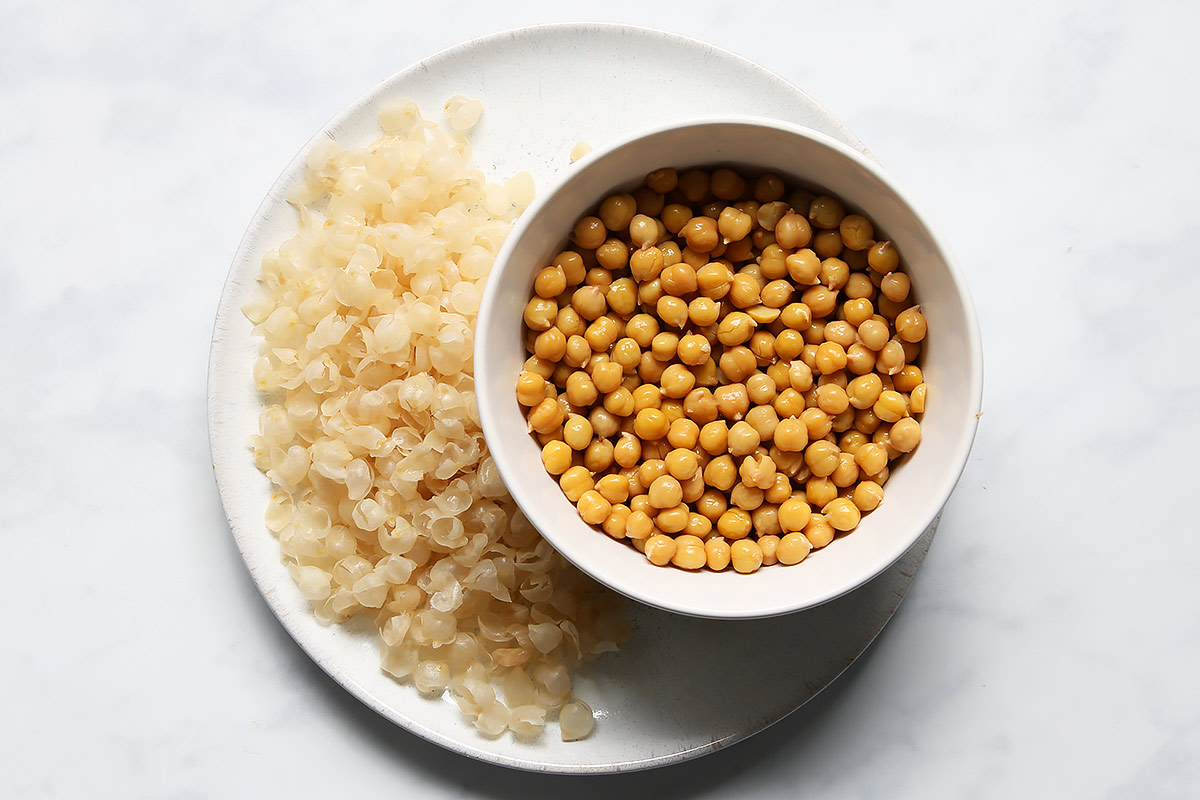 Another alternative for a very smooth hummus is to peel the chickpeas before processing. But I admit: Usually I skip the extra effort and do not cook nor peel the canned chickpeas before blending. With a rather powerful blender, the hummus will be creamy, fluffy, and smooth anyway.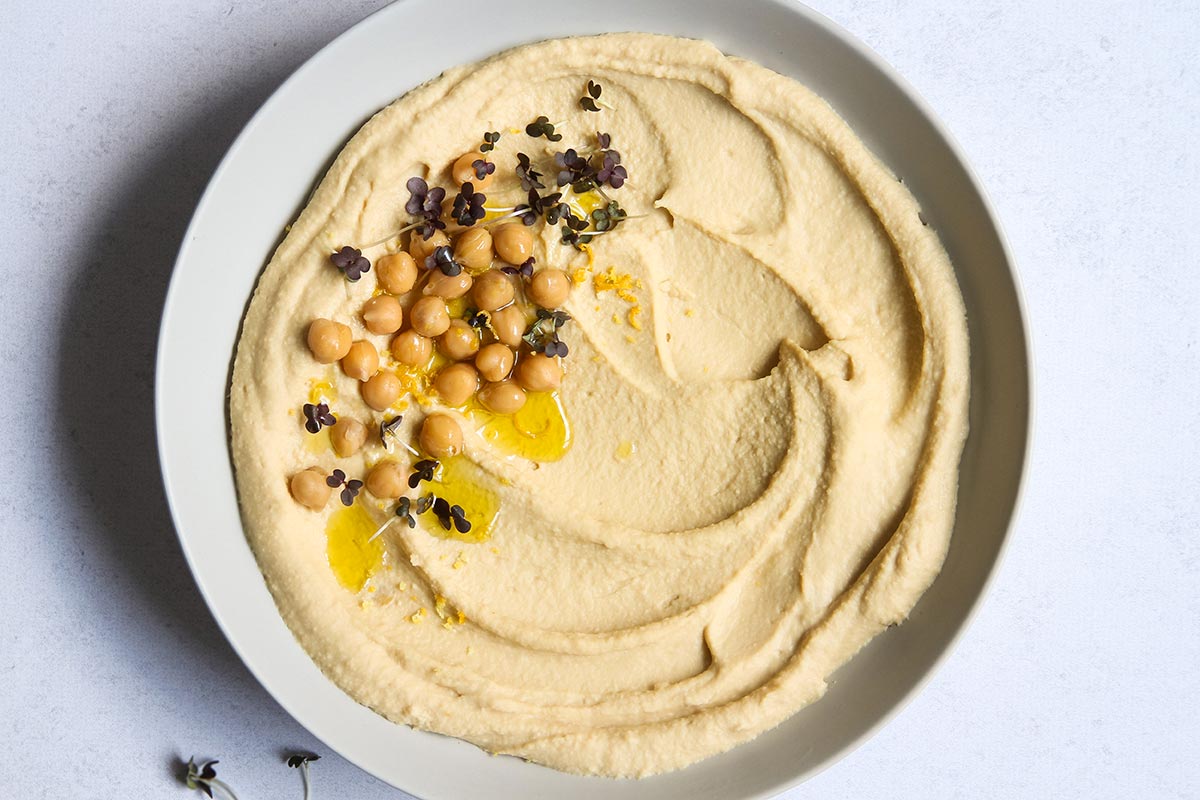 Enjoy!
This smooth and creamy hummus comes together in only 5 minutes with very few ingredients. Using canned chickpeas is key!
Recipe: Ursula | lilvienna.com
Ingredients
1 (15-ounce) can chickpeas (1 can is about 9 oz/255 g or 2 cups drained, cooked chickpeas)
1 small clove garlic
2 tablespoons tahini (2 tablespoons = 30 g)
1 1/2 tablespoons freshly squeezed lemon juice, plus more as needed
1/4 teaspoon fine salt (more if using 'no salt added' canned chickpeas)
1/3 cup cold water (1/3 cup = 80 ml)
1 tablespoons extra-virgin olive oil (optional)
For garnish (optional): Olive oil, grated lemon peel, micro-greens
For serving: toasted pita bread, pita chips/wedges, fresh bread like Focaccia, Baguette, or Ciabatta, raw sliced vegetables, or my favorite easy no-yeast naan
Instructions
Drain the chickpeas into a strainer and rinse.
Peel garlic and coarsely chop so that it will evenly distribute when blending.
Combine the chickpeas (reserve some for garnish if desired), chopped garlic, tahini (stir before using if there is an oil layer on top), lemon juice, salt, and water in a food processor fitted with the blade attachment or in a blender.
Blend hummus several minutes until smooth. Scrape down the sides of the bowl as needed. Add olive oil and briefly blend again. The olive oil is optional but adds to a full-bodied taste.
Taste and adjust seasonings. Add more salt or lemon juice, if needed. If the hummus is stiffer than you'd like, add a little more water to make the hummus creamier.
Transfer to a bowl, garnish, and serve.
https://www.lilvienna.com/quick-hummus/
Quick Hummus with Canned Chickpeas (5 minutes)
was last modified:
March 17th, 2023
by