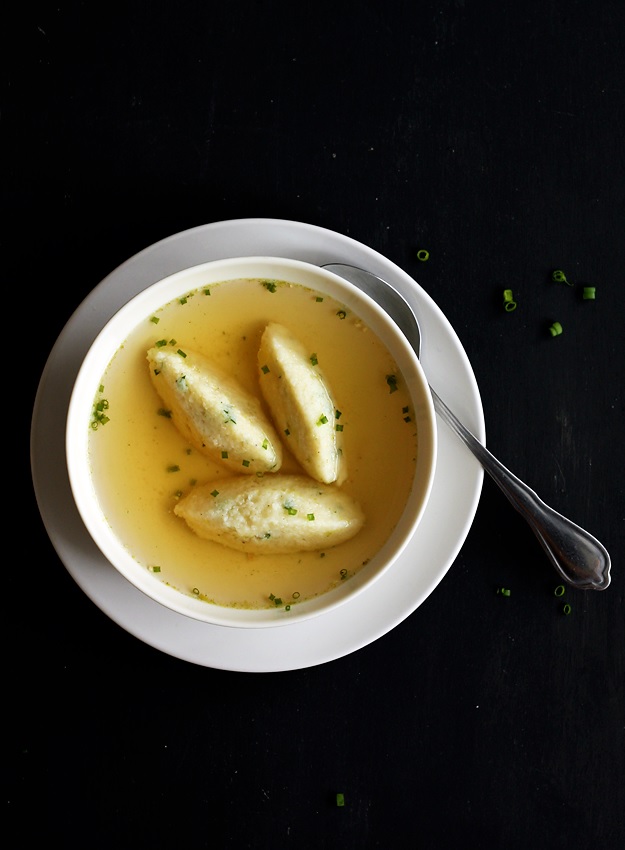 These famous soup dumplings (Griessnockerl-Suppe: Griess = semolina, Nockerl = dumpling and Suppe = soup) are served in most traditional Austrian Gasthäuser (restaurants) and are also very common in Bavaria, the southern end of Germany. Barely without exception, they are floating in a bowl of homemade clear beef stock.


Austrians usually enjoy soups as first course, with only a few high-calorie exceptions. Therefore, your semolina dumpling soup would be followed by a Wiener Schnitzel with potato salad and some Torte or apple strudel for dessert ;-). So don't plan more than 2 or 3 big dumplings per person, if you serve the soup as first dish.

Since the majority of us doesn't cook three course meals for lunch or dinner on normal days, I usually eat about 4 Nockerl as main dish, with lots of soup. Not that traditional Austrian, but also very delicious are these dumplings in clear vegetable soup.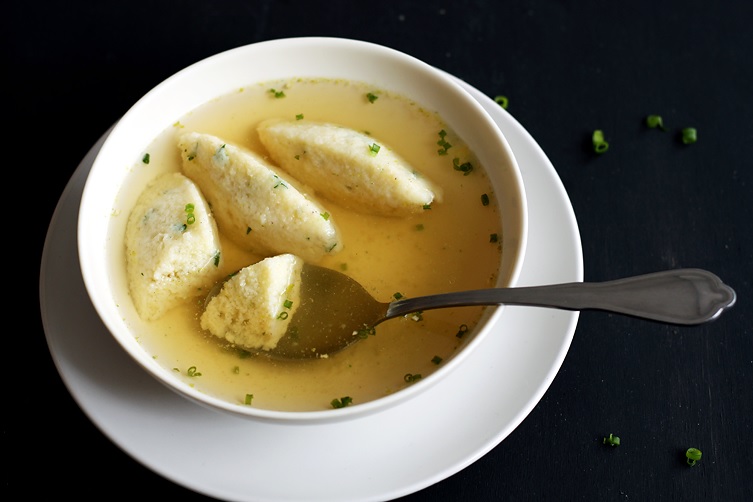 The recipe itself is pretty simple. You will only need a handful of ingredients.
But there are a few things, you should keep in mind:
First, the type of semolina. I'm using coarse ground wheat farina (farina meal), white-beige in color, called Grieß or Griess in German (this type). Apparently, it is not only very common in Europe, but also in India. I found this type of wheat semolina in an Indian grocery store under the name Sooji.
When you have mixed all the ingredients with an electric hand mixer, the dough batter has to rest in the fridge for 15 minutes. This way the semolina can absorb some of the liquid and the batter gets firm.
Something that can be a little tricky is forming the Nockerl for the first time. I'm showing you how to do so in this video. The batter in the video is actually from making curd cheese dumplings, but it resembles semolina dumplings consistency-wise.

 
Some people shape all of the batter into Nockerl before dropping them into hot water, others drop them into the water right away when finishing a dumpling. I do the latter. The dumplings are usually shaped with two soup spoons, yielding in big Griessnockerl. To avoid the batter sticking to your spoons, dip them into hot water first.
You can cook the dumplings in either generously salted water or stock. I think they taste somehow better when cooked directly in broth. However, if you do so, you'll end up with some dough pieces floating in your soup. Especially for the first attempts, I would suggest, you choose the salted water version.
Troubleshooting: Why are semolina dumplings falling apart?
The three main causes for semolina dumplings to fall apart while cooking are the following:



● First, the water temperature is too high and your water is boiling too much. Keep in mind, it should only simmer gently when you drop in the dumplings. After 5 minutes, reduce the temperature and just let them simmer on minimal temperature.
● Secondly, the dumplings tend to dissolve if the batter is too soft. Please really let the batter rest for 15 minutes in the fridge, so the semolina is able to absorb some of the liquid and get firm.
● The third common error often occurs during shaping. You have to shape them tight, with no visible voids. The dumplings should have clear edges and smooth surfaces. If shaping them with two spoons is too difficult for you (lern how to here), wet your hands and shape them with your hands. This way, they will not look perfect but at least, they are not falling apart.

Enough talked about the errors and what could possibly happen. This dish is a real Li'l Vienna treat, so I'm sure you will succeed right away!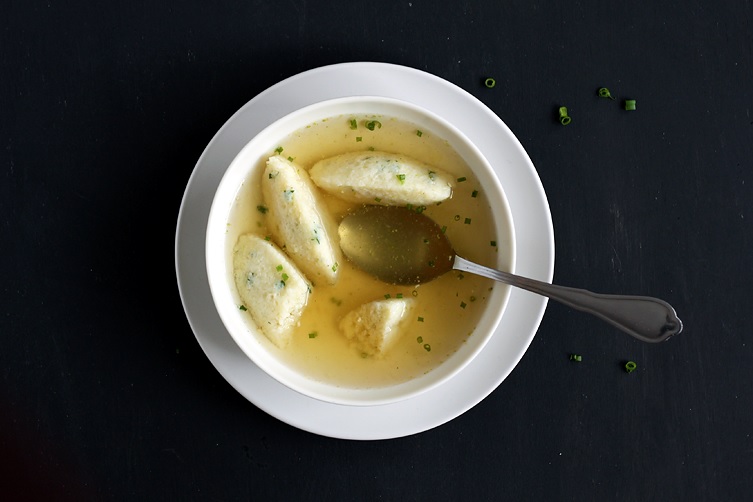 Enjoy!




Recipe for traditional Austrian soup dumplings. This is my go-to recipe and still the best I've ever had.
Recipe: Ursula | lilvienna.com
Ingredients
5 ½ (80 g) tablespoons unsalted butter, softened
2 eggs, lightly beaten (at room temperature)
2/3 cups (130 g) white semolina (wheat farina, cream of wheat)
1/4 teaspoon fine salt
1/8 teaspoon ground nutmeg
1 tablespoon chopped flat parsley
Beef or vegetable stock (about 4 cups)
Chopped chives to garnish
Instructions
Beat softened butter with an electric hand mixer until creamy, about 1 minute.
Gradually add half of the beaten eggs, then half of the semolina. Add the remaining eggs, semolina, nutmeg, salt and parsley and mix until well combined. The mixture should be soft and creamy.
Put the batter into the fridge and let it rest for 15 minutes, so it gets firm.
Bring a wide pot of generously salted water to a boil. Reduce temperature to medium-low. The water should simmer gently but not be boiling or the dumplings will fall apart.
Dip two tablespoons (to avoid sticking) into hot water and form tight, oval quenelles with the aid of 2 tablespoons, so they end up with three clear edges and a smooth surface. If this is too difficult, you can wet your hands and shape them. The important thing is that they need to be really tightly shaped. Don't make them too big, as they will double in bulk.


Update 12/11/2015: If you left the batter in the fridge for too long or if it is kind of hard to shape the Nockerl because the batter is to stiff, stir the batter with a fork before you shape them. That usually helps.



Drop the formed dumplings into the simmering water. If you are using a rather small pot, don't overcrowd it, because the dumplings will plump up.
Cook the dumplings in barely simmering water for 5 minutes. Reduce temperature to the lowest possible and let them steep for another 10-15 minutes. By now, they should have doubled in volume. Try one dumpling, if it is still quiet firm in the center, let them steep for a couple more minutes. The dumplings should be soft but not mushy.
Meanwhile heat the stock. When the dumplings are done, transfer them with a slotted spoon into soup bowls. Add a ladle of stock and serve sprinkled with chopped chive.
Notes
You can cook the dumplings in either generously salted water or stock. I think they taste somehow better when cooked directly in broth. However, if you do so, you'll end up with some dough pieces floating in your soup.
https://www.lilvienna.com/semolina-dumpling-soup-griessnockerlsuppe/
Did you follow this recipe? You could share your result here. All you need to do is take a picture with your smartphone and send it to 

[email protected]
Semolina Dumpling Soup (Griessnockerlsuppe)
was last modified:
February 14th, 2020
by