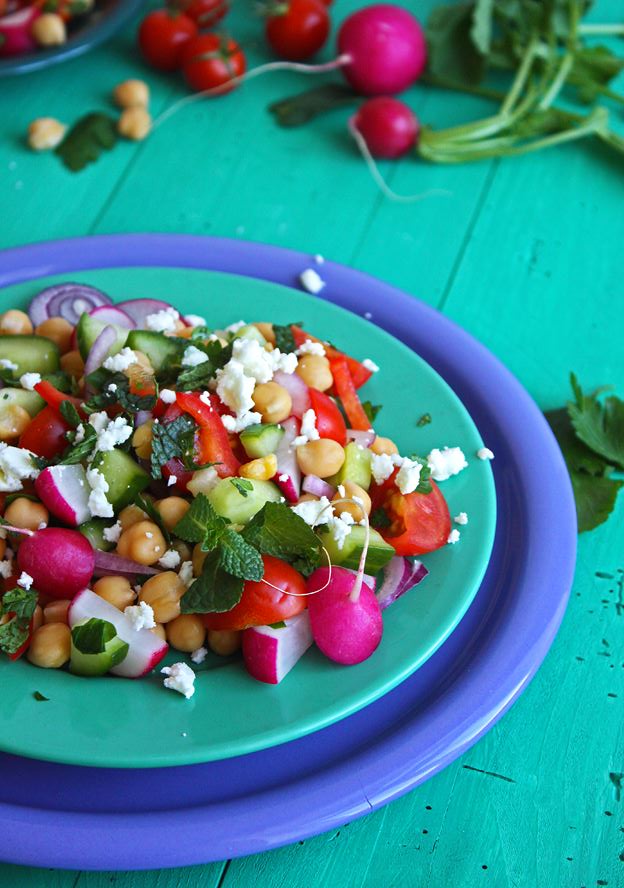 This salad is just about to become my preferred summer salad. Of course it contains chickpeas but it also features cherry tomatoes, red bell pepper, cucumber, radishes, and a few crumbs of feta cheese. That sounds like a perfect mixture for me. All this is tossed with a dressing made of olive oil (not the cheap stuff) and lime juice. For the extra kick, you wanna add fresh herbs like parsley and mint. And please: Don't skip on the mint! While omitting the parsly is proberbly not a tragedy, doing so for the mint leaves totally alters the taste of the salad. It would still be a good salad, but not Li'l Vienna worthy. Mint is the key ingredient to an oriental taste ;-)
If there would be a Li'l Vienna, herbs like mint would grow all around the neighbourhood, guerilla gardening style. Why, you ask? You can make a lot of good stuff with mint, like Mojito cocktails and the Austrian long time favorite summer-drink Hugo (a spritzer with elderflower-syrup and mint).
By the way, bringing this salad to your friends BBQ will make them love you even more.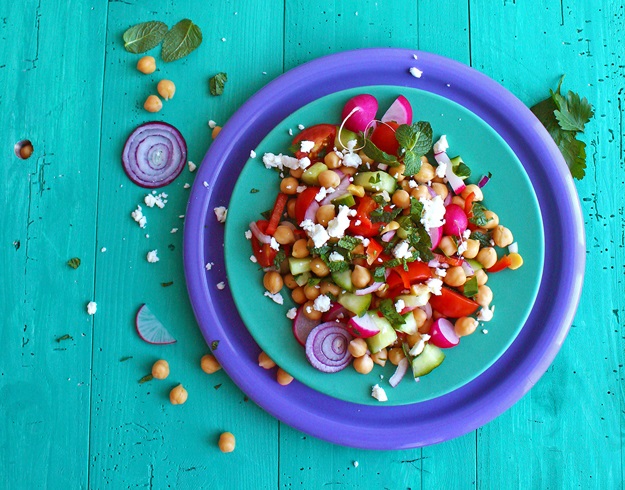 Ingredients
1/2 cup dry chickpeas/garbanzo beans (or a 15-oz can, about 1.5 cups cooked)
1 teaspoon baking soda (for dry chickpeas)
1 small red onion, peeled (75 g)
6 cherry or 8 grape tomatoes
½ cucumber (180 g)
5 small radishes
¼ cup crumbled feta cheese (1.8 oz/50 g)
½ red bell pepper, seeds and pith removed
3 tablespoons fresh flat-leaf parsley, picked and finely chopped
2 tablespoons fresh mint, finely chopped (first choice: Mojito/Cuban mint or Moroccan mint)

For the dressing

2 tablespoons lemon juice
3 ½ tablespoons extra virgin olive oil
1/3 teaspoon salt
1/3 teaspoon freshly ground black pepper
Instructions
If using dried chickpeas, soak them overnight in a large bowl of cold water.
Next day, drain the chickpeas, rinse and place them together with the baking soda in a pot with water. Simmer for an hour or so, until tender - skimming off any foam and lose skins. The baking soda helps to speed up the cooking process. Drain the chickpeas, when tender.
If using tinned chickpeas, just drain and rinse them.
Cut the red onion in half and finely slice it. If the cucumber is heavily seeded, deseed it, then dice it in ½ inch cubes. Dice radishes and pepper. Half the tomatoes (quarter the larger ones).
Mix chickpeas, diced vegetables, feta and the finely chopped herbs .
Combine the olive oil, lemon juice, salt and pepper in a jar or sealable container adn shake well. Pour the dressing over the salad and toss gently.
Serve with pita bread.
https://www.lilvienna.com/chickpea-salad-salatit-hummus-maslouq/
Did you follow this recipe? You could share your result here. All you need to do is take a picture with your smartphone and send it to 

[email protected]
Chickpea Salad (Salatit Hummus Maslouq)
was last modified:
June 23rd, 2017
by