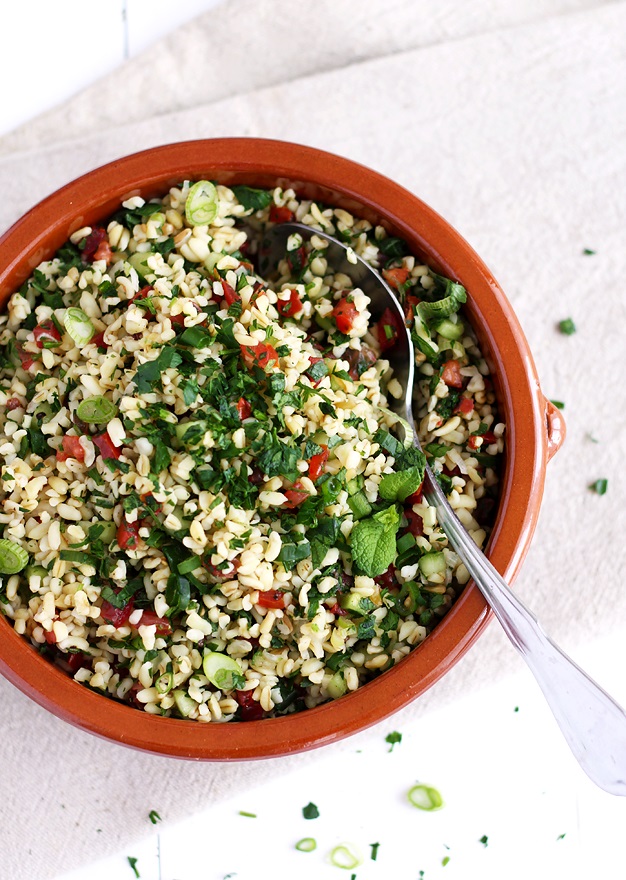 If you're invited to a potluck or picnic, what do you bring? I usually sign up for dessert, and bring my genius 2-ingredient chocolate mousse, which is particularly great during the colder months. It's easy to make and everybody looooooved it so far.
However, during the hotter summer months, I do prefer a dish that is made to sit around in hot climate and doesn't change much taste- or texture-wise. So, I am going the grain salad route and make tabbouleh (a.k.a. tabouli). It simply is a great addition to every BBQ, potluck, or picnic.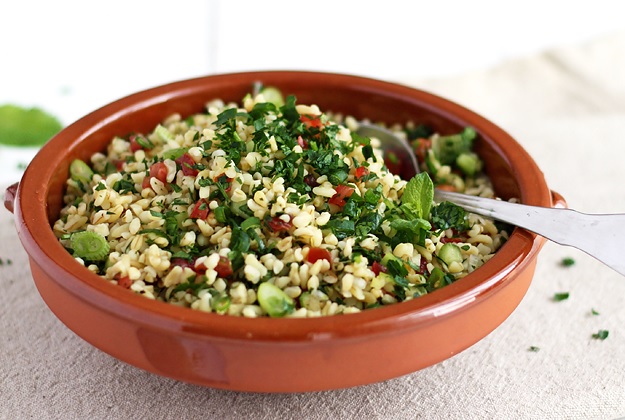 You can serve this classic tabbouleh as a side salad along your grilled burger, eggplant, and zucchini. But it can also stand on its on as a healthy meal. On top of this, I am a huge fan of make-ahead dishes – another reason to make this bulgur and parsley salad, which you can prepare a day in advance. I am sure you'll love this tabbouleh as much as I do.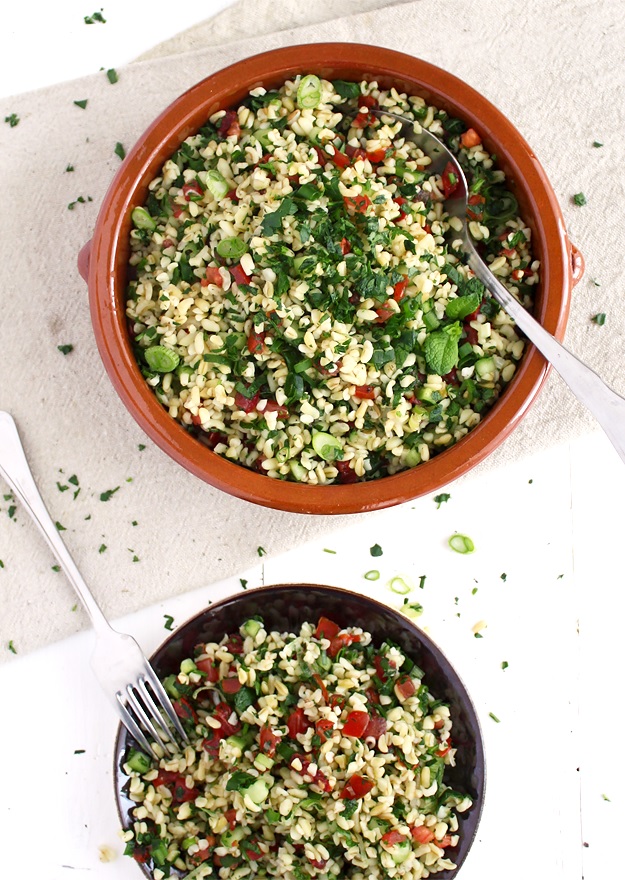 Enjoy!
Tabbouleh salad is a great addition to every BBQ, potluck, or picnic. You can serve it as a side salad but it can also sand on its own as a healthy meal.

I love to vary the ingredients in this tabbouleh salad. My favorite adaption is to omit the onion and add 1/2 cup crumbled feta instead (reduce salt). It makes a great lunch that you can bring to work. See note for making it ahead.
Ingredients
1 cup (175g) coarse bulgur
1 1/2 cups (360 ml) water
1/2 teaspoon salt


2 large, ripe tomatoes, finely diced (about ½ lb)
1/4 English cucumber, halved lengthwise, seeds removed and finely chopped (about ½ cup chopped)
2 scallions, white and some of the green stalks, finely chopped
1 bunch (about 1 cup chopped) flat-leaf parsley leaves and tender stems, finely chopped
15-20 large mint leaves
3 tablespoons extra-virgin olive oil
2 tablespoons fresh lemon juice
1/4 teaspoon fine salt
Freshly ground black pepper, to taste
Instructions
Bring water to a boil. Add ½ teaspoon salt and stir in bulgur. Cover and let cook over low heat for 7 minutes. This is one third of the recommended cooking time on the package. Add a little more water if the saucepan becomes dry before the 7 minutes cooking time are finished. Remove the saucepan from the oven. The bulgur will have absorbed most or all of the water. If there is a little water left in the saucepan, that's fine. If there is a lot of water left, drain the bulgur in a strainer and put it back into the saucepan and cover.
Let bulgur sit for another 5 minutes, covered. The bulgur should still have a slight bite and will continue to soften in the salad.
Fluff the bulgur with a fork to separate the grains in a large bowl or on a baking sheet. Let it cool.
Mix bulgur with tomatoes, cucumber, scallions (see note), parsley, mint, salt and pepper, olive oil and lemon juice. Stir well and adjust seasoning to taste. Put tabbouleh into the fridge and chill for 2 hours. Enjoy!
Notes
If you want to make tabbouleh one day ahead, chop and add the scallions at the last minute, just before serving - time in the fridge makes the scallions taste weird.
https://www.lilvienna.com/tabbouleh-my-favorite-potluck-salad/
Did you follow this recipe? You could share your result here. All you need to do is take a picture with your smartphone and send it to 

[email protected]



Tabbouleh – My Favorite Potluck Salad
was last modified:
June 23rd, 2017
by