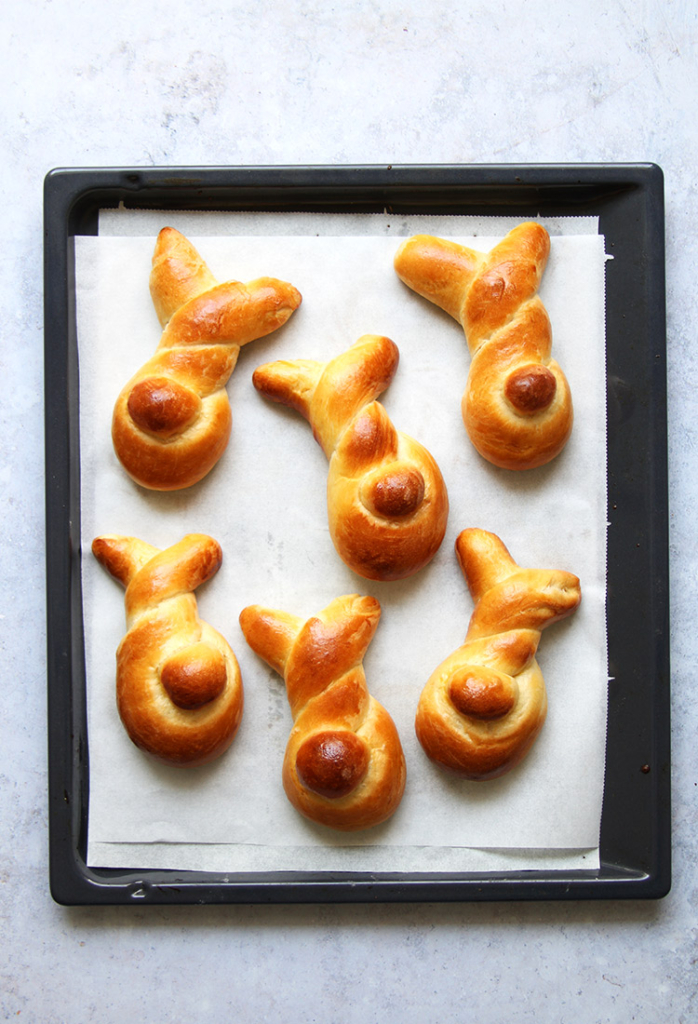 These homemade Easter bunny brioche rolls are made with a soft and fluffy yeast dough. Kids and adults will love them alike! They are perfect for Easter brunch or as a hostess gift, and they'll complete every Easter basket.
Yeast dough for Easter holidays
In Austria, we have a long tradition in baking special treats for the Easter holidays. Almost all made of yeast dough. There are sweet brioche braids (including the loaf pan version), giant brioche Easter crescents or these adorable yeast dough bunnies.
Easy and delicious brioche bunnies
Whip up a batch of these delicious brioche bunnies. It's so much fun to make them. The recipe is easy and you can even prepare the dough the evening before, resting the dough overnight in the fridge. I'll show you how to shape the dough into a bunny in the video below.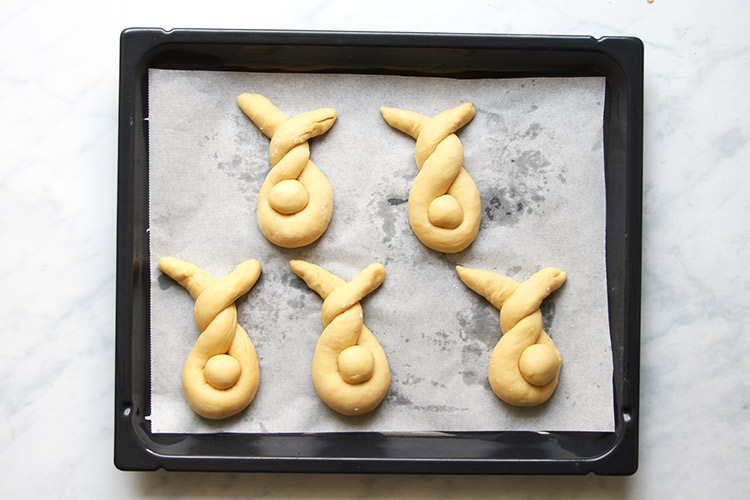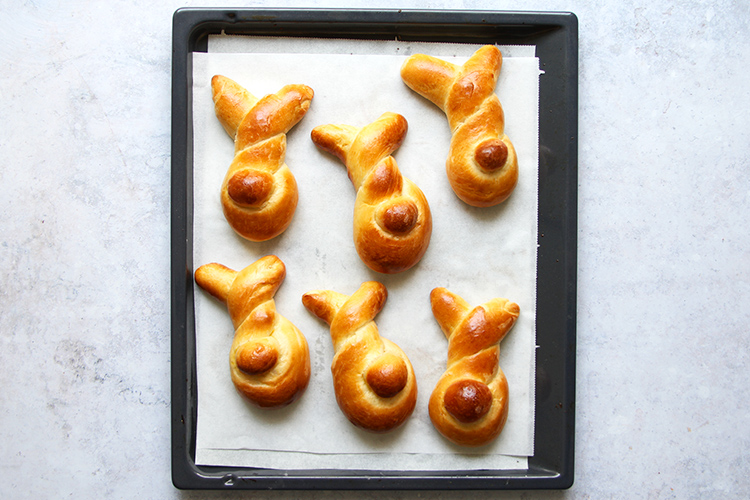 Have fun!
These homemade Easter bunny rolls are made with a soft and fluffy yeast dough. Kids and adults will love them alike! They are perfect for Easter brunch or as a hostess gift, and they'll complete every Easter basket. If you like raisins, you can add 1 cup of regular or golden raisins to the dough. See notes for make-ahead instructions.

Recipe: Ursula | lilvienna.com

Ingredients
1 cup (240 ml) warm milk
2 1/4 teaspoons (7 g) instant or active dry yeast
1/4 cup (55 g) sugar
5 tablespoons (70 g) unsalted butter, melted and lightly cooled
1 large egg, at room temperature
3 tablespoons (45 g) sour cream (you can substitute Greek yogurt)
1 teaspoon vanilla extract
1 1/4 teaspoons (8 g) fine salt
480 g (about 3 3/4 cups) bread flour (ap-flour works too)
Optional: 1 cup (150 g) raisins

Egg wash:

1 egg yolk + 2 teaspoons milk
Instructions
Make the dough:

You can make the dough by hand or in a stand mixer with the dough hook attachment.
In a large bowl of a stand mixer, add warm milk and sugar. Sprinkle instant yeast on top and let sit for 1 minute (or 5 minutes if using active dry yeast). Add the melted butter, egg, sour cream, vanilla extract, and salt stirring to combine.
Add roughly half the flour (simply eyeball it), mix until combined. If using raisins, add them now.
Add the remaining flour and knead until the dough is smooth and elastic, about 7-10 minutes. Towards the end, the dough should clear the sides of the bowl and be slightly sticky. Add 1 or 2 tablespoons additional flour if necessary.
Place dough inside an oiled bowl. Turn to coat and cover with a fitting lid or plastic wrap. (At this point you could do an overnight rise in the fridge, see note.) Allow to rise until doubled in size, about 1 to 1 1/2 hours, depending on the room temperature. Line two baking sheets with parchment paper.

Shape the bunnies:

Divide the dough into 10 pieces and cut a small piece of dough for the bunnytail from each of the 10 pieces. Roll the small pieces into a balls.
Roll each of the 10 pieces into a 16-inch (40 cm) strand on an unfloured counter. Adding flour to the counter will yield in less traction and can make the dough quite slippery and hard to roll out.
I roll the strand lightly in flour when finished so it's less sticky before shaping it, which lets it shrink a bit to a 14-inch (35 cm) long strand. Shape into an U and twist the ends twice (see video above). Place the bunnytail in the center of the loop. If you prefer flat bunnies without elevated tails, you can place the bunnytail on the counter first, and then wrap the strand around it. Repeat with the remaining dough to make 10 bunnies and place them onto the prepared baking sheets.
Let the dough bunnies rise for 30 minutes until slightly puffy (they should not double in volume). Meanwhile, preheat the oven to 375 °F (190 °C) top and bottom heat.

Bake the bunnies:

Stir together egg yolk and milk and brush the bunnies with egg wash before baking.
Bake each sheet individually until the bunnies are golden brown, about 15 minutes. If baking two sheets at once, rotate them after 10 minutes. Baking time might increase by a few minutes.
Let the bunnies slightly cool and enjoy.
Notes

Make ahead / Overnight rise:

You can do the first rise of the unshaped dough in the fridge overnight (10-15 hours). Here is how: As soon as you place the dough into a greased bowl to rise, cover it tightly with a fitting lid or plastic wrap and let it rest for 20 minutes at room temperature (it will not rise at all or only a bit), then refrigerate overnight. Before shaping the next day allow it to rest at room temperature for 1/2 hour, still wrapped.

Storage and reheating:

They brioche bunnies taste best on the same day. They will last in an airtight container at room temperature for up to 3 days. If they firm up (after a day or so), reheat at 350 °F (175 °C) for 5 minutes for a freshy baked taste. Freeze for longer storage.

https://www.lilvienna.com/easter-bunny-rolls/
Fluffy Easter Bunny Rolls
was last modified:
April 1st, 2021
by