This simple asparagus risotto is made in under 30 minutes and requires little stirring. Plus: A one-pot version for lazy days makes this weeknight dish even easier.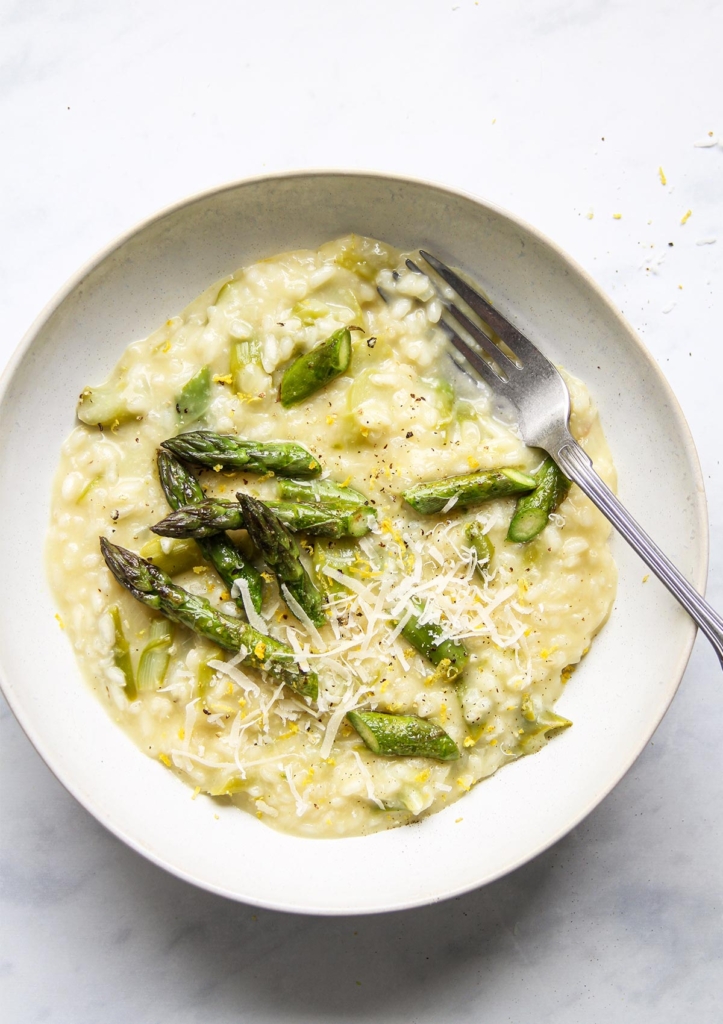 Risotto is one of my favorite dishes ever. I love a tasty mushroom risotto, a creamy-bitter avocado-rucola risotto or this lemon asparagus risotto. After all, Vienna is just a short car ride from Italy!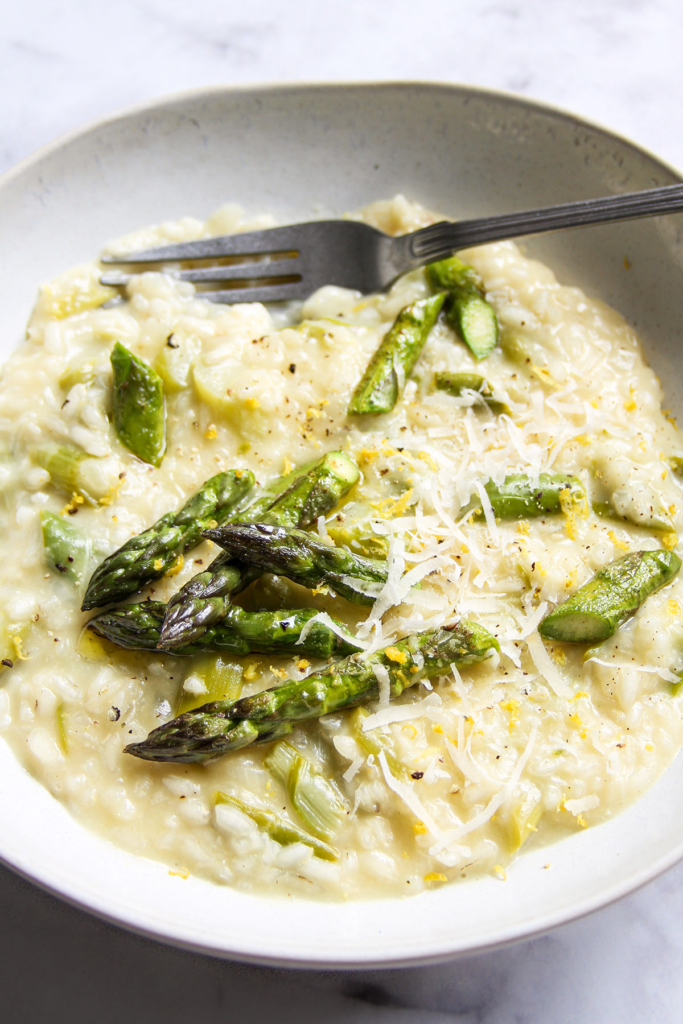 One-pot asparagus risotto
Usually, you'd need two pans to make this dish: one for the risotto and one for sautéing the asparagus. To make this an easy one-pot dish, I often use only one saucepan, especially when I don't feel like washing up. This risotto can also easily be made in the Instant Pot!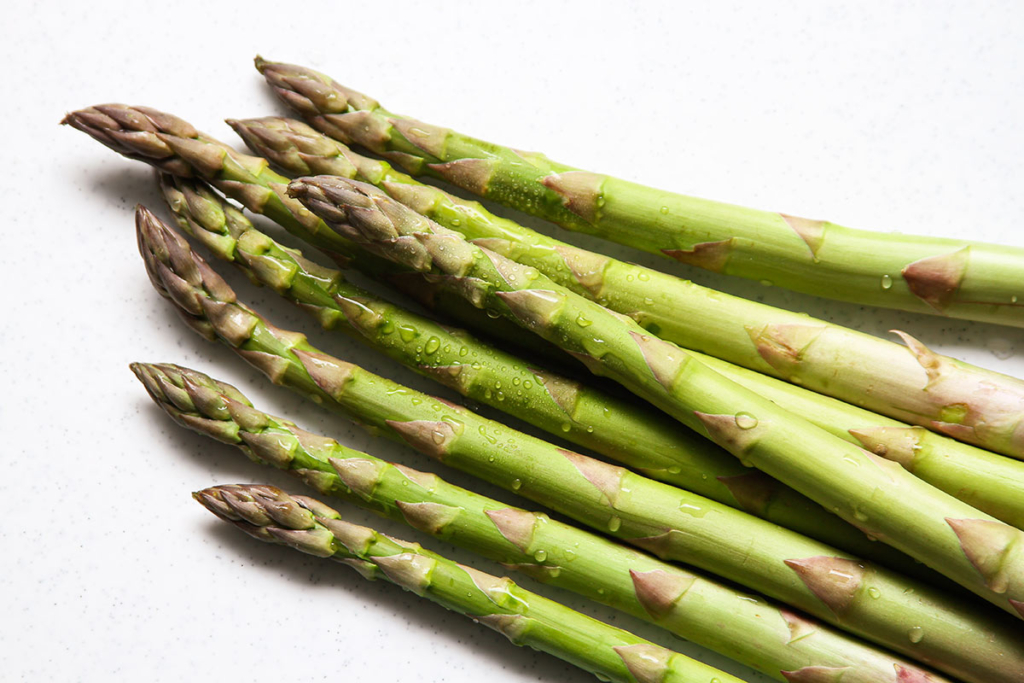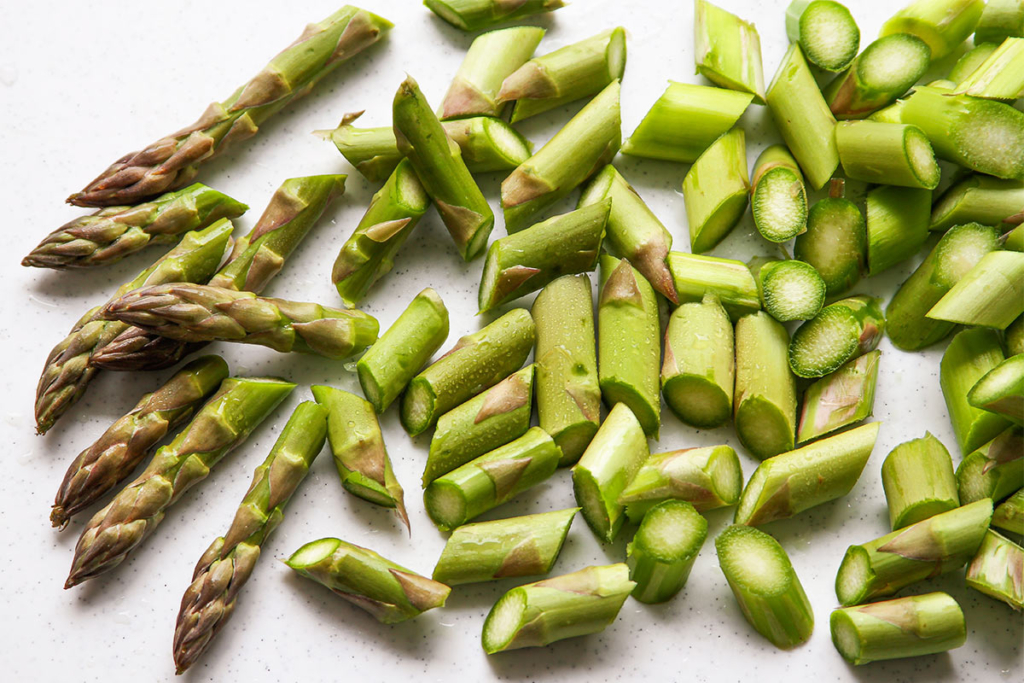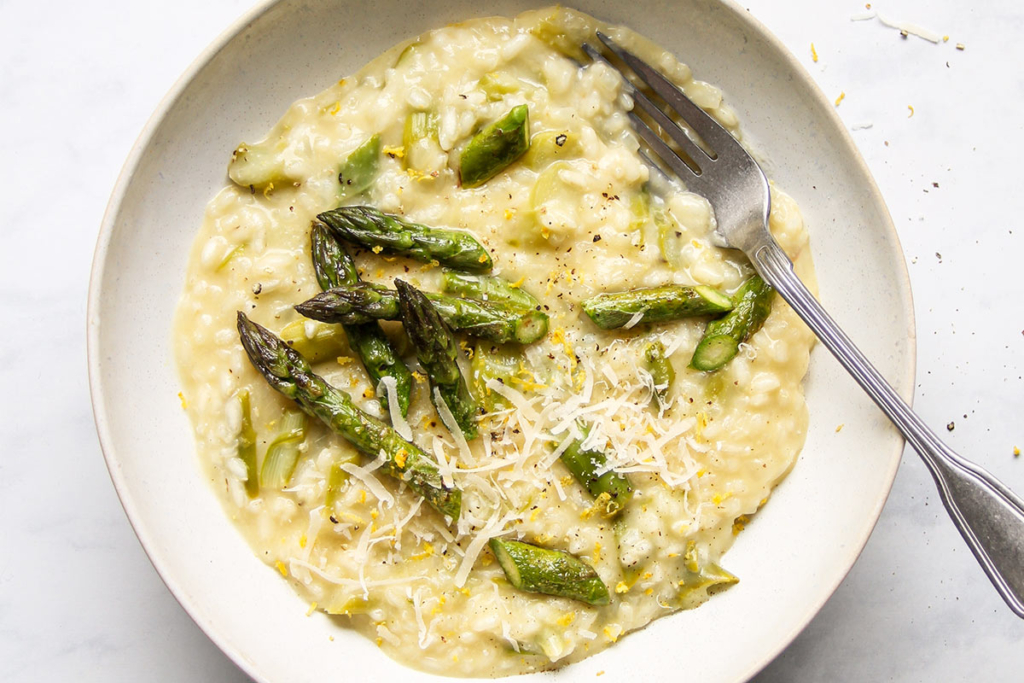 Enjoy!
Looking for more risotto recipes? Try this easy mushroom risotto, or this avocado-arugula risotto.
This easy asparagus risotto is creamy, delicious, and a quick weeknight dish. For one-pot instructions see notes. You can use thin or thick green asparagus stalks, whatever you prefer or have on hand.
Recipe: Ursula | lilvienna.com
Ingredients
1 small bunch green asparagus (1/2 lb or 250 g)
1 small yellow onion or 2 shallots (diced 1/2 cup, 60 g)
3/4 cup (180 ml) dry white wine (non-alcoholic version: substitute vegetable broth)
2 cups (480 ml) hot vegetable broth
1.5 tablespoons olive oil
1 scant cup (180 g) risotto rice*
1/2 tablespoon unsalted butter (omit for one-pot risotto)
1/2 loosely packed cup (40 g) Parmesan cheese, freshly grated, plus more for serving
Grated lemon zest and black pepper for serving
Instructions
Wash asparagus. Thick asparagus spears: Cut off woody ends (1 inch or so) and peel the lower half of the spears, which usually have tough skins, using a vegetable peeler. Cut asparagus roughly into 1-inch pieces (1/2-inch where spears are thick). Leave the tips longer, 1.5 to 2 inches. Thin asparagus: Only trim ends if woody and fibrous, no need to peel them. Cut into 1-inch pieces, leaving the tips longer, 1.5 to 2 inches.
Set tips and some of the thinner pieces cut from close to the tips aside.
Finely dice the onion. Warm the broth until steaming, either on the stove or in the microwave.
Heat 1.5 tablespoons olive oil in a medium pot set over medium-high heat. Add diced onion and sauté until softened, about 1-2 minutes. Do not brown. Add the rice and stir until it crackles (or is at least hot), about 1-2 minutes.
Add the wine and continue to cook until the wine has absorbed into the rice.
Stir in three quarters of the hot broth (simply eyeball) and bring to a simmer. Add chopped asparagus, except the tips and thinner pieces you've set aside earlier. Let simmer on low heat for 15 minutes, do not cover. Stir occasionally. Add the rest of the broth if necessary (if you need more broth than prepared, add hot water). Towards the end of the cooking time stir often to prevent the rice from sticking to the bottom of the pan.
As the risotto is cooking, sauté the remaining asparagus (see notes for one-pot version). Heat ½ tablespoon butter in a small pan or saucepan over medium heat. Stir in the asparagus, season with a pinch of salt, and cook until tender, about 5 minutes. Remove from the heat.
As soon as the rice is tender but still firm to the bite, stir in parmesan and remove the pot from the heat. The risotto should be creamy. Season to taste – usually, no additional salt is required.
Divide risotto among two plates and top with sautéed asparagus, parmesan, some grated lemon zest, and one or two grinds of black pepper. Enjoy!
Notes
* Rice: Medium-grain rice such as Arborio or Carnaroli works best. Do not wash the rice before cooking, the starch on the grains is crucial for a creamy risotto.
One-pot version:
While the buttery, sautéed asparagus on top tastes delicious, you can cook this risotto as a one pot dish as well. Omit the sautéing (step 7) and add the tips and the thin asparagus pieces you've set aside earlier 2 minutes before the risotto is done cooking. The tips can be pretty delicate so really make sure not to add them in the beginning together with the rest of the asparagus. Otherwise they'll break up and go to pieces.
https://www.lilvienna.com/creamy-asparagus-risotto/
Creamy Asparagus Risotto (with one-pot version)
was last modified:
May 12th, 2021
by