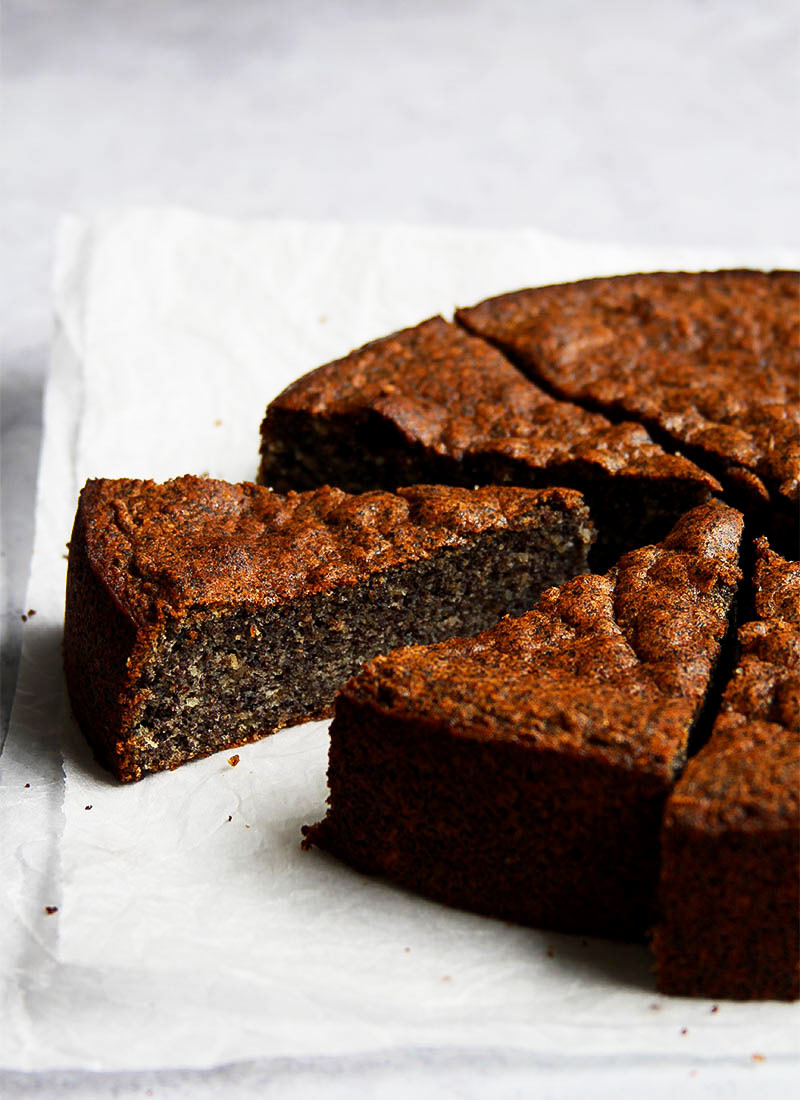 This traditional dark Austrian poppy seed cake is super moist, soft and light, and at the same time it tastes rich and nutty. Plus, it's easy to make (only 6 ingredients). Austrians love it!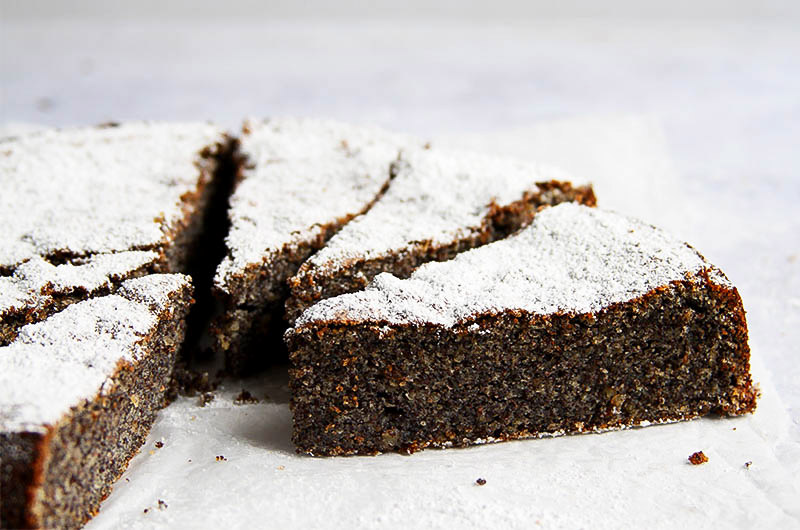 Easy poppy seed cake
As you might know, I'm a huge fan of simple, fuss-free, and classic recipes, like Italian Torta Caprese, an easy Berry Cake or this poppy seed cake. This cake only needs a few ingredients, it's not overly sweet and has a soft yet moist texture (it's not dense).
It's just a simple and delicious everyday cake – no frostings or glazes needed. It tastes great plain as is or with a light dusting of powdered sugar – the Austrian way, always.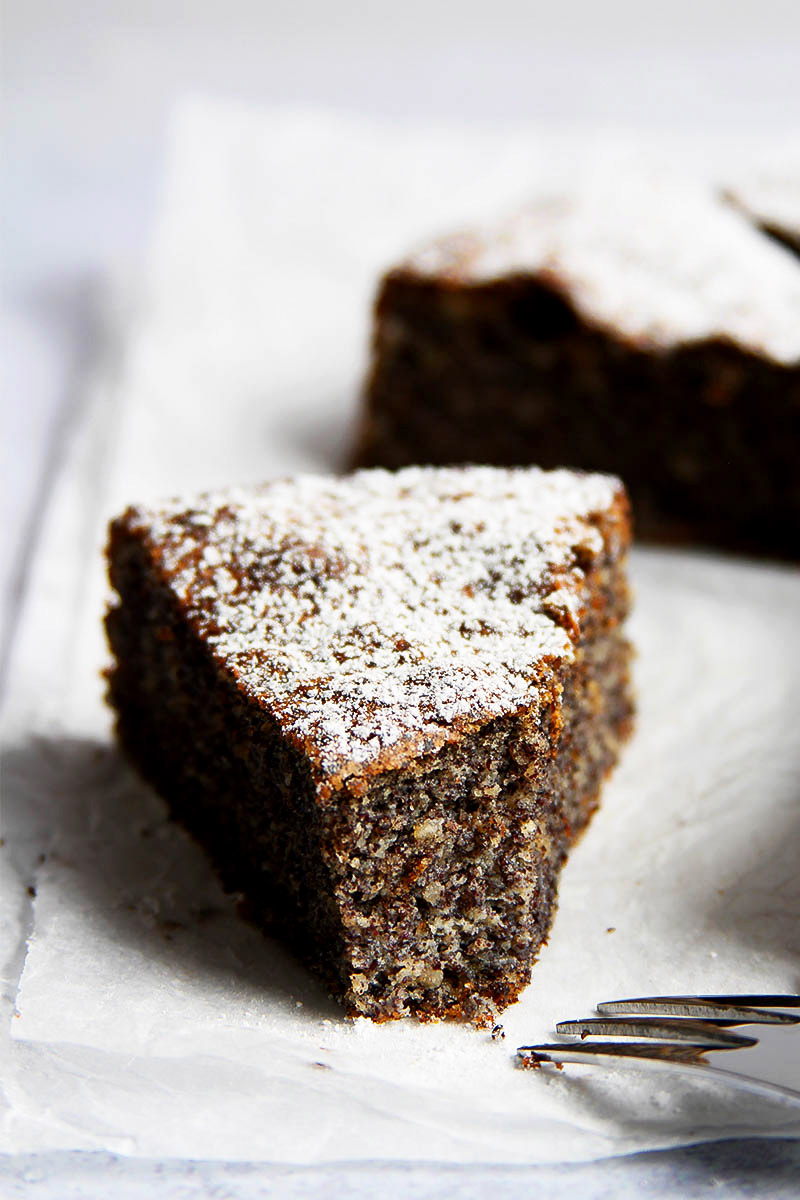 Gluten-free cake
This poppy seed cake is gluten-free as it does not contain any wheat flour. Ground poppy seeds and nuts replace the flour entirely. This makes the cake super moist and very dark in color!
In the United States poppy seeds are generally included in a cake for appearance, texture (for the crunch) or a slight hint of poppy seed flavor. But in my cake the poppy seeds play the lead – be it texture, flavor, or appearance.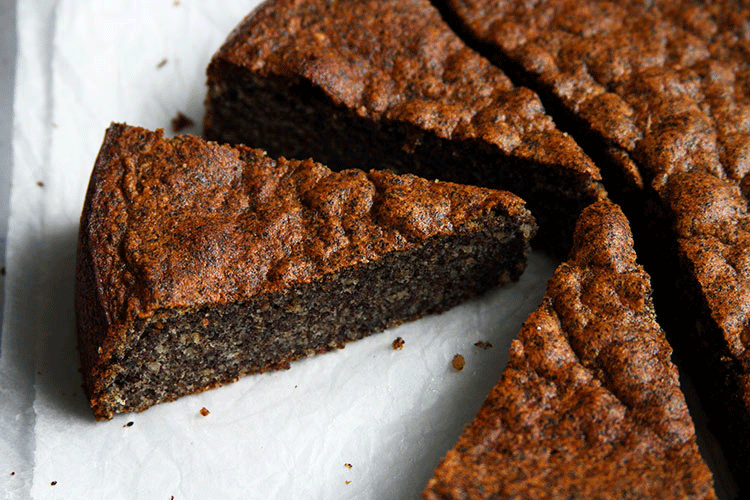 Poppy seeds in Eastern European cooking
Poppy seeds are essential in Central and Eastern European cooking – from savory to sweet dishes, but especially in desserts. In Austria, Germany, Hungary, Czech Republic, Slovakia, Slovenia, Poland, Russia and a whole lot more countries, poppy seeds are wildly popular. Cakes, rolls, strudels, and crescents – you'll find many different baked goods filled with a nutty poppy seed filling.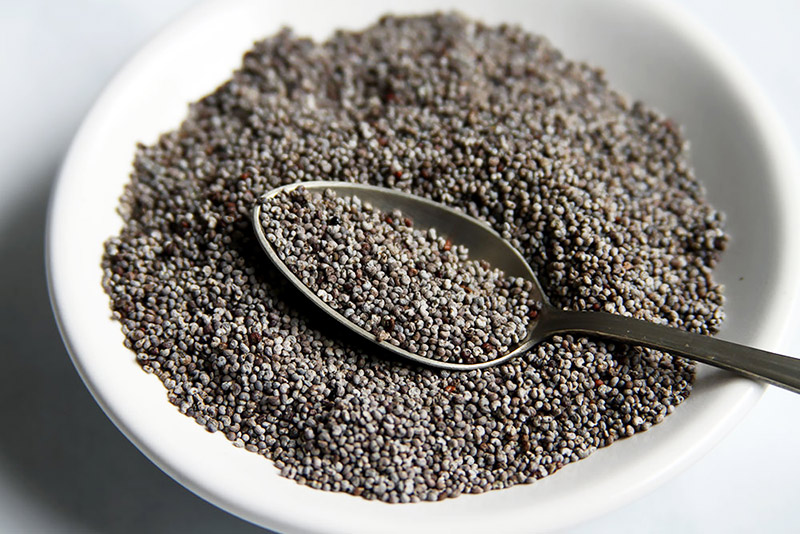 Where to buy poppy seeds
When living in the US, I realized that ground poppy seeds are not easily available at grocery stores unlike they are in Austria. In fact, I had a hard time finding them in the Boston area.
Most stores in Austria would carry different kinds of poppy seeds (grey and blue) as well as whole and ground varieties. The only variety I could find in the US were whole poppy seeds in the bin/bulk sections and spice aisles of supermarkets and coops. Often times they are available in small amounts and at high prices.
So, if you need larger amounts of poppy seeds, like 1 cup ground poppy seeds asked for in this recipe, I'd suggest you buy them online as they are much more reasonable priced and often have better quality. If you can, get them already ground for easy handling.
Also, do not buy a product called 'poppy seed filling' for this cake, since these products not only contain ground poppy seeds but other ingredients like sugar and spices too.
To sum up: This cake needs ground poppy seeds, so please do not use whole seeds. Luckily, it is easy to grind poppy seeds at home.
How to grind poppy seeds
Austrians sometimes use special poppy seed mills, but I have no space in my tiny kitchen for another single-use kitchen tool. So here are two ways to grind poppy seeds that work for me:
Grinding poppy seeds in a food processor/blender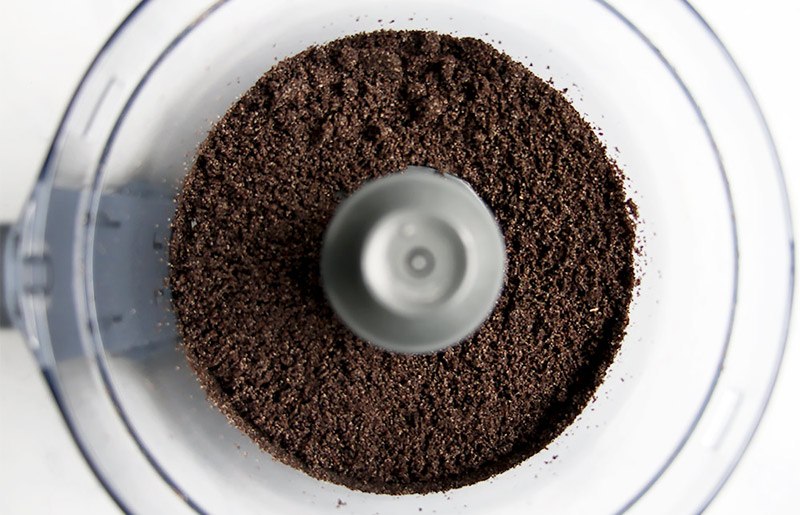 The easiest way to grind poppy seeds is using a powerful food processor. Be aware though: If using a low-power food processor, this will not work. I owe two different food processors – a large powerful one and a small one; the latter is not able to grind the seeds. So, you might have to play around with what works best for you. A powerful blender works too.
When grinding the seeds, they will start to break up and turn darker. After a while they should resemble wet soil or wet sand.
Grinding poppy seeds using a coffee grinder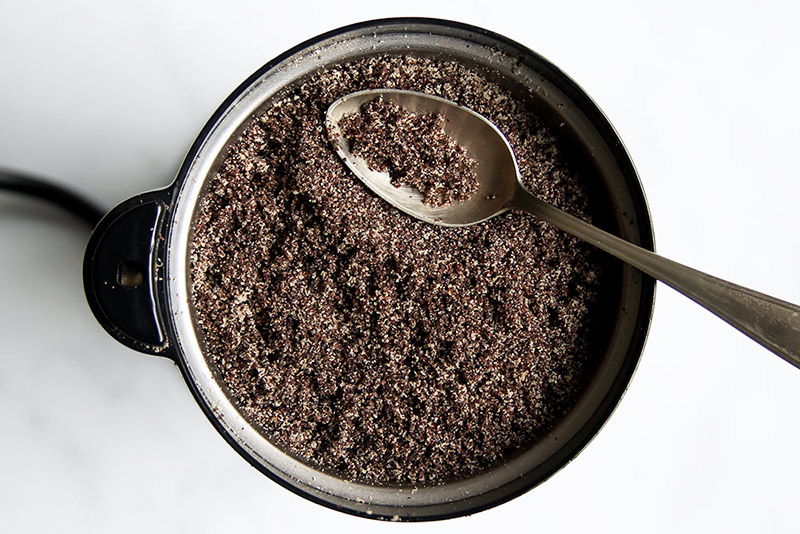 I've also tried grinding poppy seeds in an electric coffee grinder with success. In fact, in my case the coffee grinder did an even better job than the food processor yielding super finely ground seeds, almost like powder. Shaking the grinder up and down while grinding helps for an even result.
The only disadvantage: You have to grind the poppy seeds in batches since the coffee grinder is small. I do 3 tablespoons seeds per batch. There are reasonable priced models ($15) that will do the job just fine. I bought my electric grinder years ago for grinding spices, and not coffee.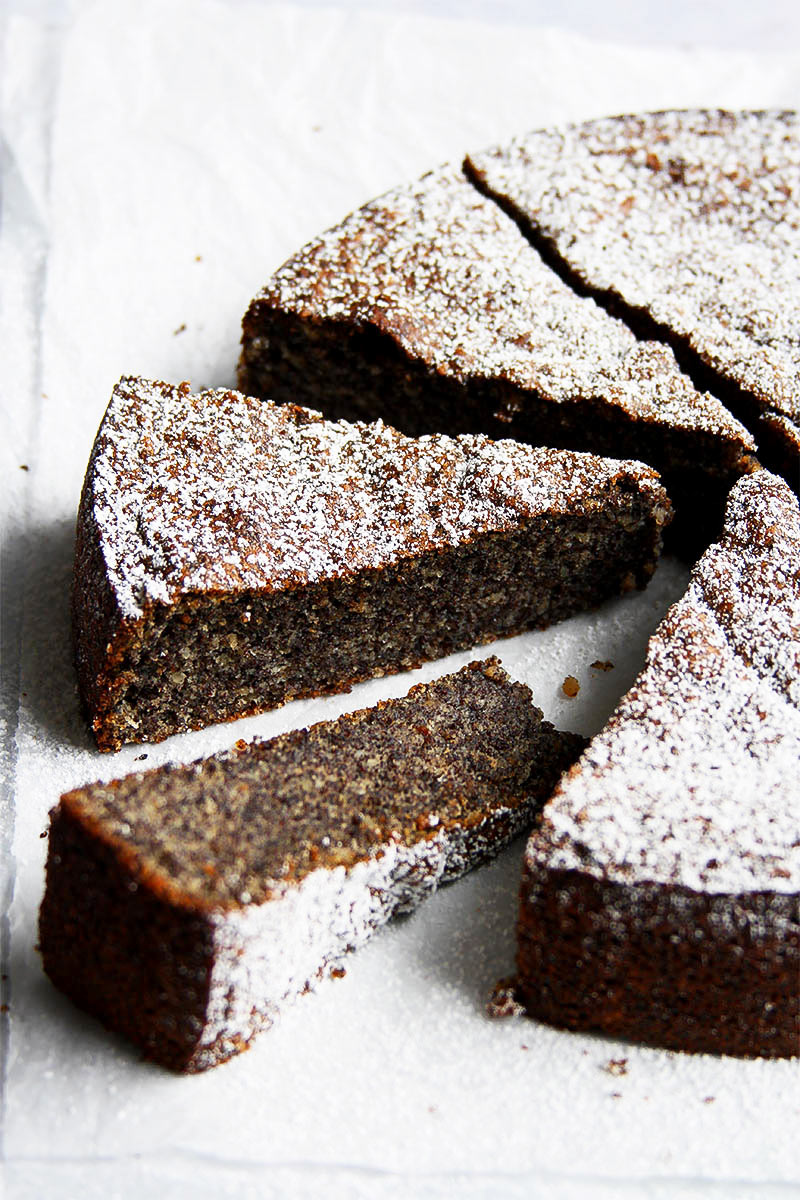 Enjoy!
You only need 6 ingredients for this dark, moist poppy seed cake – one of Austria's most beloved cakes. It's gluten-free, soft and light, and at the same time it tastes rich and nutty. It's not overly sweet or dense at all.
Recipe: Ursula | lilvienna.com
Ingredients
3 large eggs, at room temperature, separated
Pinch of salt
7 tablespoons (100 g) unsalted butter, softened
1/3 cup (80 g) sugar
Grated lemon zest of 1/2 organic lemon (optional, but recommended)
100 g ground poppy seeds (about 1 cup), see notes for grinding
50 g finely ground hazelnuts/hazelnut meal (about 1/2 cup loosely packed; you can substitute ground walnuts/almonds)
3 tablespoons (45 ml) milk
Powdered sugar for dusting, optional
Instructions
Preheat the oven to 350 °F (180 °C) top and bottom heat. Butter a 7 or 8-inch (19-20 cm) cake pan/springform pan or line the bottom with parchment paper and grease the sides.
Separate eggs and beat the egg whites with a pinch of salt using a mixer until they form firm peaks.
In another large bowl, beat the butter, sugar, egg yolks, and lemon zest with the mixer (no need to clean the beaters) until creamy and a little lighter in color, about 5 minutes.
Add ground poppy seeds, ground hazelnuts, and milk. Mix until combined.
Fold the egg whites into the poppy seed mixture in two batches using a spatula.
Spread the batter evenly in the pan. Bake until the top of the cake is puffed and lightly browned, about 30-35 minutes. Insert a skewer into the center of the cake to test the cake for doneness. If it comes out clean, the cake is cooked. If there is still batter clinging to it you need to cook it a little longer.
Remove cake from oven and let it cool completely in the pan before serving. The cake will collapse while cooling – do not worry, that's totally normal. Dust with confectioner's sugar if desired. I like the uneven tops of the cake but if you don't, you can turn it upside down. Enjoy!
Notes
Grinding poppy seeds:
If you can't get your hands on readily ground poppy seeds, use whole ones and grind them. See more infos in the article above. Either use a small electric grinder (coffee or spice grinder) and grind them in batches, or use a powerful food processor/blender.
Grind the seeds until they start to break up, turn darker and resemble wet soil or wet sand. You'll need 100 g (about 2/3 cups) of whole poppy seeds. After grinding, they will fill about 1 cup. It's best to weigh them since ground poppy seeds vary in volume depending on the kitchen tool you use for grinding. When testing this recipe, one cup of ground poppy seeds that I ground in a coffee grinder only weighed 70 g versus 115 g using a food processor. 1 cup of the store-bought ground poppy seeds weighed 100 g.
Poppy seed storage:
Poppy seeds have a high oil content and go rancid quickly. Therefore, it's best to purchase poppy seeds from a place with high turnover and store them in the fridge or freezer.
https://www.lilvienna.com/gluten-free-poppy-seed-cake/
Gluten-Free Poppy Seed Cake (super moist!)
was last modified:
September 21st, 2021
by