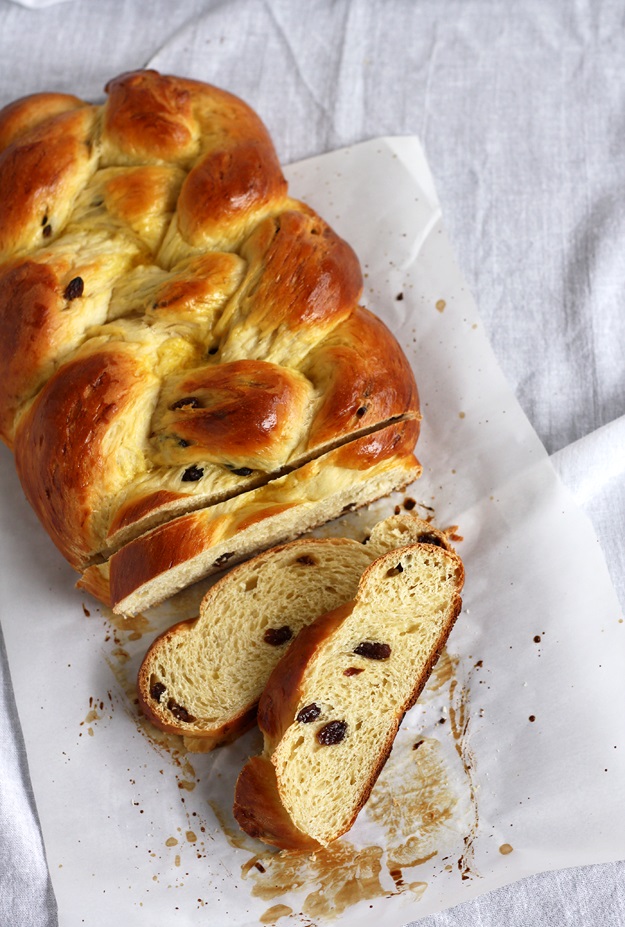 This braided sweet yeast bread with raisins is by far on of my favorite breakfasts (except for this super-easy sunflower bread). It's super moist, it's fluffy and it has a subtle sweet taste (note that it only contains 3 ½ tablespoons sugar). Told you: The perfect breakfast! I also love it as a snack in the afternoon, together with a cup of coffee.
I usually eat it plain when it is freshly baked – and after a couple of days, when every baked good tends to get dry, it tastes still great, spread with butter and good fruit jam.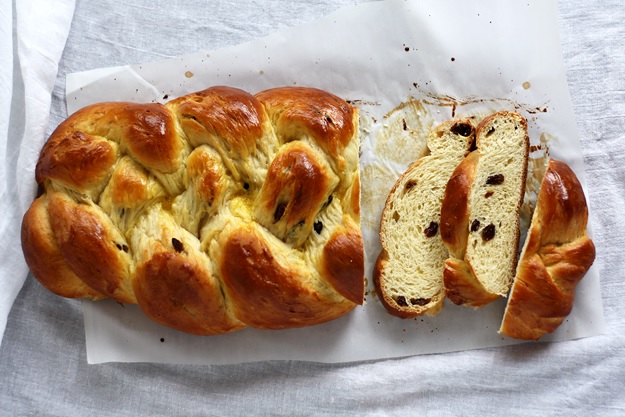 In Austria, you can get this kind of sweet bread or Challah in every supermarket and my family is kind of obsessed with it. There is not a single day, I would say, that this Rosinenzopf (Rosinen = raisins, Zopf = braid) can't be found in my parents pantry, ready to be served for last minute guests or serving as accompaniment for the next afternoon coffee.
This braided sweet bread is also a traditional treat, people would eat during the Easter holidays – no Easter Sunday breakfast without Rosinenzopf.

The dough is easy to make and below you'll find a video tuturial showing how to braid with 4 strands. But if you prefer, you can simply braid with 3 strands.

I made the video for the Easter crescent recipe, to show how to braid with 4 strnads. So simple omit the crescent shaping part at the end.
Update 03/24/2016 – Brioche-Striezel: I've made a similar sweet yeasted bread (pic above), using a loaf pan. The recipe makes either three small loafs or 1 big (9×5-inch). You can find the recipe for this Brioche-Striezel here.
Easy to make traditional Austrian braided raisin bread (Rosinenzopf). It's super moist, it's fluffy and it has a subtle sweet taste (note that it only contains 3 ½ tablespoons sugar).
Recipe: Ursula | lilvienna.com
Ingredients
450 g/16 oz (or about 3 ½ cups) white bread flour
7 tablespoons (105 ml) water
½ cup (120 ml) milk
2 ¼ teaspoons (7 g) active dry yeast
5 ½ tablespoons (75 g) unsalted butter, softened
3 ½ tablespoons (50 g) sugar
1 teaspoon vanilla extract
1 large egg + 1 egg yolk, at room temperature
2 ¾ tablespoons (40 g) plain yogurt or greek yogurt
1 ¼ teaspoons fine salt
1 cup (150 g) raisins, soaked in water for 10 minutes, if on the dry side

For brushing:
1 egg yolk
2 teaspoons milk
Instructions
First, make the tangzhong. In a small saucepan, whisk together 4 tablespoons of water and 2 tablespoons of the bread flour until no lumps remain. Gradually add the remaining 3 tablespoons of water while whisking.
Heat the mixture over low heat, whisking constantly. The mixture should be hot, but not boiling. After just a few minutes, it should thicken to a gel-like consistency. As soon as it comes to a pudding-like consistency, remove it from the heat and cover it. Set aside and let cool to room temperature.
Sprinkle the yeast over the milk and set it aside for 10 minutes for the yeast to activate and dissolve.
Cream butter and sugar together with a mixer, until light in color, about 3 minutes.
Add vanilla extract, egg and egg yolk, mix until combined.
Add yeast-milk, yogurt, salt and cooled tangzhong and mix until combined. Add a good cup of flour, mix until well combined.
Drain the soaked raisins and squeeze out excess water with your hands. Add them to the mixing bowl and mix until they are spread evenly. Time to change your tools: Get rid of the mixer an use a sturdy (wooden) cooking spoon to gradually stir in the rest of the flour (or use a dough hook instead of beaters).
When all ingredients come together knead the dough by hand, for about 5 minutes. Keep your dough in the mixing bowl for this step. The dough will be sticky, but refrain from adding more flour. It helps, if you oil your clean hands before you knead a sticky dough. If the dough is still too tacky to knead, cover the bowl and set it aside for 5-10 minutes. After resting, the dough is way better to knead by hand.
Let the dough rise, covered at warm room temperature until doubled in volume (about 1-1.5 hours) or put it in the fridge to rise overnight (see note).
Transfer the dough onto a lightly floured surface and divide it into 3 or 4 equal parts – depending on how you want your braided bread to look like (I did 4 strands).
Form the dough into 4 balls. With your hands, roll each ball into a strand about 13 inches long. Place the 4 in a row, parallel to one another. Pinch the tops of the strands together and braid them (see video tutorial).
Tuck the ends of the loaf underneath and place the loaf on a baking sheet lined with parchment paper.
Let the braided loaf rise another hour at room temperature until puffy.
Mix the egg yolk with 2 teaspoons milk. Brush the loaf with eggwash, if possible two times.
Bake in the center rack of the 350 °F preheated oven for about 30 minutes, or until golden-brown. Remove from the oven and let cool.
Notes
Tangzhong is an Asian technique in which a portion of the flour in the recipe is heated with water to make a roux (gel-like paste), before being cooled and added to the rest of the ingredients. Through the heating process, the flour absorbs the water in a better way, resulting in a softer, moister and fluffier dough.

Long, cold rise: Instead of letting the dough rise at warm room temperature for about an hour, you can put it in the fridge overnight (tightly covered). Before you braid the dough, let it get back to room temperature (about ¾-1 hour).
https://www.lilvienna.com/sweet-braided-yeast-bread/
Did you follow this recipe? You could share your result here. All you need to do is take a picture with your smartphone and send it to 

[email protected]



conaing1: 

"Thank you very much! very light and very Good :)" 





Judy tried the recipe: "I'm too uncoordinated to do four braids, so just went with three. I did the overnight rise in the refrigerator. I also put a bit of cardamom in the dough, as it's a favorite. 
Since everyone's ovens are different, I'd recommend that you provide a temperature to bake it to.  I baked it to 190 on an instant read thermometer. 
I've made this twice and it's lovely."

Ayesha made the raisin bread: 

"Hello Ursula,

First time I've made a plaited loaf and your recipe was perfect so many thanks."


Sweet Braided Yeast Bread (Rosinenzopf)
was last modified:
May 19th, 2020
by