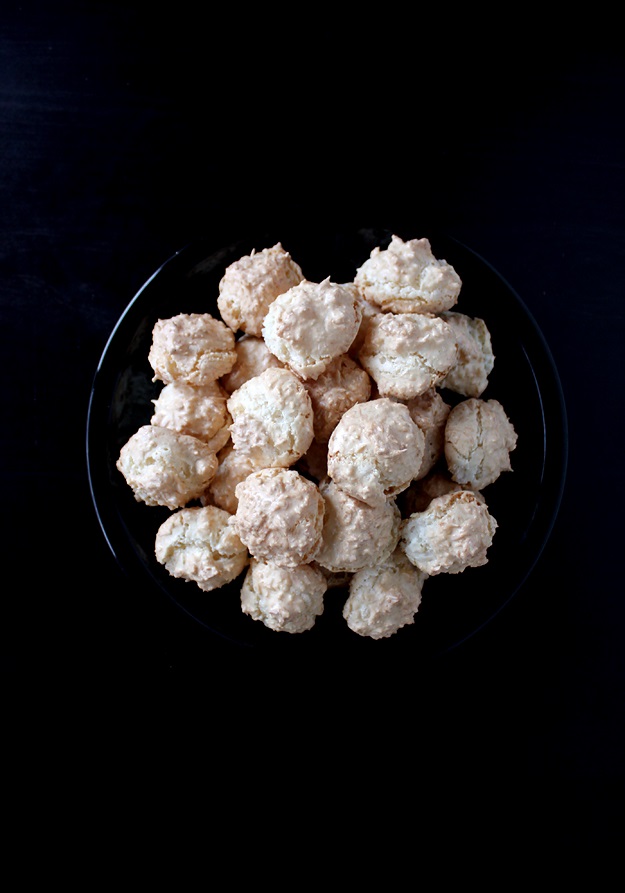 I guess this one is the simplest cookie recipes I know. And the cookies always turn out great, no matter what. I prefer them crunchy on the outside and chewy in the middle. If you have two leftover egg whites – after baking Vanillekipferl for example – macroons are one of the best and easiest ways to get rid of them. Sure, there are other recipes calling for egg whites, like Pavlova, but coconut macroons are finished within 20 minutes and make a great accompaniment to a cup of coffee or tea, not only during Christmas holidays.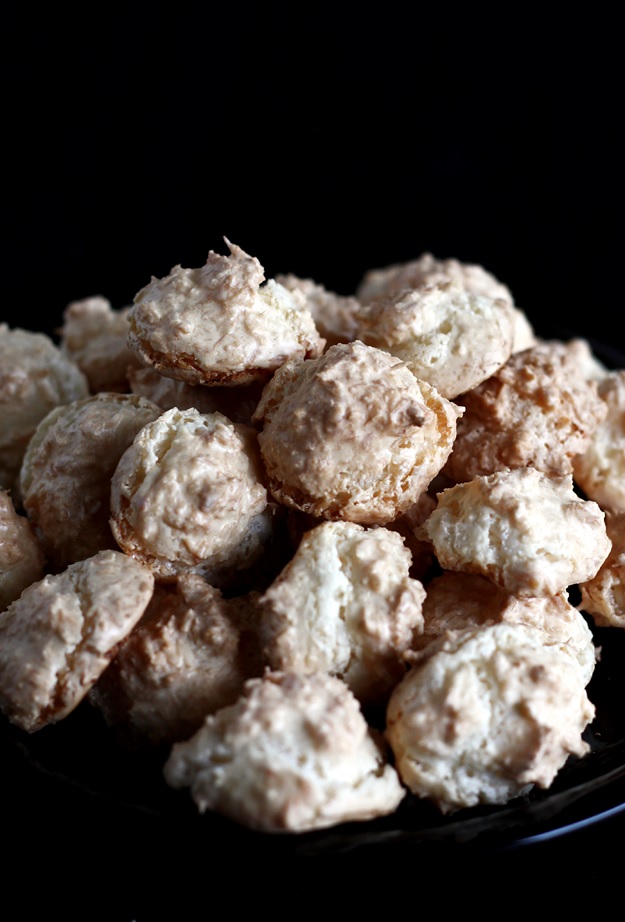 Enjoy!
Ingredients
2 large egg whites
1 pinch fine sea salt
2/3 cups granulated sugar (150 g)
1 ½ cups shredded coconut (130 g)
Instructions
Make sure that the mixing bowl and beaters are fat free and clean.
Whisk the egg whites and salt with a mixer until they hold soft peaks.
Gradually add the sugar until it holds stiff peaks (meringue like). Don't worry too much though if it doesn't work or if your mixture collapses, just follow the rest of the recipe.
Fold in the shredded coconut by hand.
Line the baking sheet with parchment paper. Scoop the coconut mixture into small balls, about one heaped tablespoon at a time. Space them 1 inch apart on the baking sheet.
Bake the macaroons in the center rack (rack 3 of 4 from bottom) of the preheated oven at 350 °F for about 13-15 minutes until lightly colored. The longer you bake them, the crunchier they will get. The shorter, the chewier.
Let the macaroons cool completely. Store them in an airtight container.
https://www.lilvienna.com/coconut-macroons-kokosbusserl/
Did you follow this recipe? You could share your result here. All you need to do is take a picture with your smartphone and send it to 

[email protected]
Coconut Macroons (Kokosbusserl)
was last modified:
January 29th, 2015
by