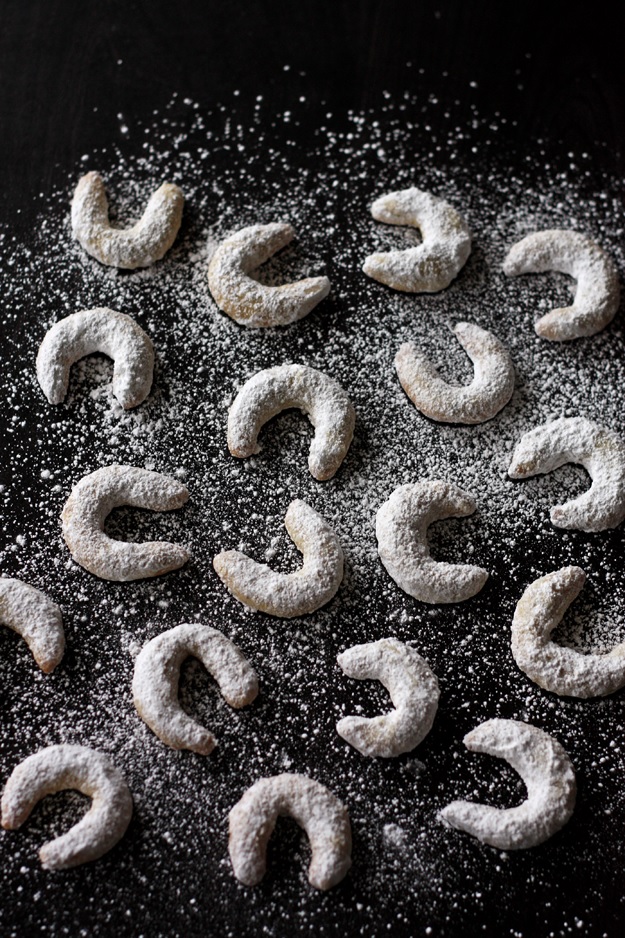 Austria is a nation of Kipfeln. Yes, and especially the citizens of Li'l Vienna. So what's all that about? First of all I'm delighted with every kind of Kipferl. I myself am definitely a Kipferl person and David is too – maybe more in the second sense I'll explain hereafter.

The expression Kipfe(r)l refers to anything crescent-shaped, but only in terms of pastry and baking. In most of the many lovely Austrian bakeries, you will find at least one pastry in Kipferl-shape.

There are Briochekipferl (brioche crescents), Germ-Rosinen-Kipferl (crescent-shaped yeast dough with raisins), Nusskipferl and Mohnkipferl (pastries stuffed with walnuts or poppyseeds) or Linzer Kipferl (spritz cookies with jam and chocolate) and of course Vanillekipferl, but the latter only during Christmas time. And now that I google imaged them, I came up with a new idea for next year: I will bake and blog them aaaaallllll!!! ;-)

Alternatively, Kipferl is synonymously used for endearing fool. Also you could replace "Kipferl" with "Würstel" (sausage), still the same meaning. If you call somebody Kipfel or Würstel, it's not offensive or particularly mean, it's more an expression that parents would call their children when saying or doing something stupid.

So, Austria is a nation of Kipfeln; in both meanings. That being said, let's start with the recipe for one of Austrias most famous cookies: Vanillekipferl. The recipe, including the preparation of vanilla sugar, is very detailed. But I figured, if you didn't grow up making Vanillekipferl each year for Christmas, it's not that self-explaining. And if I don't answer all your question with my recipe, feel free to leave a comment!

First of all, if you live in a country where vanilla sugar isn't as common as in Europe, make your own. Here is a recipe for Homemade Vanilla Sugar using vanilla extract. Done? Then you can start baking Vanillekipferl.

Austrian Vanilla Crescants (Vanillekipferl)
Here are some pictures to explain the most difficult parts of the recipe. You will find all details below in the recipe part.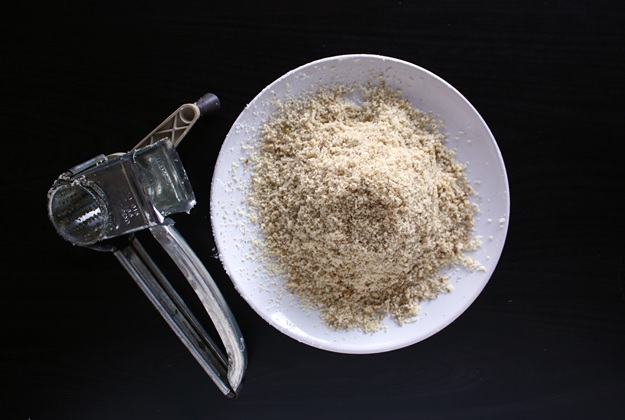 It's important that the walnuts are finely ground. A food processor won't do the job – I used a mouli grater (see picture) for grinding. If you can't find walnut meal in the supermarkets you can substitute almond flour for ground walnuts. In Austria most of the people use either almonds or walnuts for Vanillekipferl.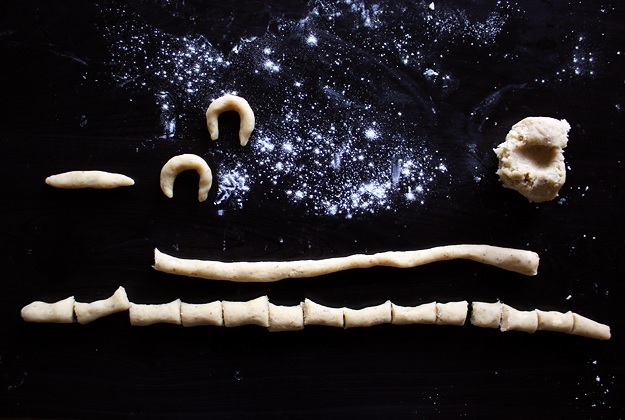 After mixing all the ingredients into a dough, shape pieces of dough into crescents. Usually I don't need any extra flour for rolling out the dough, but if the dough is too sticky to roll it out you can do that on a lightly floured surface.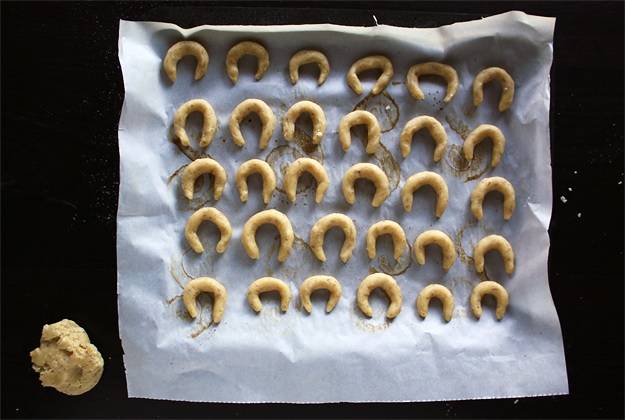 Arrange the crescents on a baking sheet, leaving some space apart. They will rise…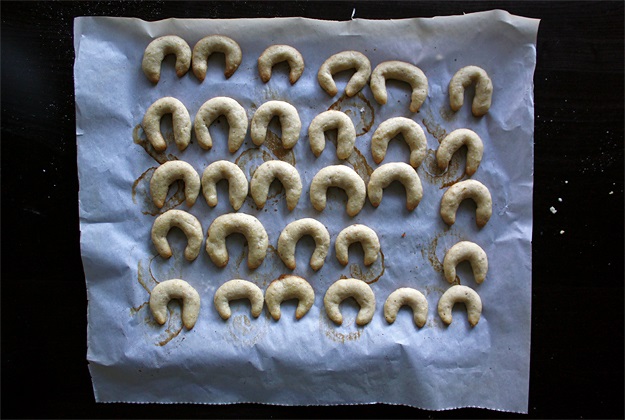 Bake them in an 350 °F preheated oven for 13-15 minutes, until slightly colored.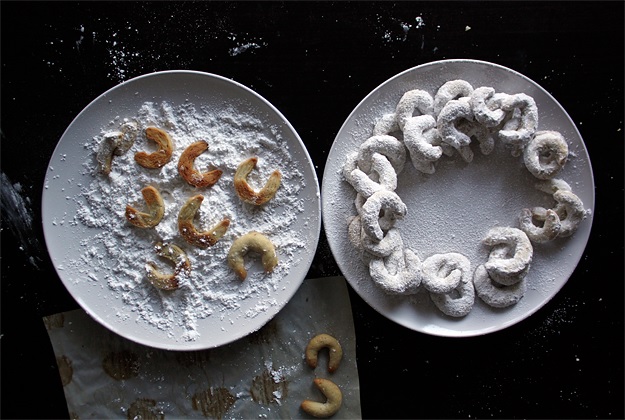 Roll the warm crescents in the sugar-vanilla-mix. Be careful, they easily break and then comes the worst … you have to eat them immediately ;-) Place the coated ones on a seperate plate and let cool.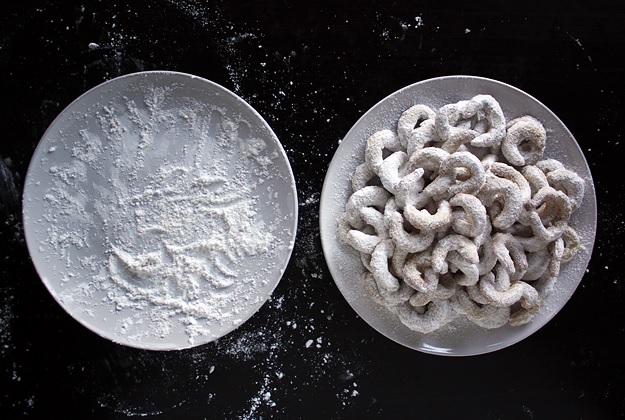 When cooled completly, put them in an airtight container or a cookie box.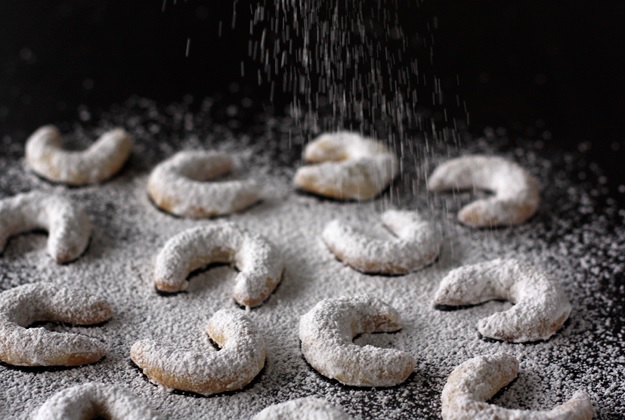 Happy holidays!
Ingredients
14 tablespoons unsalted butter (200 g)
2 cups all purpose flour (250 g)
1 cup (100 g) walnuts, finely ground (substitute with almond meal, if not available)
2 large egg yolks
1 ¼ teaspoons vanilla extract
1 tablespoon milk
2/3 cups powdered/confectioners/icing sugar (70 g)
Pinch of salt
>> All ingredients for the dough should be very cold. I recommend measuring the flour, sugar and nuts by weight in grams since it is more accurate than measuring by volume.

For the sugar coating (after baking)

100 g powdered sugar
2 packages vanilla sugar or homemade vanilla sugar (recipe here, prepare 1 day before baking)
Instructions
Cut butter into ½ inch cubes, then set aside in the freezer to keep cold. Meanwhile prepare the rest of the ingredients.
Weigh the flour and set aside in the freezer or fridge as well. The colder the ingredients, the better.
Grind walnuts very finely with a mouli grater (I couldn't find walnut meal). Don't use a food processor, the chopped pieces will still come out too big. Alternatively, use almond meal, which is also commonly used for baking Vanillekipferl in Austria.
Put flour and butter in a food processor and pulse a couple of times until mixture resembles coarse crumbs. If you use a small food processor, you can do it in two batches.
In a mixing bowl, mix egg yolks together with vanilla and milk, just until combined.
Add butter crumbs, walnuts, sugar, and salt to the egg-mixture and stir until the ingredients come together to a dough.
In the bowl, knead the dough with your hands until well combined, for about 30 seconds.
Cut the dough in quarters, keep one and set the rest of the dough aside in the fridge. Cover the bowl so the dough won't get dry.
Divide the dough into egg-sized pieces and roll out each of them with your hand into strands with about ½ inch diameter.
Cut the strands in 2 inch long pieces. Roll out every piece about 3 – 3 ½ inch long and shape into a crescent. Make the ends slightly thinner, but not too thin as they will brown first.
Arrange the shaped crescents on a baking sheet lined with parchment paper (makes the handling a lot easier), at least ½ inch apart.
Bake the cookies in the center rack of the oven (I use rack 3 of 4 from bottom) in a 350 °F preheated oven for 13-15 minutes or until lightly colored. Don't let them color too much.

For the coating:

Mix sifted powdered sugar and vanilla sugar (granulated) until well combined. If using homemade vanilla sugar, mix most of it with the sifted powdered sugar, keeping a tiny amount aside in case you need more powdered sugar for the coating.
Put the coating on a plate and prepare an empty plate for the finished Vanillekipferl. Meanwhile you can start rolling out the next batch.
Take out the baking sheet from the oven, removing the cookies immediately, so they don't continue baking. If you are using parchment paper, you can carefully remove the cookies along with the parchment paper. If not, remove them with a spatula and set them aside. Be careful, they break easily when they are hot.
Let them cool for 1 minute, then put several crescents in the prepared sugar-vanilla mixture, roll them around until cover in sugar and transfer to a plate. Be careful not to break them (because then you have to eat them immediately ;-) The sugar will stick best, when the cookies are still warm at the moment of rolling them. Also don't touch them for too long on the same spot as this will yield in Vanillekipferl with fingerprings. If you did so, you can always sprinkle them with additional sugar when finished or before serving.
Now roll out your next batch of dough, but don't put the dough crescents on a warm baking sheet. I always arrange them onto a sheet of parchment paper with a big cutting board underneath and transfer the paper onto the sheet just before baking. Or you use 2 or 3 separate sheets for baking them, especially if you have some helpers (recommended!).
When completely cool, store crescents in an airtight container or cookie box.
Notes
The coating for Vanillekipferl consists of powdered sugar mixed with vanilla sugar. In Europe most people use vanilla sugar (vanilla flavored granulated sugar) instead of vanilla extract which you can buy in every store. In the US it's hard to find in supermarkets or it is super expensive. Here you will find some methods for making homemade vanilla sugar using vanilla extract OR vanilla bean.
https://www.lilvienna.com/austrian-vanilla-crescents-vanillekipferl/
Did you follow this recipe? You could share your result here. All you need to do is take a picture with your smartphone and send it to 

[email protected]
Austrian Vanilla Crescents (Vanillekipferl)
was last modified:
December 20th, 2018
by