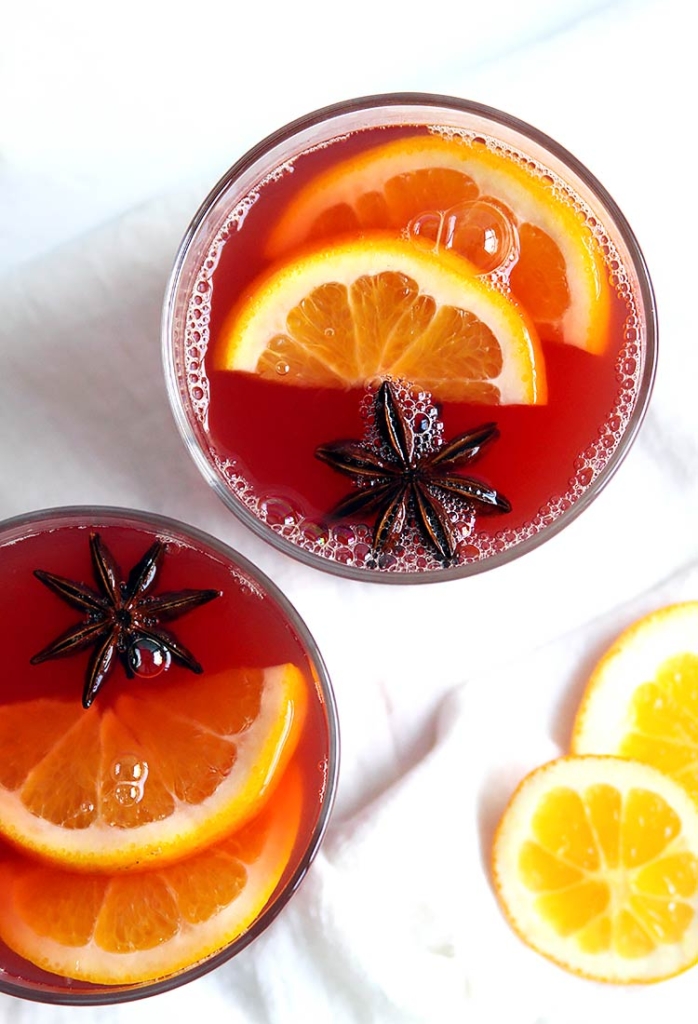 Recipe for a delicious hot punch just like the ones served at Austrian punch stalls in winter. This fruity punch is called 'Orangenpunsch' in German, which translates to 'orange punch'. It celebrates the season with a blend of tea, orange juice, spices, a bit of sugar, and rum if you are up for it.

This spiced orange punch is similar to a hot tea toddy, a hot tea punch or a hot fruit punch. The differences are actually quite blurry.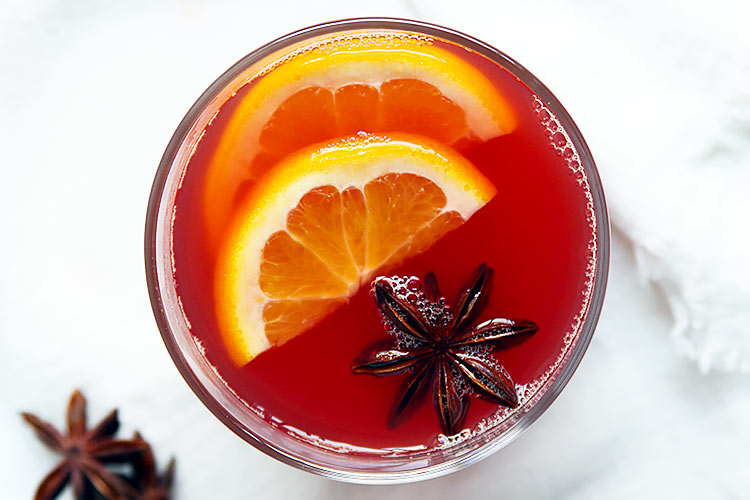 Punch at Viennese Christmas markets
No trip to Vienna in winter is complete without visiting the numerous Christmas markets. The heart of every 'Christkindlmarkt' as we call these markets in German, is without a doubt the punch stalls. They serve different fruit punches, mulled wine ('Glühwein') and winter snacks like pretzels, spiced candied almonds, or cookies.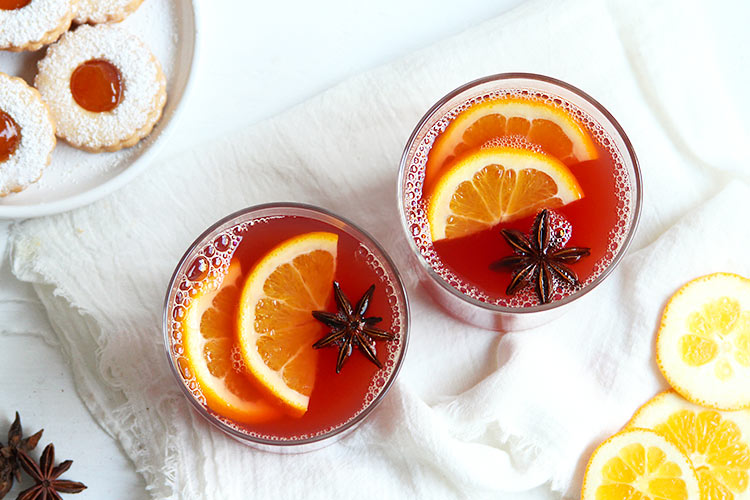 People usually enjoy their (boozy) beverages next to the little stalls, piping hot, and always within reach of the next hot beverage. Of course, in2020 everything is different and all the Christmas markets are closed in Vienna right now. However, this is the perfect time for making hot Christmas punch at home. This Christmas punch will instantly bring a cozy holiday vibe into your home, I promise.
Video hot punch
Enjoy!


Recipe for a delicious hot punch just like the ones served at Austrian punch stalls around Christmas time. This fruity punch contains tea, orange juice, spices, and a bit of sugar. Enjoy it spirited with rum or alcohol-free – both versions taste great.
Recipe: Ursula | lilvienna.com
Ingredients
3 cups (720 ml) water
3 teabags blood orange tea (alternatively: hibiscus or black tea)
1 cinnamon stick
4 cloves
1 star anise
1.5 cups (360 ml) orange juice, best if freshly squeezed from 4-5 large oranges
2 tablespoons (30 g) white or brown sugar
1/4 cup (60 ml) dark rum (38 %)
1/4 cup (60 ml) Cointreau (alternatives: see notes)

For serving:
orange slices, star anise
Instructions
In a medium saucepan, bring water to a boil. Add tea bags, cinnamon, cloves and star anise. Turn off stove, cover, and let steep 10 minutes.
Discard tea bags. Add orange juice and sugar and bring back to a simmer.
Add rum and Cointreau. Carefully reheat but do not simmer since alcohol starts evaporating significantly at 172 °F (78 °C).
Taste and add more sugar if needed. If you would like to keep the beverage hot over a few hours, remove the spices since they can make the punch taste too intense or even turn it bitter when steeped for to long.
Serve hot with orange slices and a star anise. Enjoy!
Notes
Prepare in advance:
Can be prepared 1 day ahead. After cooling, remove spices, cover and refrigerate. Rewarm before drinking.
Substituting Cointreau:
I love to use the orange liquor Cointreau in this recipe to enhance the orange flavor. You can use any other orange liquor (Triple Sec, Curaçao Liquor, Grand Marnier) too. Alternatively, simply use additional dark rum or Brandy and add a bit more sugar.
https://www.lilvienna.com/hot-punch/
Viennese Hot Christmas Punch – with Video
was last modified:
December 17th, 2020
by