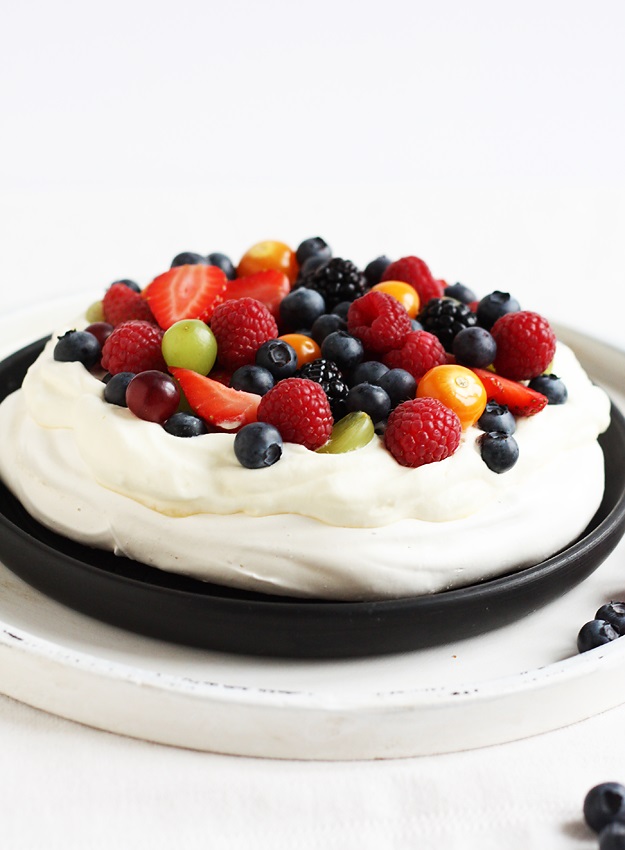 While New Zealand and Australia are still fighting over the true origin of pavlova,  I just eat it. Whichever countrys national dish it is, this super-sweet dessert is delicious.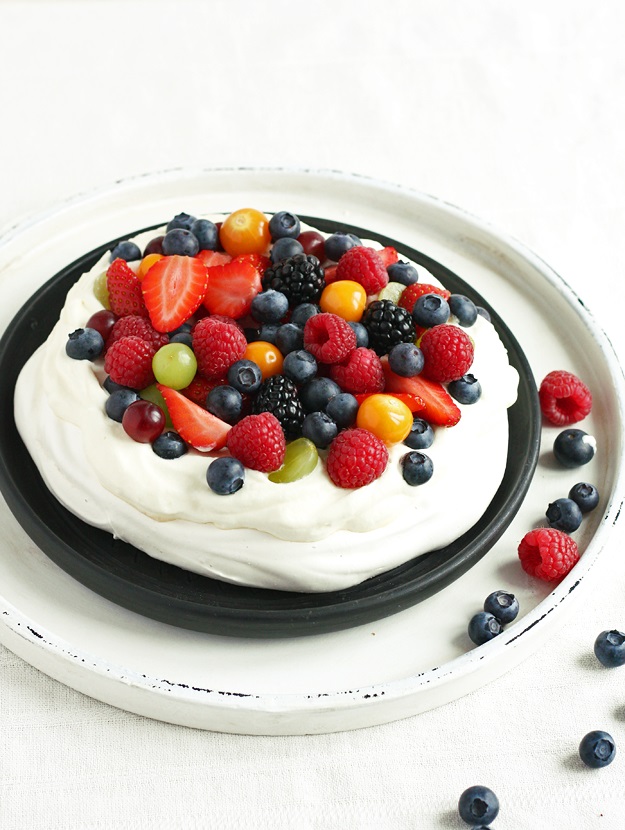 The meringue layer is covered with an additional layer of whipped cream, topped with fresh, delicious summer berries. I assume it's almost healthy ;-)  I usually put raspberries, strawberries, blueberries, green and blue grapes and physalis on the cream layer. If can not find fresh berries in your local market, a pavlova can also be delicous made with fruit curds such as lemon or maracuya curd or even better, with Kaya, an Southeast Asian coconut based delight (recipe coming soon). However as opposed to the berries, all curds go on top the meringue layer directly, underneath the whipped cream.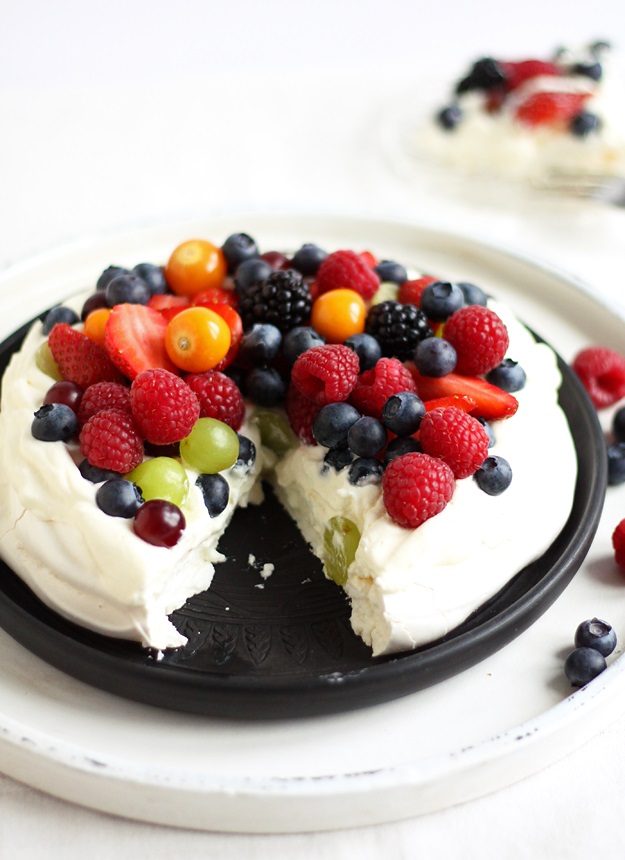 As you can see, I like my meringue white and shiny – and baked through. So if you prefer your meringue to be soft and marshmallowy in the center, just turn off the oven earlier.
Btw, pavlova is a perfect way of getting rid of leftover egg whites.
Ingredients
For the meringue

2 large egg whites
½ cup minus 1 tablespoon granulated sugar (3,5 oz/100 g)
½ teaspoon lemon juice (or white wine vinegar)
½ teaspoon vanilla extract

For the Pavlova

1 ½ cups (11 oz/300 g) berries (raspberries, strawberries, grapes, blueberries, blackberries, physalis)
¾ cup heavy cream
¾ tablespoon granulated sugar
½ teaspoon vanilla extract
Instructions
Preheat oven to 250 °F / 215 °F fan-oven (120 °C or 100 °C fan-oven) and place a rack in center.
Draw a 7-inch circle with a pencil on a piece of parchment paper to create an outline for the Pavlova. Place the baking paper, pencil side down, on a baking tray, so you won't get a pencil mark on the meringue.
Put your egg whites into a clean, grease free bowl and whisk them on high speed until they start to form nice firm peaks.
With your mixer still running, gradually add the sugar, then vanilla extract and lemon juice and beat until white, glossy and smooth.
Spoon the meringue mixture in the middle of the circle on the parchment paper and smooth it within the circle. Make sure that the edges of the meringue are slightly higher than the center, allowing you to place the whipped cream and fruit in the slight well in the center of the meringue in a later step .
Place the tray in the oven and cook for 1 ½ hours. Turn the oven off but leave the Pavlova inside with the oven door slightly ajar until the Pavlova is completely cooled, or overnight. You can use a wooden spoon or something that won't burn/melt to hold the door ajar.
Just before serving gently place the meringue onto a serving plate. Whip the cream with a hand mixer until soft peaks form. Sweeten with sugar and vanilla and then spread the softly whipped cream cloud-like over the Pavlova.
Halve or quarter the large strawberries and mix them with the other berries. Arrange the fruits randomly on top of the cream. Serve immediately and do not refrigerate, since the meringue will soften quickly.
Notes
Bake the meringue as soon as you are finished whipping the egg whites. If you let the beaten egg whites stand for too long, they'll start to collapse .

The meringue layer can be made several days ahead. If you do so, keep it tightly wrapped in plastic or in an airtight container after it has cooled down completely right until you're ready to assemble the pavlova. Meringue does not keep well in humid weather.
https://www.lilvienna.com/berry-pavlova/
Did you follow this recipe? You could share your result here. All you need to do is take a picture with your smartphone and send it to 

[email protected]



User Laura has baked Pavlova: "The meringue turned out glossy white, just as imagined. I put grapes, red currants, blueberries and bananas on top. And to prevent it from becoming too healthy, I did an additional layer of chocolate sauce underneath the whipped cream."
Berry Pavlova
was last modified:
October 10th, 2014
by