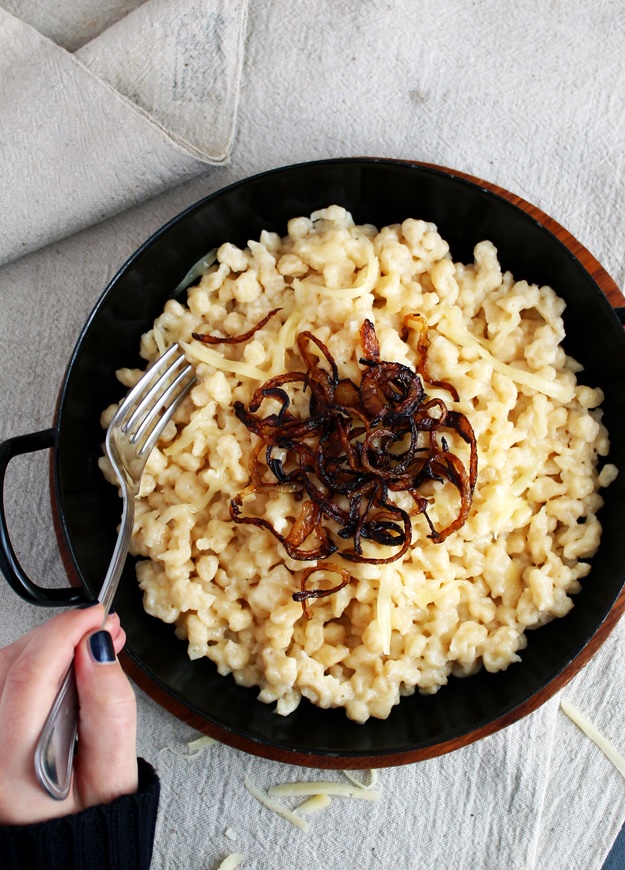 Right now, it's cold here in Boston. To be precise: 0 °F ( -18 °C), with a RealFeel temperature of -22 °F (-30 °C). Pretty bad, hmm. So what could you possibly do to withstand the cold weather, except of wearing warm clothing and imagining yourself on a nice beach? I would suggest eating a pile of carbs with melted cheese, sprinkled with caramelized onions. Why else would Käsespätzle be the typical and cherished après-ski dish in Austria?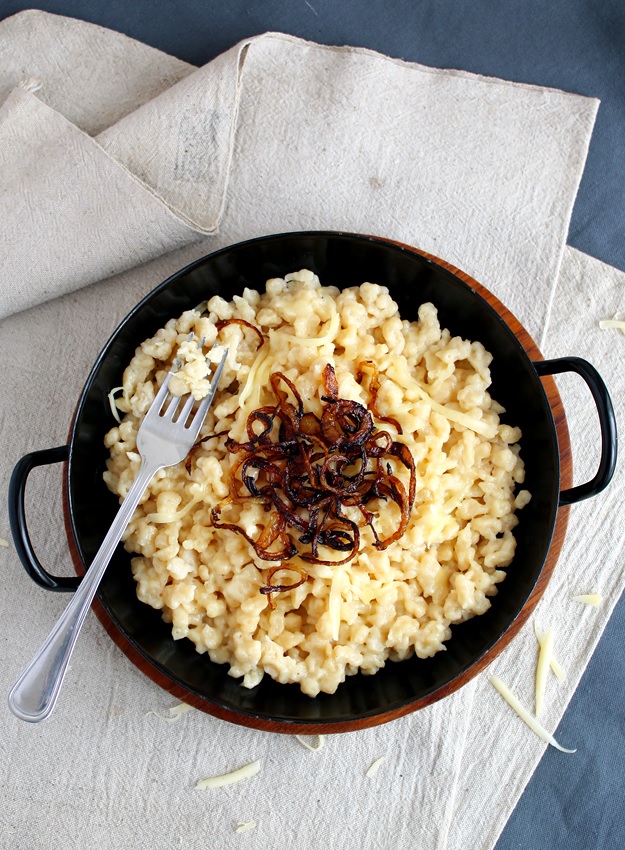 Kitchen tools for making spaetzle
In central Europe people usually use a special spaetzle making device called spaetzle maker (Spätzlesieb or Spätzlehobel).
I usually use a spaetzle maker with a slider basket (like this or this) but in the past, I've also worked with my roommate's spaetzle lid with scraper. Later, when living in the US, I simply used a colander with large holes in the beginning, which at some point I replaced with a handmade spaetzle colander that I made in my ceramic class at MIT in Cambridge.
All of these devices worked perfectly, although I often simply used a soft (silicone) spatula to push the batter through the holes when using a spaetzle lid (and not the scraper it comes with). They are always on hand and perfect for the job.
But as I've mentioned, even though these spaetzle maker devices come in handy, you can use a colander with large holes or a flat vegetable grater with the flat surface facing up instead. I think you get the idea. If the holes of your device are rather small (please not smaller than ¼ inch), add slightly more water to the batter (max. ¼ cup), so the batter will not clog the holes. Just scoop some batter, about ½ cup, onto a grater or into a colander and press it into simmering salted water with a spatula.
When all of the batter has been used, wait another 2 minutes before you drain the spaetzle. Voilà, easy isn't it? If you are cooking for more than 2 persons, it's better to cook the spaetzle in batches and remove the ready ones floating on the surface with a slotted spoon. This way you make sure that all spatzle are cooked for the same amount of time.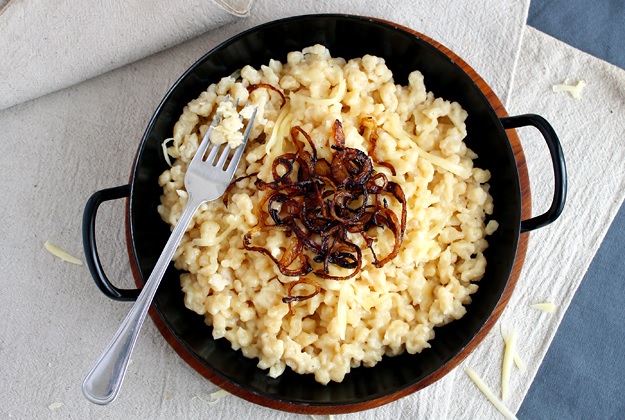 About the cheese. In Austria I would use any type of Bergkäse ("mountain cheese") which are firm, have a strong and rather sharp flavor and melt well. You can use Swiss cheese (Emmental) or Gruyère, I even tried spaetzle with sharp aged cheddar and it turned out very nice.

This article contains affiliate links.
Ingredients
1 large egg
2/3 cups + 3 tablespoons water (200 ml)*
2 cups all purpose flour (250 g / 8 ¾ oz)
½ teaspoon salt
1 small yellow onion (80 g)
1 tablespoon vegetable oil (14 g)
1 tablespoon unsalted butter (14 g)
1 cup grated, strongly flavored cheese such as Swiss (Emmental) or Gruyère (100 g / 3 ½ oz)
Instructions
In a mixing bowl whisk egg and water until well combined, then add flour and salt until you get a lump free and pretty thick, sticky batter. Let it rest for 20 minutes.
Meanwhile cut the onion in half lengthwise and slice it finely into even rings.
Heat oil and butter together in a big pan, add the sliced onion and cook over medium heat for about 10-15 minutes or until onions turn golden brown, stirring often. Set aside. In case there is any oil/butter left in the pan, leave it. Unless there are black particles from frying the onion, in that case, discard it.
Bring a large pot of salted water to a boil.
Carefully hold a spaetzle maker (or a colander/veggie grater with large holes) over the boiling water. Place about ½ cup of the batter on the spatzle maker/colander and press it into the simmering water using a spatula or the back of a spoon. Repeat until all of the batter has been used.
Cook the spaetzle for an additional 2 minutes until they all float on the surface, then drain.
Put spaetzle into the pan where you cooked the onions. If there is no butter/oil left, add 1 teaspoon butter. Heat butter, and when melted, add spaetzle and cheese. Stir over medium heat until cheese has melted.
Scatter the caramelized onion over the spaetzle and serve.
Notes
* If your batter is too thick and you can't press it through the holes of your colander/veggie grater, you can add more water to the batter (max. ¼ cup, 60 ml).
https://www.lilvienna.com/cheese-spaetzle-caramelized-onions/
Did you follow this recipe? You could share your result here. All you need to do is take a picture with your smartphone and send it to 

[email protected]
Cheese Spaetzle with Caramelized Onions
was last modified:
April 16th, 2018
by