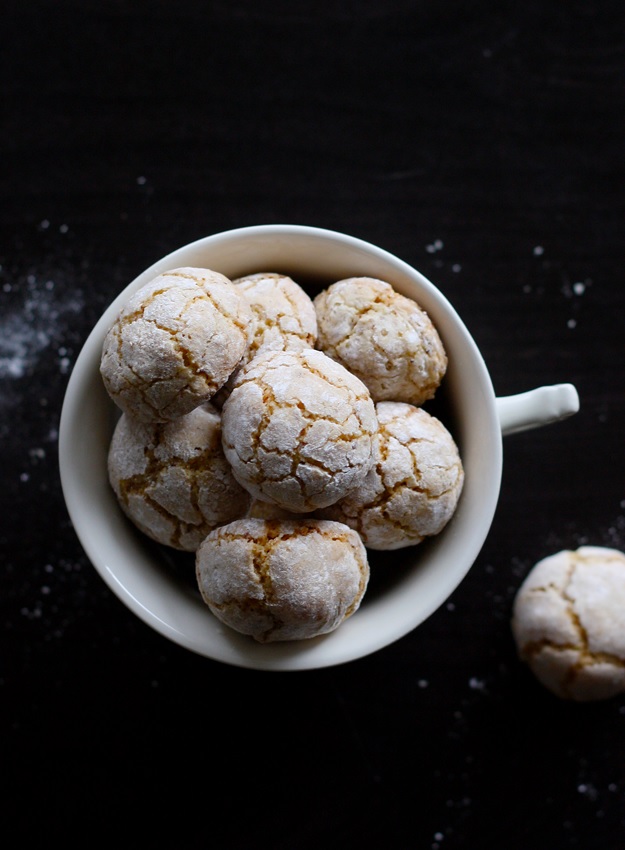 These Italian amaretti cookies have a crunchy crust and a chewy center. I love to eat this Italian classic year round, especially when served with a cup of "Melange", the most famous Viennese coffee with lots of milk foam on top.
I prefer these cookies with a chewy center but feel free to bake them a little longer to get a crunchy cookie all the way. Store them in an airtight container to keep them the way they are for as long as possible.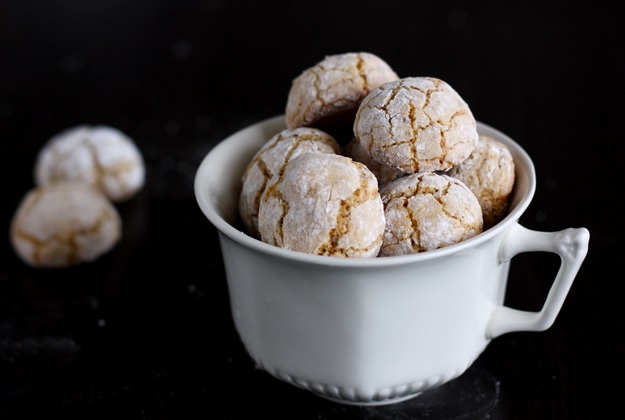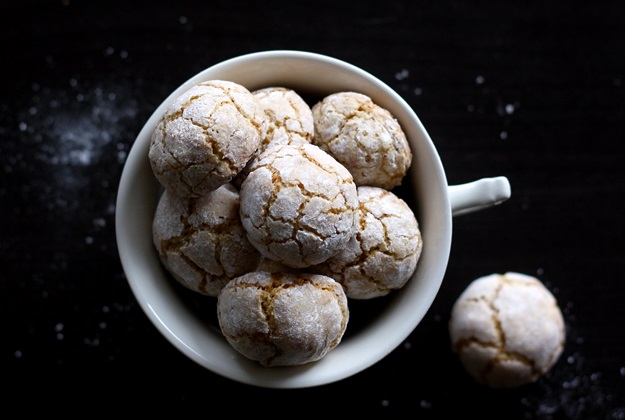 These fuss-free Italian amaretti cookies have a crunchy crust and a chewy center. I love them this way. In case you prefer them to be crunchy and crispy all over, simply let them bake in the oven a little longer.
Recipe: Ursula | lilvienna.com
Ingredients
1 large egg (60 g weight, 50 g without shell)
1/2 teaspoon almond extract
100 g (about 1/2 cup) granulated sugar
1/8 teaspoon fine salt
150 g (about 1 1/2 cups) almond meal (I used the one with skins but blanched ones are also fine)*
Additionally: Granulated sugar and powdered sugar for rolling
Instructions
Whisk egg, almond extract, sugar and salt with a fork until well combined. Add almond meal and mix until the ground almonds are equally moist.
Cover and put in the fridge for at least 1 hour (or overnight) so that the batter gets firmer. (I omitted this step once and the balls spread into flat cookies, so make sure to cool the batter properly.)
Roll the batter into small balls, 1.5 teaspoons each. Add a little more almond meal if the batter is too sticky to form balls. Roll each ball in a small bowl with granulated sugar first and then, in a separate bowl, in powdered sugar until nicely covered.
Place the cookies onto a baking sheet covered with parchment paper with 1-inch space between them (they will spread a little).
Bake them for 12-15 minutes in a 320 F (160 C) preheated oven. Depending on their size and your oven, the baking time may vary. The cookies should still be kind of soft to the touch and they will firm up when cooled. Rather underbake them because you can always put them back into the oven for a minute or two once they are cooled and you have checked the consistency.
Notes
* Update 12/17/2021: In the original recipe, I added 125 g (1 1/4 cups) almond meal. In my new oven, they spread out to cookies during baking, adding more almond meal helps (now: 150 g or 1 1/2 cups). If the batter is still too sticky to form into balls, add an additional 1-2 tablespoons of almond meal.
https://www.lilvienna.com/italian-amaretti-cookies/
Did you follow this recipe? You could share your result here. All you need to do is take a picture with your smartphone and send it to 

[email protected]



Cathy: "Thank you for the recipe. They look good. Thanks Cathy" 


Italian Amaretti Cookies
was last modified:
December 3rd, 2018
by