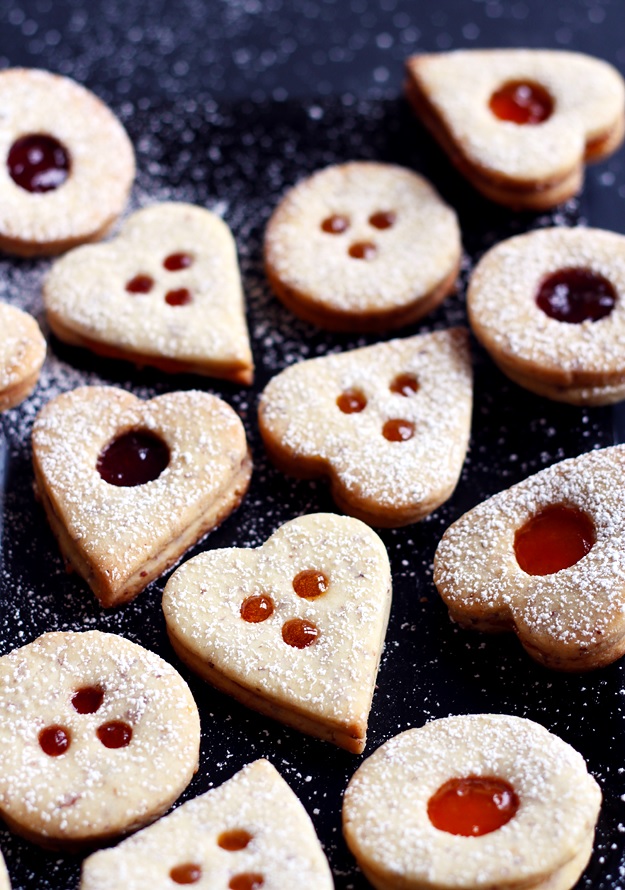 I am back!!! I didn't post anything on the blog for quite a while. In fact, there has never been a break that long. BUT, and there always is a but, I had a good reason for this: We moved back to Europe. Yes, we recently moved from Boston to Vienna. After having spent the past 3.5 years in Cambridge, we now live in our new/old city again.
If you've ever moved within the same city or country, you know what moving means. Basically, a lot of mess. Everywhere. However, moving to a different continent means a hell of a lot more work. We didn't ship any of our stuff, so we had to squeeze all our really important belongings that we wanted to hold on into 3 suitcases. Doesn't sound like fun? Well, it's not… And in addition to all the furniture-selling, job-quitting, farewell-parties, apartment-cleaning we had to organize everything in Vienna (apartment, jobs, …). I am sure you now understand why it was kind of quiet on the blog lately. But now, we've settled into our new apartment in Vienna and things start to calm down after all the hustle.
The first thing that I made in our new oven (finally, with glass front!!!) was granola, simply because I don't want to be without. It's my comfy food. And it seemed like a good fit since the last thing that I've made in our old apartment in Cambridge was granola too because it's the quickest way to get rid of all the seeds, grains, coconut, nuts, and oats at once. But guess what the second dish was that I made in the new apartment? Linzer cookies. Usually, I don't start baking cookies until December or hmmmmm let's be honest, the morning of December 24. However, since everything has changed over the last few weeks, I thought: Hey, why not make holiday cookies right away? And honestly: Best idea ever. The cookie tester also enthusiastically agreed.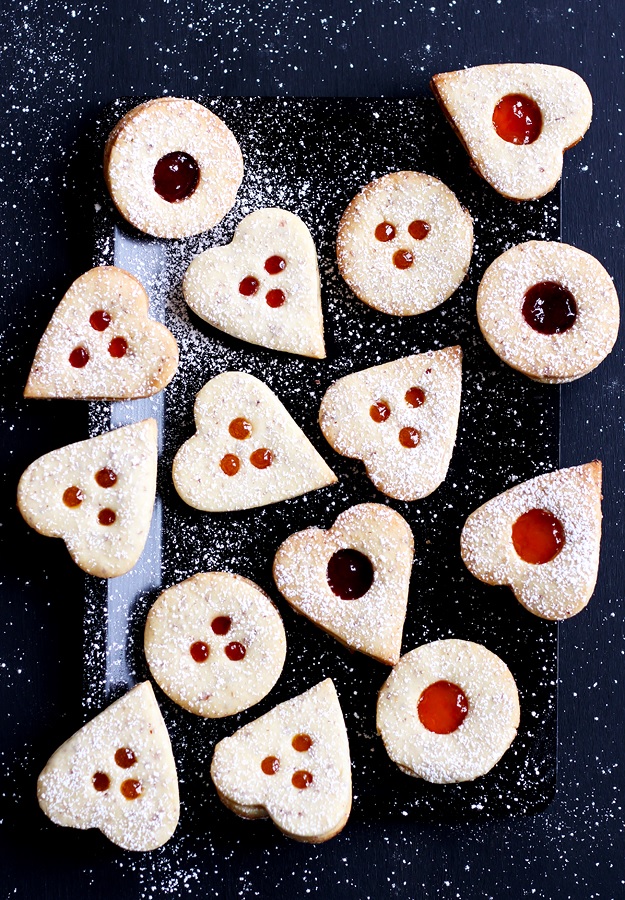 About these Linzer cookies
I grew up in Austria with Linz as the closest city. Naturally, these cookies have always been around. Almost everybody I know made them for Christmas time. In bakeries and supermarkets, they are very popular year round. Therefore, it was only a matter of time for them to appear here on the blog. With our move back to Austria it seemed like the perfect opportunity.
Linzer cookies consist of 2 shortcrust pastry cookies glued together with either apricot or red currant jam – these varieties are the most authentic ones. Of course, you can use any jam you like. Just make sure it's smooth and fine textured, without any fruit chunks. The cookies are crunchy when freshly made but they will soften once filled with jam and stored in an airtight container. Usually they soften within 2 days.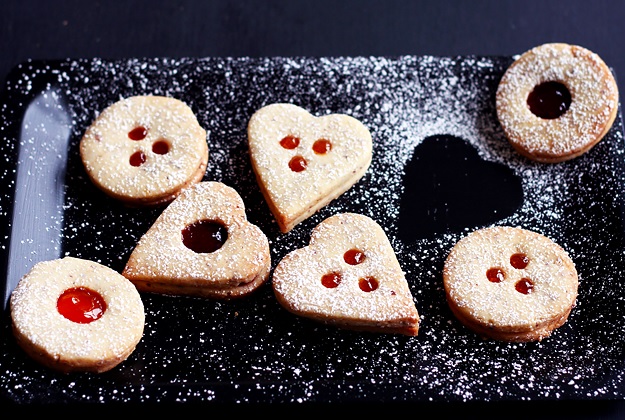 Oh, and talking about Linz: Check out my Linzer torte, if you have time. For a cold weather Linzer torte substitute some red currant or berry jam for the strawberries.


Ingredients
300 g (2 1/4 all-purpose flour
200 g (1 stick and 6 Tbsp) cold unsalted butter, cut into ½-inch cubes
100 g (3/4 cup) powdered sugar
100 g (1 cup) almond meal (I used the one with skin)
1/8 teaspoon fine salt
Pinch of cinnamon (and additional a pinch of nutmeg and/or cloves powder), optional
2 egg yolks
If needed: 1 tablespoon milk

For the filling: smooth, fine-textured apricot jam or red currant jam

A dash of rum, optional


Powdered sugar for dusting
Instructions
In a big mixing bowl, combine flour, sugar, almond meal, salt (and cinnamon, nutmeg, cloves, if using) with a spoon.
Using a knife, a pastry cutter or your fingers, work in the butter into the mixture until it resembles coarse meal. Work in the egg yolks until the dough comes together. If the dough doesn't come together after 1 minute, add 1 tablespoon of milk. You could also make the dough with a food processor; just make sure not to overwork the dough.
Shape the dough into a disc, wrap it with cling wrap and refrigerate 1/2 hour. You can leave the dough in the fridge longer (e.g. overnight) and take it out at least 1/2 hour before rolling it out – otherwise it is too cold and almost impossible to roll out.
On a floured surface, roll out the dough just shy of 1/8-inch (2-3 mm) thickness. Flour your rolling pin and the dough regularly while rolling it out.
Preheat your oven to 350°F (180°C).
Cut out the cookies. You'll need a hole (or 3 small holes, called "eyes", if you make it the traditional way) in half of your cookies. There are special cookie cutters for cutting out the cookie including the holes, but not even I have those. I simply use a thick straw, an apple corer, or a shot glass (for a big hole in the center) for cutting out the inner circle. The shape of your cookie cutter doesn't really matter. Rounds are traditional but I also do hearts pretty often. Take the cookie scraps and form a ball, then repeat until all the dough is used up. Make sure that all the cookies on one baking sheet have a similar thickness, otherwise they'll brown unevenly.
Place the cookies on a baking sheet lined with parchment paper. Bake in a 350°F (180°C) preheated oven for 8-11 minutes or until the edges turn golden. Depending on the oven, turn the sheet once half way through the baking for even baking.
Remove the baking sheet from the oven and using a pancake turner or spatula, transfer the cookies to a cooling rack or the counter. If you have somebody to help you, you can grab the entire parchment paper and place it on the counter to cool. Don't leave the cookies on the baking sheet since the residual heat will brown them.
Once the cookies are cool, spread the cookies without holes with jam (mix with rum, if you like). Leave 1/8-inch (3 mm) space towards the edges. Dust all cookies with holes with powdered sugar using a fine strainer.
Put the sugar-dusted cookies on top of the jam-spread ones and press them together so that the jam will be pressed through the holes a bit. Do not touch the tops of the sugar-dusted cookies or you will get some fingerprints. If you dust them when already assembled, the jam hole will be covered in sugar (nope, it doesn't melt).
Leave the assembled cookies out on the counter for a few hours to let the jam dry a bit. Place them in an airtight container/cookie jar/cookie tin. After about 2 days, they will soften and are ready to eat. Of course, you can eat them before the 2 days are up, but they might be kind of crunchy.
If you like, you can dust them carefully again before serving, but make sure not to cover the "jam eyes" with sugar.
https://www.lilvienna.com/traditional-linzer-cookies/
Did you follow this recipe? You could share your result here. All you need to do is take a picture with your smartphone and send it to 

[email protected]



Monika: "I filled these Linzer cookies with red currant jam and followed the recipe precisely. They taste amazing!" 


Traditional Linzer Cookies & News
was last modified:
January 2nd, 2018
by