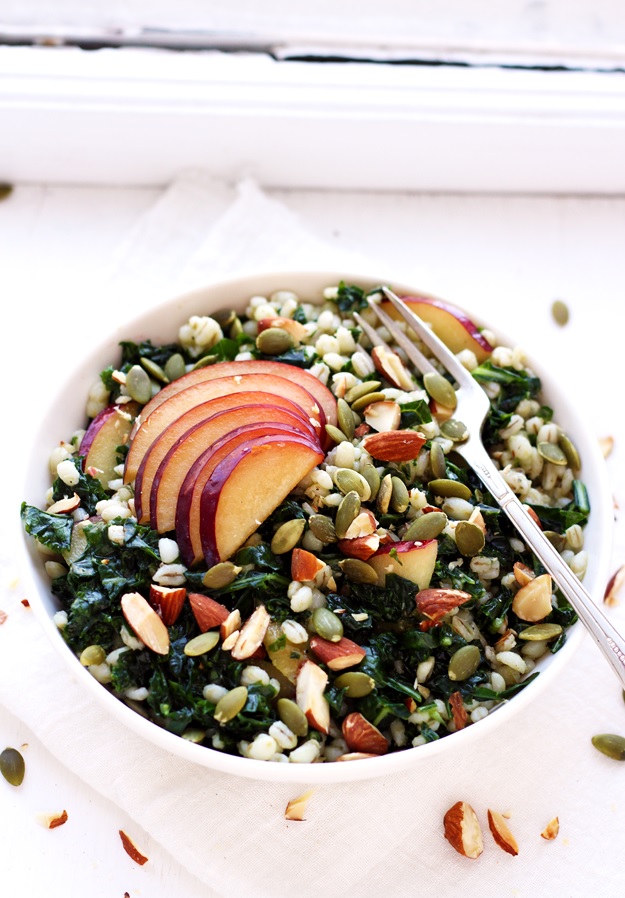 This grain salad basically consists of 3 ingredients: barley, kale, and plums. It's ready in 5 minutes but still, it is the perfect salad for a little freestyle-cooking in your kitchen. In case you don't have any leftover barley in the fridge but bulgur or rice: Go ahead and substitute. Any cooked grain works well here. Couscous, millet, barley, bulgur, rice … you name it. You are not the biggest fan of kale? Honestly, who is (except me recently…)? Use swiss chard or collard greens instead. Plums are your least favorite fruit ever? No worries, you can substitute any other fall fruit like apples, pears, or even a roasted pumpkin (<– this actually does taste great). Dried cranberries make a great addition too.
Ok, now that I have told you how to make a totally different salad by substituting everything, I am asking you: Please, try this super delicious grain-kale-plum salad first and, in case you don't love it, go ahead and substitute your favorite ingredients.
As you may notice, this salad only yields one big serving. I usually eat lunch home alone – ok, it's not as sad as it sounds – since right now I am working from a home office. Hello, fridge within 5 feet of reach. So, if there are any leftover grains, there is usually some of it, but not an awful lot, which make it a great 1-person lunch. If you are planning to make this grain salad for more than one person, please check the note in the recipe part below for instructions.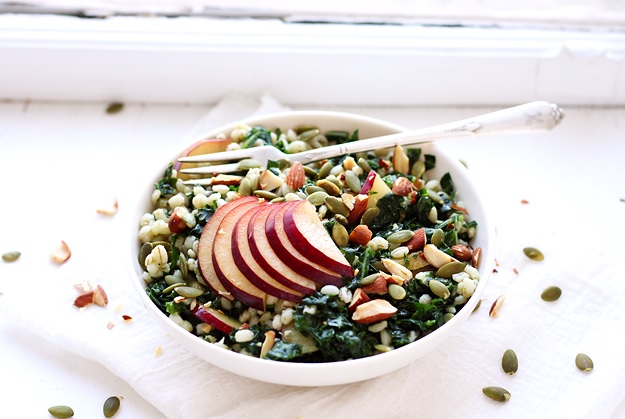 Crunchy salad topping
By the way: Do not omit the topping. It adds such a great crunchy texture. I love it even more, when I roast the pumpkin seeds and almonds right before serving. You just have to put the pumpkin seeds and coarsely chopped almonds in a pan without oil and roast them over medium heat for a few minutes. You can use any seeds and nuts like sunflower seeds, walnuts, or pecans. Ok, I am adapting my own recipes while I am writing them down. I have to stop now. The recipe below is really, really great – do not adapt it ;-)
This grain salad basically consists of 3 ingredients: barley, kale, and plums. You can substitute literally anything here. Use any other type of grain (bulgur, couscous, rice), substitute swiss chard or other collard greens for kale, or add fruits like apples, pears, or some slices of roasted pumpkin. The same applies for the toppings: Almost any seeds and nuts will work fine and will add a nice crunch to the salad. This is my go-to grain leftover salad, therefore the recipe only makes one serving – double or triple the recipe to your needs, reduce salt slightly if you do.
Ingredients
2-3 large leaves kale, stem removed and finely sliced (about 4 cups loosely packed)
1.5 cups (210 g) cooked barley (or other grains like bulgur, couscous, or rice), see note
1 large black plum (120 g) (you can substitute any other type of plum, apple, pear, or roasted pumpkin)
1/4 teaspoon fine salt
1/2 teaspoon granulated sugar
1/2 teaspoon honey (or more sugar)
1 tablespoon red wine vinegar (you can substitute white wine vinegar)
1 tablespoon oil (any will do)
Freshly ground black pepper
Instructions
Put the sliced kale into a big bowl. Add salt and sugar and massage (knead and squeeze) the kale until it wilts, about 1-2 minutes. It will lose a lot of its volume and will feel moist. Add some freshly ground black pepper and the honey, stir well with a spoon.
Add the barley and the plum slices (keep some aside for the topping) to the bowl and stir. Add the oil and vinegar and mix well. Adjust seasoning, if desired. Enjoy!
Notes
If you don't have any cooked leftover grains: Cook 1 cup (210 g) barley with 1/2 teaspoon fine salt and 2 ¾ cups of water. Cook covered for about 20-25 minutes. If there is still a little water in the saucepan, that's fine. Turn off heat and let barley sit for 5-10 minutes covered. After that, it should have absorbed all the water, otherwise drain. Remove the lid and let it cool. Fluff the barley with a fork before using. Makes about 4 to 4.5 cups (620 g) loosely packed cooked barley.
https://www.lilvienna.com/grain-salad-kale/
Did you follow this recipe? You could share your result here. All you need to do is take a picture with your smartphone and send it to 

[email protected]



Grain Salad with Kale, Plums and a Crunchy Topping
was last modified:
October 8th, 2017
by