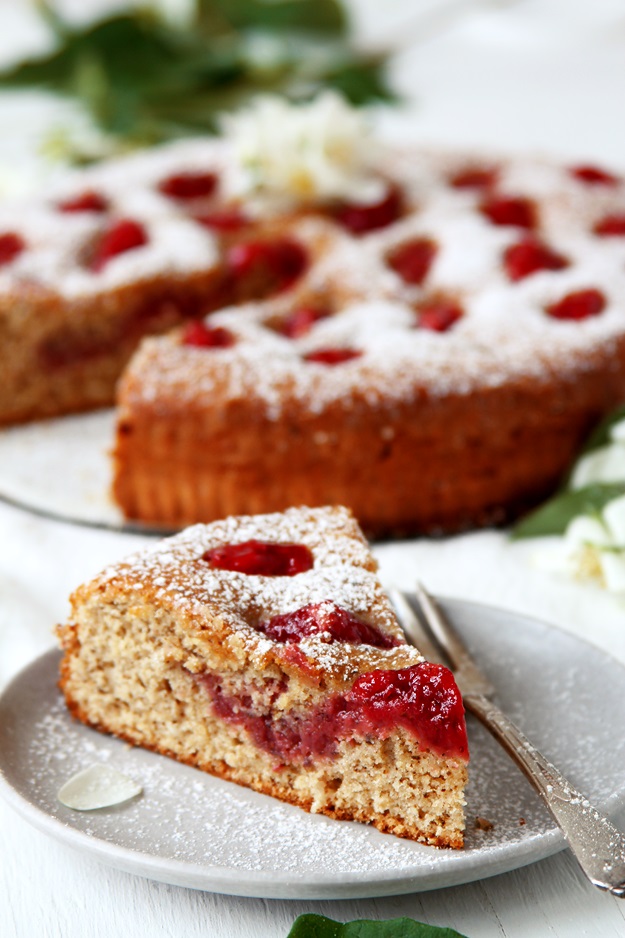 Yummmmmm! Growing up half an hour from the city of Linz, I can't understand why I neglected this traditional Austrian torte for such a long time. Being Austrian, I should be a connoisseur of amazing pastries – especially if we are talking about one of Austria's signature dishes that is known around the globe. Shame on me! Shame on me even more with Linz being the closest city around until I moved out of my parent's house.
I mean, this torte is a pure pleasure to eat. David and I managed to eat the Strawberry Linzer torte in the picture within two days, just the two of us. And no, I didn't use a tiny cake pan. It's a regular one ;-)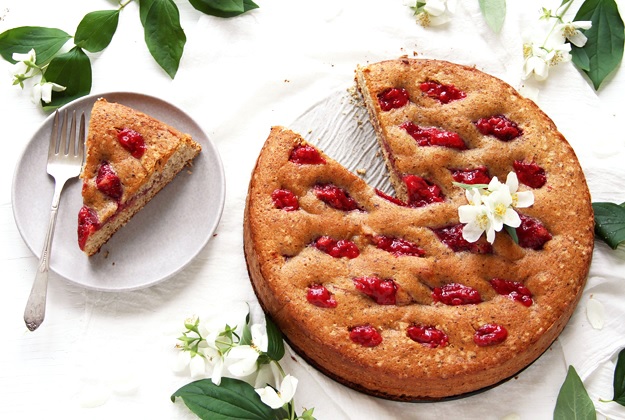 Linzer torte: shortcrust pastry versus cake batter
I might have a clue about why this Linzer Torte only recently won my affections and wasn't on my radar earlier. See, there are two different kinds of Linzer torte. One is made of shortcrust pastry with  ground nuts – usually hazelnuts – and eggs mixed in. My granny used to bake this kind of Linzer tart. She would make the shortcrust pastry and roll it out on a large wooden rolling board. Half of the dough then became the tart bottom, which she spread with red currant jam. While the other half was cut into stripes to make a lace. Very similar to a pie.

As a kid, I thought Linzer torte was a rather dry pastry compared to all the other cakes and tarts my maternal ancestors would bake. The trick is to let the baked cake rest at room temperature for at least a day before slicing. This way, the moisture of the filling softens the crust, which makes a lovely shortcrust Linzer tart. I guess, with 3 grandchildren around, my granny never waited to slice the cake and therefore her cake was somehow a bit crumbly. What I didn't know back then is the second method of making a Linzer tart that yields a super moist, nevertheless not less original, torte. The second kind is made with a cake batter, spreading one half of the batter onto the bottom of a round cake pan and piping the rest of the batter onto the filling for a nice lattice.
I found the recipes for both versions in an old cookbook. My mother in law is still making Linzer torte following the recipe for the moister cake batter tart in that book. And, it was her Linzer tart that made me consider giving it a try. I am using the same recipe as she does, although I adapted it a bit. I made a summerly version with strawberries instead of the more traditional red currant jam. By the way, the jam and making a lattice is not mentioned at all in the old cookbook recipe. Also, the recipe is written rather cryptically and for example calls for "some milk" and a "nice hot oven temperature". Therefore, I did my best to fill in the gaps. I hope you will like it as much as David and I do.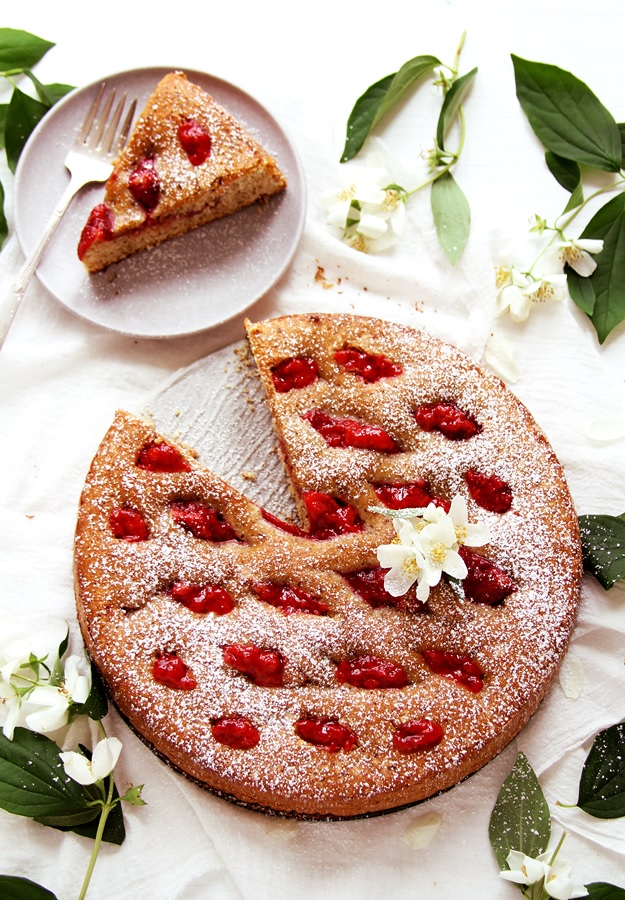 Enjoy!
Recipe adapted from "Mein erstes Kochbuch" by Müller/Walser.

Growing up close to the city of Linz, this torte has a special place in my heart. This is my version of the original Linzer torte. Usually this cake is made with a layer of red currant jam, but I am using strawberries for a more summerly version. I am a huge fan of the cake batter method of making this torte – opposed to making it with shortcrust pastry (read more about it above). This Linzer torte is super moist and all ingredients are mixed together in a few minutes.
Ingredients
Strawberry Filling*

1 lb (450 g) strawberries, about 2 ¾ cups chopped
3 tablespoons (40 g) granulated white sugar
1 tablespoon lime juice (you can substitute lemon juice)
2 tablespoons water

For the Linzer torte

1 stick (110 g) unsalted butter, softened
1 shy cup (200 g) granulated sugar
3 large eggs
1/4 teaspoon ground cinnamon
Pinch of clove powder
1/2 teaspoon vanilla extract or 1 teaspoon vanilla sugar (optional)
100 g hazelnut meal (you can substitute walnut or almond meal)
1/4 cup (60 ml) milk
1 1/2 cups (200 g) all-purpose flour
1 1/2 teaspoons baking powder
Powdered sugar for dusting
Instructions
For the filling

Hull, wash, and chop the strawberries into cubes not larger than ½-inch (1 cm).
Heat up strawberries, sugar, lime juice and water in a saucepan. Let them simmer, stirring often for 12-15 minutes or until the strawberry sauce is reduced to about 1 cup (240 ml). Transfer to a bowl and let cool.

For the torte

Line the bottom and sides of a 10-inch (26 cm) springform pan or round cake pan with parchment paper. Preheat oven to 375°F (190°C).
Beat softened butter and sugar with a hand mixer or kitchen aid until creamy, about 3 minutes. Add one egg at a time and mix for 20 seconds after each addition. Add cinnamon, clove powder, and vanilla extract and mix until combined.
Add milk and hazelnuts to the batter and mix until well combined.
Mix flour and baking powder and add to the batter. Mix until combined, about 10-15 seconds.
Spread about 2/3 of the batter at the bottom of the pan. Top with the strawberry sauce, which should have thickened and cooled, and evenly spread it. Keep 1 tablespoon strawberry filling – you might need it later.
Fill the rest of the batter into a piping or freezer bag with a small hole. Pipe a thin layer along the rim (outer circle). Pipe a lattice onto the strawberry filling. Make thin stripes since the batter will spread. Bake in the 375°F preheated oven for about 35 minutes or until the cake has a nice golden crust.
Remove from the oven. Let cool before slicing. You can spread some of the leftover strawberry filling that you put aside earlier on top, if necessary. Dust with powdered sugar and enjoy.
Notes
* If you don't have any fresh strawberries on hand, you can substitute frozen ones. Alternatively, you could use strawberry preserves/jam instead of the homemade strawberry sauce. The homemade sauce is less sweet and a tad more liquid than store-bought jam though. So if you are using the store-bought option, you might want to add a tablespoon or two of orange juice or water to the jam (about 3/4 cup) and stir it well. This way it will spread easier on the cake batter.
https://www.lilvienna.com/linzer-torte-with-strawberries/
Did you follow this recipe? You could share your result here. All you need to do is take a picture with your smartphone and send it to 

[email protected]



Linzer Torte with Strawberries
was last modified:
July 17th, 2017
by