These lemon amaretti cookies have a crunchy crust and a chewy, soft center. They are a breeze to make, since this is a one-bowl recipe. You don't even need a mixer to beat the egg whites or anything. A fork will do!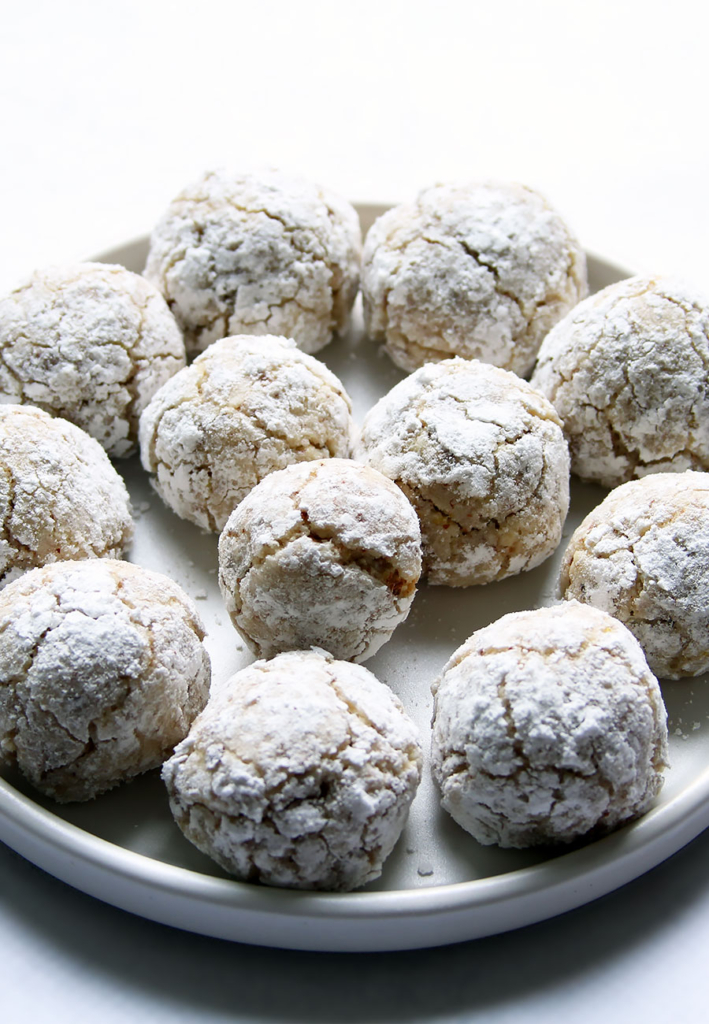 Classic amaretti cookies versus lemon amaretti
I've already posted a recipe for classic Italian amaretti cookies, which I love. The cookies that I am introducing you today are similar to my classic amaretti cookies, yet there are some differences.
I add a bit of flour to the dough, but of course, you can make them gluten-free by replacing the flour with more almond meal.
Another additional ingredient is lemon peel. The grated lemon zest adds a delightful and delicate lemon aroma to every bite. Another difference: I use 2 egg whites instead of a whole egg.
Cookies for any season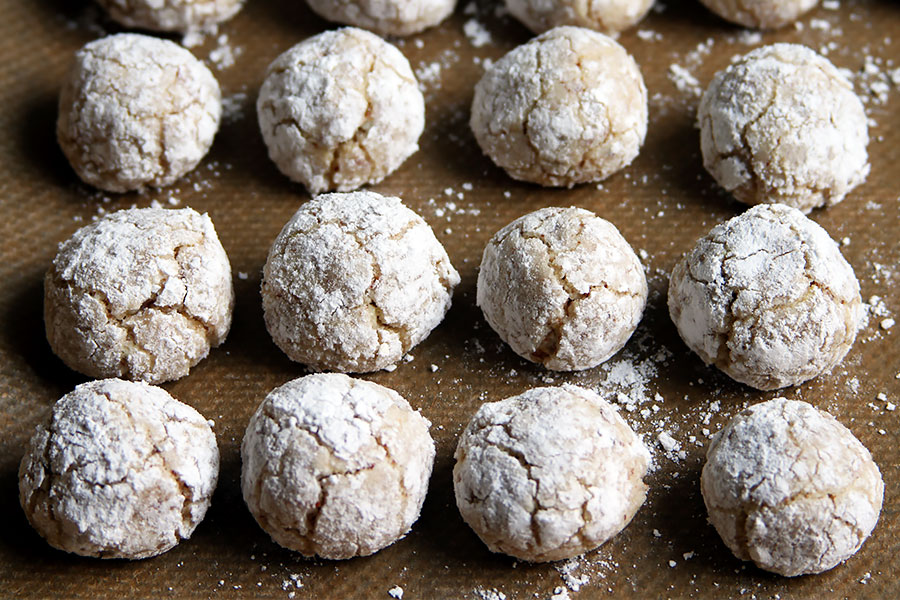 I love to eat these cookies year-round but I think they are particularly perfect around the holidays. With the powdered sugar coating and their crinkles, they look super festive. You could also call them almond lemon crinkle cookies … No one will ever guess that they are so easy to make.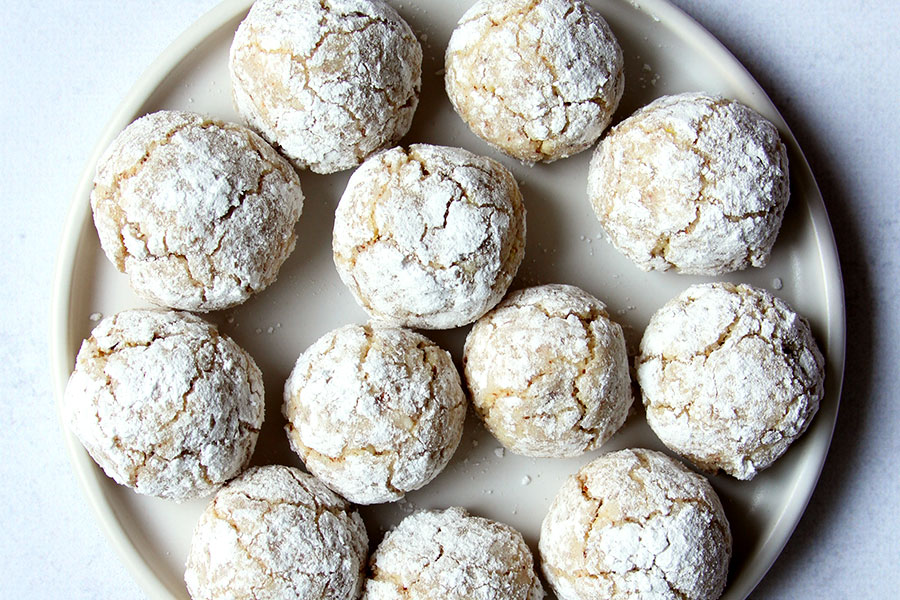 Enjoy!
If you want to try classic Italian amaretti cookies (no flour, no lemon, 1 whole egg), find the recipe here.
These lemon amaretti cookies (almond lemon cookies) have a crunchy crust and a chewy, soft center. They are a breeze to make, since this is a one-bowl recipe. For a gluten-free version, swap out the flour for almond meal.
Recipe: Ursula | lilvienna.com
Ingredients
2 large egg whites
2 teaspoons amaretto liqueur (1/2 teaspoon almond extract is a good sub, see note)
Grated zest from 1 organic lemon
1/8 teaspoon fine salt
100 g (about 1/2 cup) granulated sugar
200 g / 7 oz (about 2 cups) almond meal (see note)
50 g (about 1/3 cup plus 1 tablespoon) all-purpose flour
For rolling: 3 tablespoons powdered sugar
Instructions
Line a large baking sheet with parchment paper. Preheat the oven to 325 °F (160 °C) top and bottom heat.
Add egg whites, amaretto, lemon zest, and salt to a bowl. Whisk using a fork or hand whisk just until the egg whites are little foamy, about 15 seconds.
Add sugar and whisk for a few seconds until combined. Stir in almond meal and flour using a fork or spoon until the ground almonds are equally moist and come together to a dough. You could also knead the dough for a few seconds if it is too firm to stir with a spoon. Be aware, the dough is quite sticky.
Prepare a small bowl with about 3 tablespoons powdered sugar. You can always add more sugar in case you need it. Form the batter into 30 small walnut-sized balls. If the dough is too sticky to shape into balls, add a little more flour to the dough.
Roll each ball in powdered sugar until nicely coated. Place the cookies onto the prepared baking sheet. All 30 cookies will fit on one large sheet. Tip: You can flatten them to 1.5 inch (4 cm) to get regular, flat cookies, if you prefer.
Bake them for 15-17 minutes in the preheated oven at 325 °F (160 °C). Depending on their size and your oven, the baking time may vary a tad. During baking, the cookies will rise only slightly and will get those pretty cracks. The cookies should still be kind of soft to the touch when you take them out of the oven - they will firm up when cooled. Rather underbake them because you can always put them back into the oven for a minute or two once they are cooled and you have checked their consistency. Sometimes, if I find the outer shell not crunchy enough, I simply leave them on the counter, uncovered (or store them in the cooled oven) overnight.
Store them in a sealed jar or airtight container at room temperature to keep them soft and chewy as long as possible. They will last a few weeks but will get harder over time since the moisture evaporates.
Notes
Almond meal: I used almond meal (= finely ground almonds) with skins but blanched almond meal aka blanched almond flour also works. With blanched almond meal the cookies come out lighter in color and have a finer texture. I prefer the rustic version with unblanched almonds.
Amaretto liqueur: Use amaretto liqueur if you have it at home (no need to buy it), otherwise use 1/2 teaspoon almond extract. I've made them without either liqueur or extract and they still tasted amazing.
Leftover egg yolks: Need a recipe with 2 egg yolks? Try these classic Linzer cookies or traditional Austrian vanilla crescents. Find a recipe for Italian amaretti cookies here, which uses one whole egg instead of 2 egg whites (no flour and lemon zest either).
https://www.lilvienna.com/lemon-amaretti-cookies/
Easy Lemon Amaretti Cookies (no mixer, one bowl)
was last modified:
December 17th, 2021
by