Easy salad with roasted potatoes and lentils. It's a gorgeous pack-for-work lunch and ideal for meal-prep and making ahead.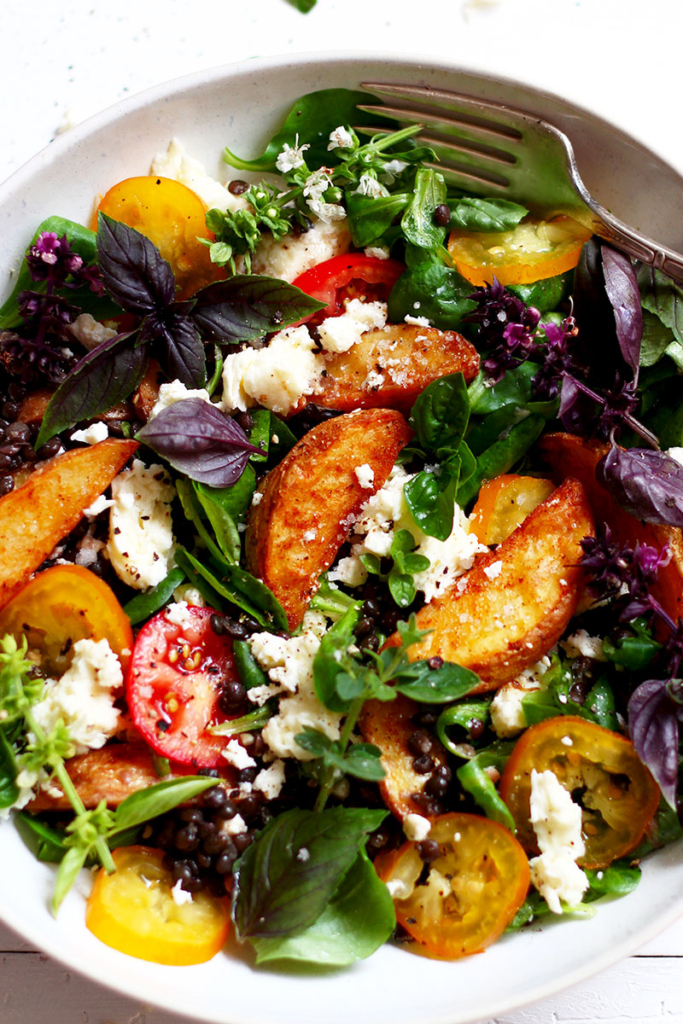 This simple potato and lentil salad is a satisfyingly hearty meal that keeps you full for many hours. The easy white wine vinegar and olive oil vinaigrette pairs wonderfully with the salad.
I usually make this salad either when I have leftover potato wedges (or roasted potatoes) or lentils in the fridge.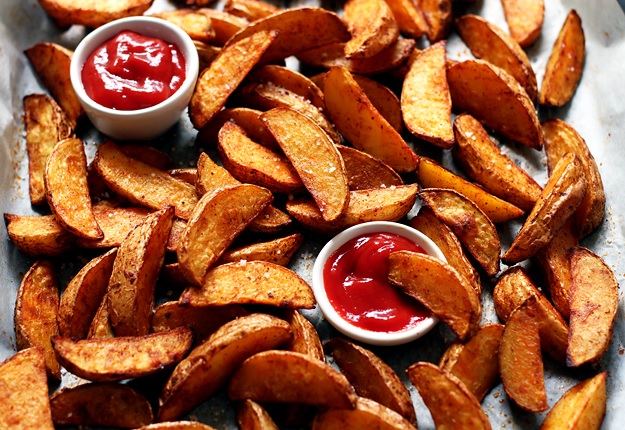 I recommend to make one batch of the crispy oven-roasted potato wedges in the picture above, eat them while watching a movie, and use the leftover wedges for this salad.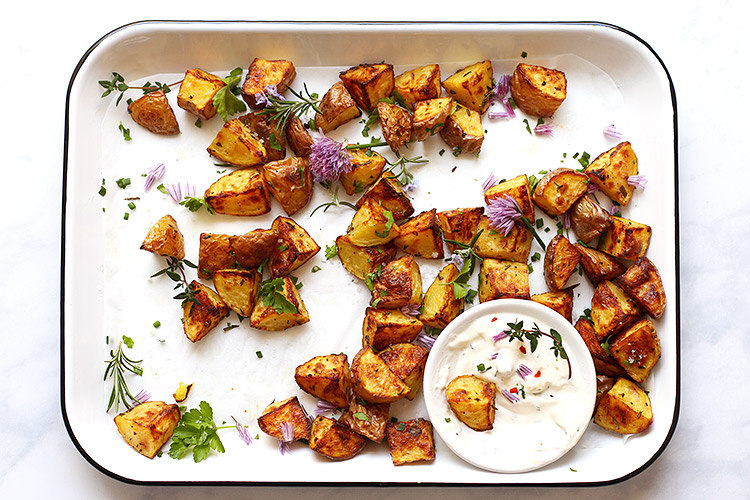 This oven-roasted potatoes work equally fine in the salad, just saying.
Ingredients
The only three ingredients that are essential to this salad are the crispy oven-roasted potatoes, black lentils, and the vinaigrette. You could make this salad using these three ingredients only. I always throw in some leafy greens though – think field salad, spinach, or rucola – and fresh herbs like basil or oregano.
If you want to make this salad super fancy, add some crumbled feta, fresh mozzarella, and a sliced tomato or two. Most often, I use what's in the fridge :)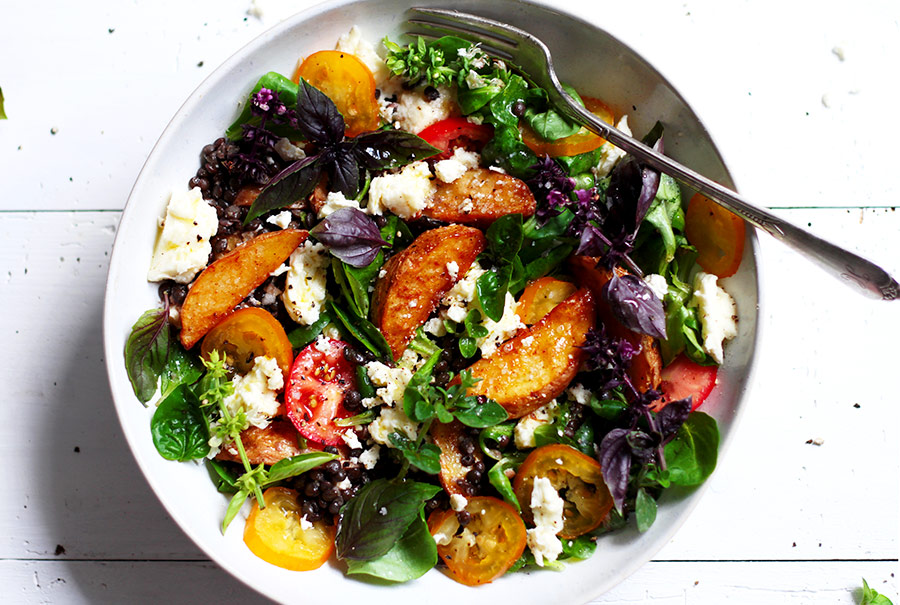 Satisfyingly hearty roasted potato lentil salad that keeps you full for hours! Few ingredients and easy to assemble. If you have leftover potato wedges (or roasted potatoes) or lentils in the fridge, you can use those cold.
Recipe: Ursula | lilvienna.com
Ingredients
Salad:

10 ounces (280 g or about 2.5 cups) cooked potato wedges (see step 1)
1 ½ cups (250 g) cooked black lentils (see step 2)
1/3 cup (40 g) crumbled feta
2 ounces (60 g) fresh mozzarella, torn into pieces
2 big handful field salad (you can substitute fresh spinach or rucola)
2 small tomatoes, sliced
Fresh herbs: I like roughly torn red and green basil, and chopped oregano
Topping (optional): Fleur de sel

Vinaigrette:

2 tablespoons white wine vinegar
3 tablespoons olive oil
1/2 teaspoon honey
Pinch of salt and freshly ground pepper
Instructions
Potato wedges:

Make them fresh or use cold leftovers from the previous day. You can find a recipe for crispy roasted potato wedges or oven-roasted potatoes on the blog – they both taste awesome in this salad when still warm and crunchy.

Lentils:

You can use them warm or cold for this salad. To get 1 ½ cups (250 g) cooked lentils, pick over and rinse ½ cup (110 g) raw black lentils. Heat 1 quart (1 L) water, add ½ teaspoon fine salt and cook lentils for 20-30 minutes until they are tender but not mushy. I often add 1/8 bouillon cube to the cooking water to deepen the flavor. Drain the lentils in a colander and use lentils warm or cold.

Vinaigrette:

Combine vinegar, olive oil, honey, salt, and pepper in a small jar and shake vigorously until combined.

Assemble:

Put all salad ingredients in a large bowl, add the vinaigrette, and stir to combine. Taste and adjust seasoning. Divide salad among two plates, sprinkle with fleur de sel, if desired, and serve. Enjoy!
https://www.lilvienna.com/potato-lentil-salad/
Roasted Potato and Lentil Salad
was last modified:
October 11th, 2021
by