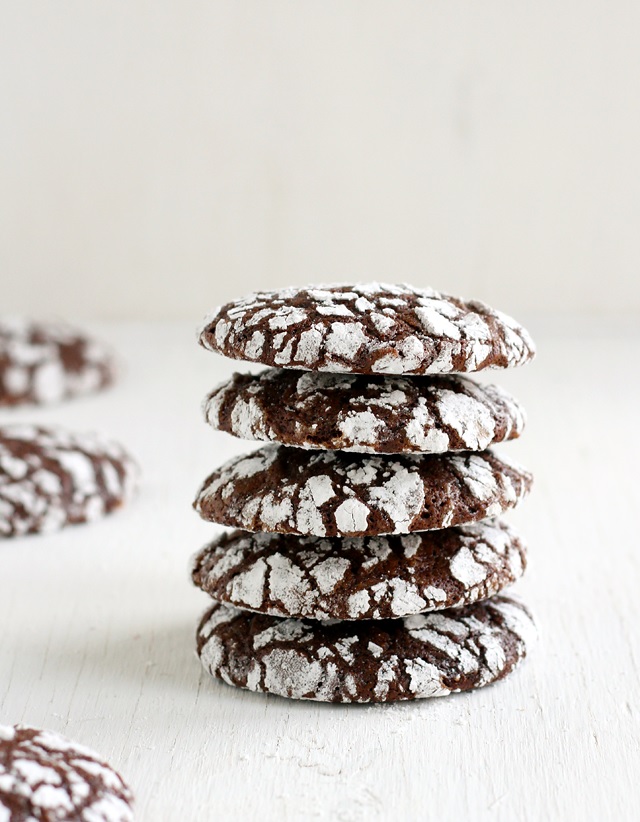 When I saw these cookies for the first time, I knew immediately that I would have to make them. I noticed them on America's Test Kitchen Instagram account and they looked sooo pretty, though simple to make. Two days later I could call a batch of these pretty babies mine.
They taste gorgeous, with their rich chocolate flavor, almost Brownie-like, and their super moist center makes you reach for the next one in no time.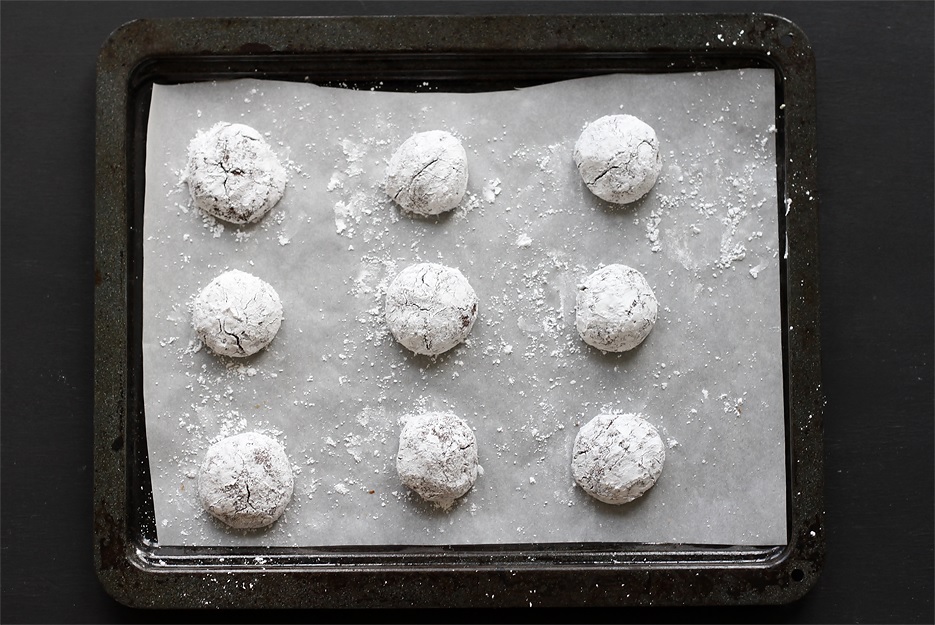 I love America's Test Kitchen and their way of precise cooking but since I am a notorious recipe tweaker, I couldn't resist. I cut the recipe in half, used 2 eggs instead of 3 (nope, not 1 ½ eggs), and adjusted the flour a little. I omitted the instant espresso powder and used a different kind of chocolate. The original recipe calls for unsweetened chocolate but I only had semi sweet on hand so I used this kind. The cookies are quiet sweet (but soooohhhh goooood), so I guess the unsweetened version is worth a try.
The original recipe makes 22 cookies; this one makes 20 even though I scaled down the recipe. You would not have guessed: I simply made smaller cookies. I think they are still big enough. I made one sheet with larger cookies (9 cookies per sheet, about 2 tablespoons batter per cookie) and one sheet with smaller cookies (11 cookies with about 1 tablespoon batter). The larger cookies are about 3 inch (7.5 cm) when baked, the smaller ones between 2 and 2.5 inch (5-6 cm) in diameter. Stick to one size per baking sheet since the smaller cookies bake quicker.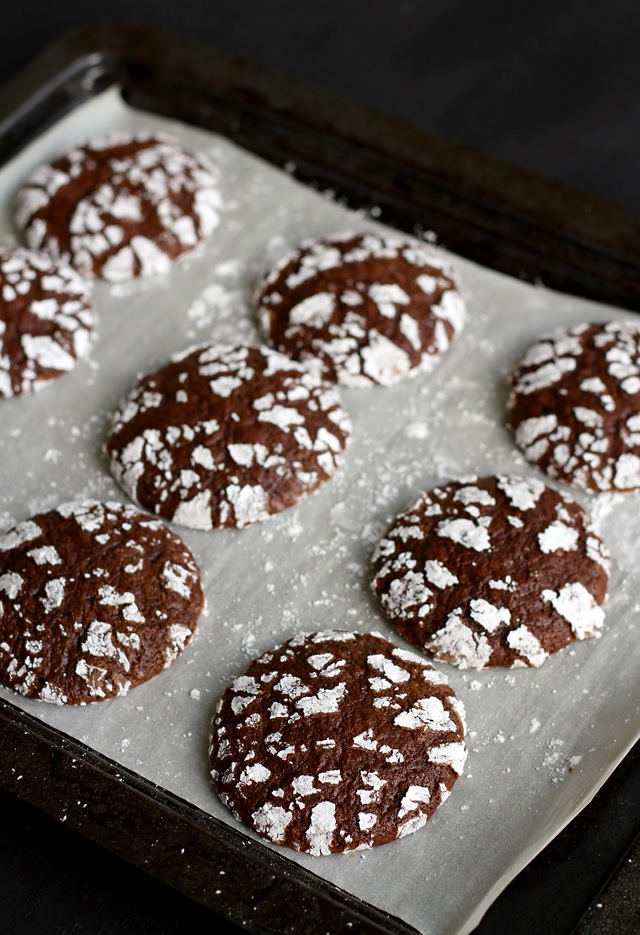 Enjoy!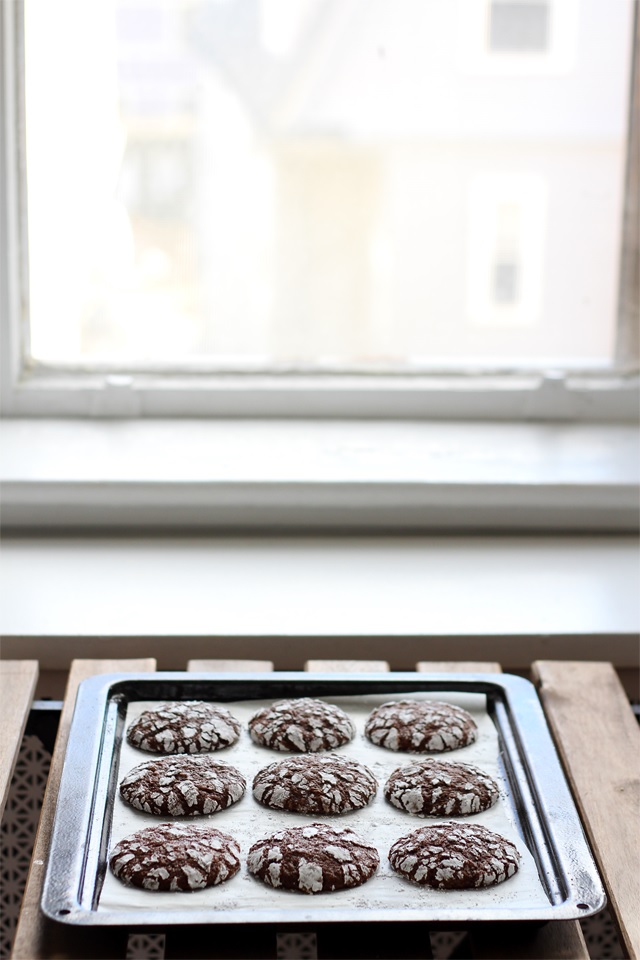 Adapted from America's Test Kitchen. Find a "how to make the cookies"-video here.
Ingredients
3 oz / 85 g (about ½ cup + 2 tablespoons) all-purpose flour
1oz / 28 g (about ¼ cup) unsweetened cocoa powder (natural or Dutch-processed)
1/2 teaspoon baking powder
1/8 teaspoon baking soda
1/8 teaspoon fine salt
2 oz / 55 g unsweetened or semi-sweet chocolate, chopped or chocolate chips
2 tablespoons / 28 g unsalted butter
2 large eggs
5 ¼ oz /150 g (about 3/4 cup packed) light brown sugar
1/2 teaspoon vanilla extract
-----------
For rolling:
¼ cup (50 g) granulated sugar
¼ cup (55 g) confectioners' sugar
Instructions
Mix flour, cocoa, baking powder, baking soda, and salt in a bowl.
Melt chocolate and butter together and stir until smooth. Let cool. The mixture shouldn't be hotter than lukewarm.
Mix eggs, brown sugar, and vanilla together in a large bowl with a hand whisk. Whisk melted chocolate into egg mixture until combined.
Fold in flour mixture until no dry streaks remain. Let the dough sit in the freezer for about 15 minutes or about 1 hour in the fridge until firm. The batter should be pliable so you can scoop it with a spoon. I used a regular soup spoon since the batter was pretty tacky and I had a hard time to get it out of the 1 tablespoon measuring spoon.
Place granulated sugar and confectioners' sugar in 2 separate bowls.
Scoop some batter and roll into balls (just roughly), then drop the balls into the bowl with the granulated sugar and roll to coat. I made one sheet with larger cookies (about 2 tablespoon batter (25-30 g) per dough ball and one sheet with smaller cookies, about 1 tablespoon (13-15) per ball). Stick to one size per baking sheet since the smaller cookies are baked quicker.
Transfer the dough balls to the bowl with the confectioner's sugar and roll. The balls should be evenly covered in confectioners' sugar – don't shake off excess sugar since some will dissolve during baking anyways.
Evenly space the dough balls onto a parchment paper lined baking sheet with enough space in between (they will spread). I used two baking sheets for 20 cookies.
Bake cookies in the preheated oven at 325 °F for about 9-11 Minutes, depending on the size of the cookies. These cookies are overbaked very easily, so take them out even when you think they are underbaked. The edges should just have set, but the center of the cookies should be very moist and soft – almost liquid. Now is the right time to take them out of the oven and let them cool right on the baking sheet. The cookies will get firmer as they cool.
https://www.lilvienna.com/chocolate-crinkle-cookies/
Did you follow this recipe? You could share your result here. All you need to do is take a picture with your smartphone and send it to 

[email protected]



Chocolate Crinkle Cookies
was last modified:
February 1st, 2016
by