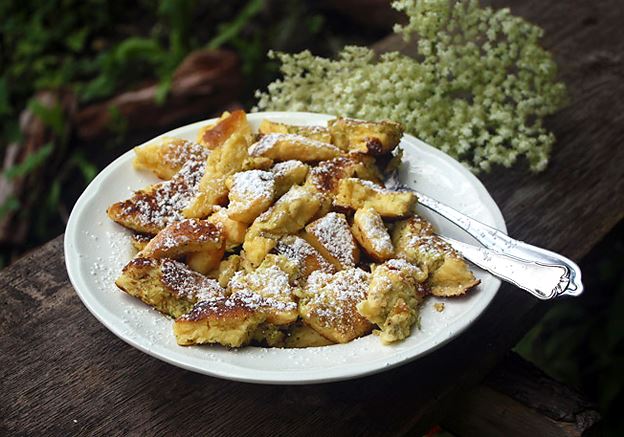 There is a good chance, I have pancake-batter in my genes. I just love any type of food remotely related to egg-flour-milk batters. French Crêpes, any kind of pancakes, the Austrian Palatschinken, which are a little thicker version of Crêpes, Blueberry Nocken, Apple rings in pancake batter, French Toast …. So in the future you might find a lot of such recipes here in Li'l Vienna. Another dish that combines elderflowers and batter are Elderflower fritters by the way ;-)
So here comes a recipe for my all time favorite: Kaiserschmarrn. I added some elderflowers to the original recipe, but if you don't have any, just omit them. Elderflowers create a very dedicated taste though and give this classic a pinch of seasonal flavor. Traditionally, you will often find some raisins in a Kaiserschmarrn, but I prefer this dish without. You see, how things are done in Li'l Vienna ;-) Btw, I prepared this recipe a while ago. It might be a little out of season now, but it is just too delicious to withhold it for another year.
Flipping the pancake
The most difficult part is to flip the huge pancake. without messing up your kitchen. Since the topside is still runny while the bottom-side is already getting golden, and you have to turn it anyway, a high-speed flip may end in a mess. So, after one of these events, I came up with the glorious idea: Just split the pancake into individual parts with your spatula, I always quarter it, which turns out just to be a good size of the individual parts to smoothly flip them over. Just make sure not to hit the remaining segments. If it happens anyway and  you got runny batter onto an already turned pancake part, just flip this part with batter atop after a while. So in the end, all the pieces should be cooked and there is no sign of liquid batter any more.
The beauty of this dish is: It doesn't matter how nice your pancake looks, because at the end you will go bananas on them with your spatula anyway. And yes, that's the fun part.
Ingredients
3 large eggs, separated
1 tablespoon granulated sugar
1/8 teaspoon salt
¾ cup milk (6 fl oz / 180 ml)
1 ¼ cups all purpose flour (5 1/3 oz / 150 g)
3 large elderflowers
1 tablespoon clarified butter (ghee) or neutral-tasting oil for frying
Powdered sugar for dusting
Additional: large frying pan with lid
Instructions
Beat the egg whites until stiff peaks form.
Whisk together the egg yolks, sugar, salt, and half the milk.
Stir in flour until you get a smooth batter. Just now, add the rest of the milk. It is much easier to avoid lumps, if the batter is pretty thick.
Remove elderflower-stems, you will only need the flowers.
Carefully fold in the egg whites and half the elderflowers. Some little lumps of egg whites should remain in the batter and will make a very fluffy Kaiserschmarrn.
Heat clarified butter or oil over medium heat in a large non-stick frying pan (at least 10 inch Ø). Add the batter – it should be around 1 inch thick – and sprinkle the remaining elderflowers on the batter. Cover pan with a lid.
Cook a few minutes, until bottom-side turns golden. Now it's time to flip the huge pancake. Sometimes this can be a little tricky, as the batter on top will still be runny. So it's best to quarter the pancake with a spatula and then flip each part individually.
After turning, let cook for another minute, lid on. Then split into pieces with two spatulas, while still frying. When the pieces are fully cooked through and get a nice color, put on plates and dust with powdered sugar through a sieve.
Traditionally, Kaiserschmarrn is accompanied with Zwetschkenröster, a fruit compote made out of plums. But since this is a recipe containing elderflowers, which are in season in June and plums are not, you can serve it along with any fresh fruit or compote in season or even with vanilla yoghurt.
https://www.lilvienna.com/austrian-kaiserschmarrn/
Did you follow this recipe? You could share your result here. All you need to do is take a picture with your smartphone and send it to 

[email protected]
Austrian Elderflower-Kaiserschmarrn (Shredded Pancake)
was last modified:
June 22nd, 2016
by