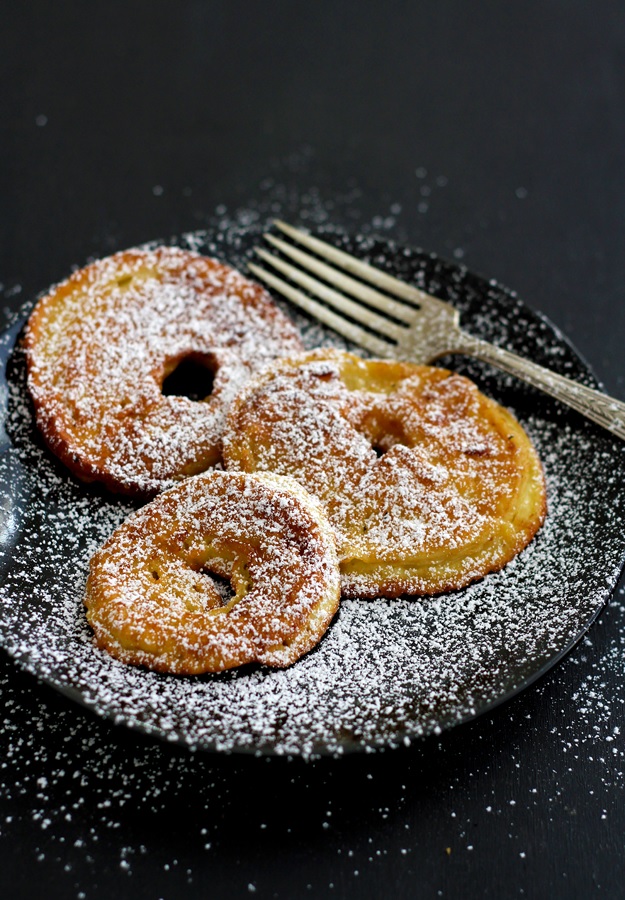 This typical Austrian dish reminds me so much of my granny. It was one of her quick and easy go-to dishes when my sisters and I were young. Compared with homemade apple strudel which was also one of her regulars but sure takes some time, this one is an apple recipe for the colder season that is ready in a couple of minutes.
We got to eat apple rings at least once a week during fall, right after harvesting the apples in our small apple orchard. And since we all have a sweet tooth in our family, we ate these battered apple rings often as main dish. I can only recommend it!
The recipe is pretty similar to fried apple rings, apple donuts or apple fritters – except we usually only use a relatively small amount of ghee for frying. No deep frying allowed ;-) So this is basically a recipe for low fat apple fritters. In addition I noticed that a lot of US recipes call for buttermilk in their ingredient list. We usually use regular milk – whole milk or 2 % milk is fine. I also omit the baking powder which yields a very simple yet sooo delicious recipe that this dish is one of my regulars during fall and winter. The recipe below makes two main servings or four dessert servings.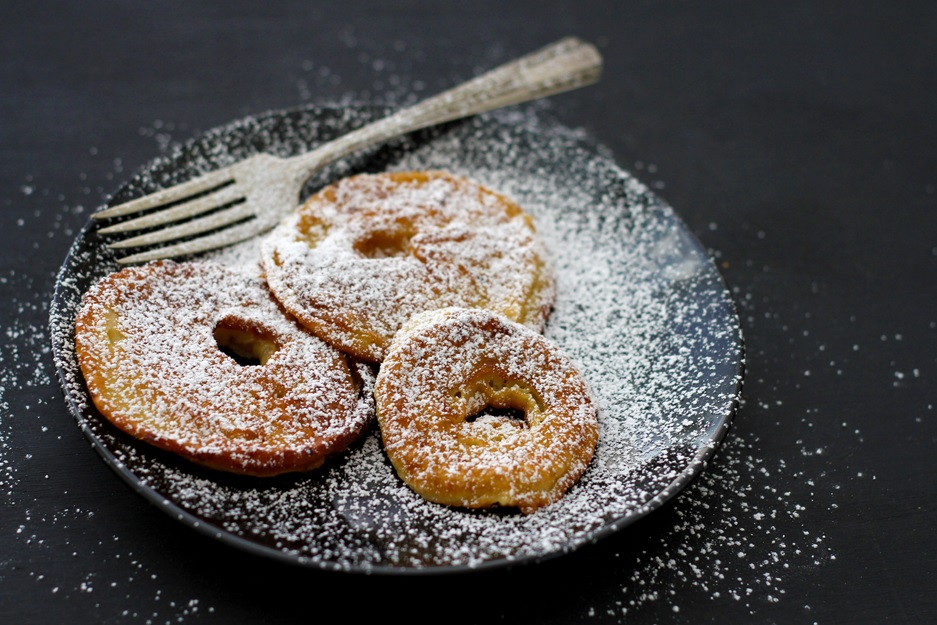 Enjoy!
Apples that hold their shape are a good choice for this dish. Use firm apples like Breaeburn, Jonagold, Golden Delicious, or Granny Smith. Soft, mealy apples like McIntosh or Cortland break easily when cut into slices.
Ingredients
2 large eggs
90 ml milk (6 tablespoons)
2 teaspoons granulated sugar
100 g all-purpose flour (3/4 cup)
1/8 teaspoon salt
2 apples (see info above)
--------------------------

Clarified butter (ghee) or neutral-tasting oil for frying
Confectioners' sugar for dusting
Cinnamon for dusting (optional)
Additional: large frying pan with lid
Instructions
Whisk together eggs, sugar, salt and half of the milk using a hand whisk.
Add flour and mix to a smooth batter. The batter should be so thick that you can barely whisk it—the thicker the batter, the fewer lumps you will have. If the batter is too hard to stir, add a little milk.
After you've whisked the batter smooth, slowly add the remaining milk while continuing to whisk the mixture.
Peel the apple and core it using an apple corer or a sharp knife. Slice the apples into 1/4 to 3/8-inch-thick rounds.
Heat ghee or oil in a large pan over medium heat. The oil should cover the bottom of the pan; usually you will need about 2-3 tablespoons of oil.
When the oil is hot, dip each apple slice into the batter and allow excess batter to drip off. Put several slices into the pan and then cover the pan with a lid so the apples will soften quicker. Reduce temperature to medium-low. Bake until golden brown on each side.
Transfer the rings onto a paper towel-lined plate and repeat the process until all apple rings are used.
Serve the apple rings immediately generously dusted with confectioners' sugar and cinnamon (if you like).
Notes
If you have any batter left, you can simply pour them over the last batch of apple rings in the pan (if you don't care about the round shape). Or add a little milk to the batter to make crêpes.
https://www.lilvienna.com/apple-rings/
Did you follow this recipe? You could share your result here. All you need to do is take a picture with your smartphone and send it to 

[email protected]



Apple Rings – Gebackene Apfelringe
was last modified:
January 11th, 2017
by