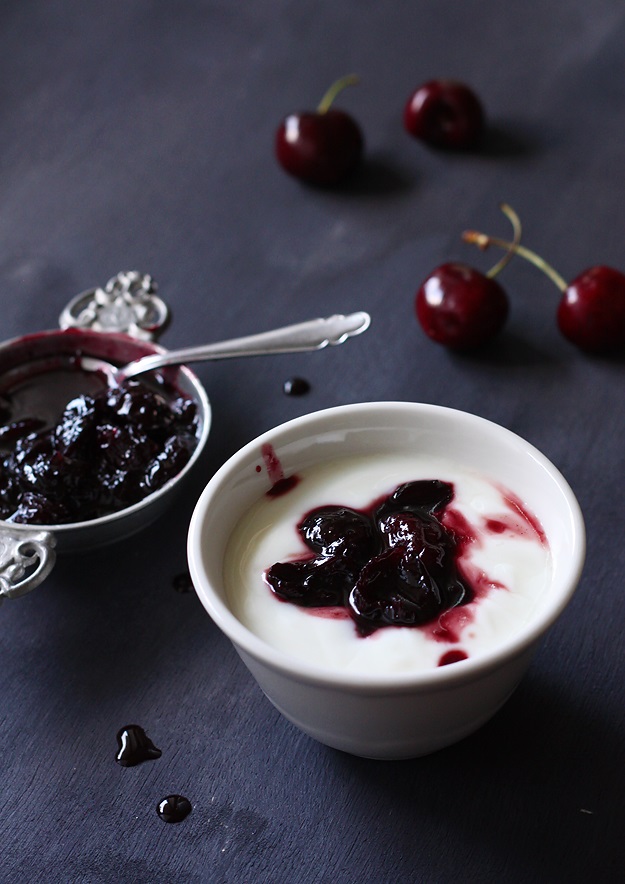 The other day, I was flipping through the USA Cookbook from author Sheila Lukins, when the Bing Cherry Chutney caught my eye. As most of the times, I ended up adapting the recipe so much, that it had nothing to do with the original at all. Sorry Sheila.
For this recipe, I used dark-red sweetheart cherries. They were easy to pit and worked great in this Chutney.
When freshly made and still warm, I found out something interesting: This Cherry Chutney tastes great over creamy, plain yoghurt. What I noticed later was that I ate half a cup this way, which was half of the amount I cooked. So maybe you should not follow my lead and consume it that way if you wanna keep it longer than a minute. Because keep in mind, this Chutney also tastes fantastic as an accompaniment to Indian food, pork or turkey.
Oh, and speaking of Chutney-eating habbits: Last week I ended up using it as sauce in my Portobello Burger, just yummy.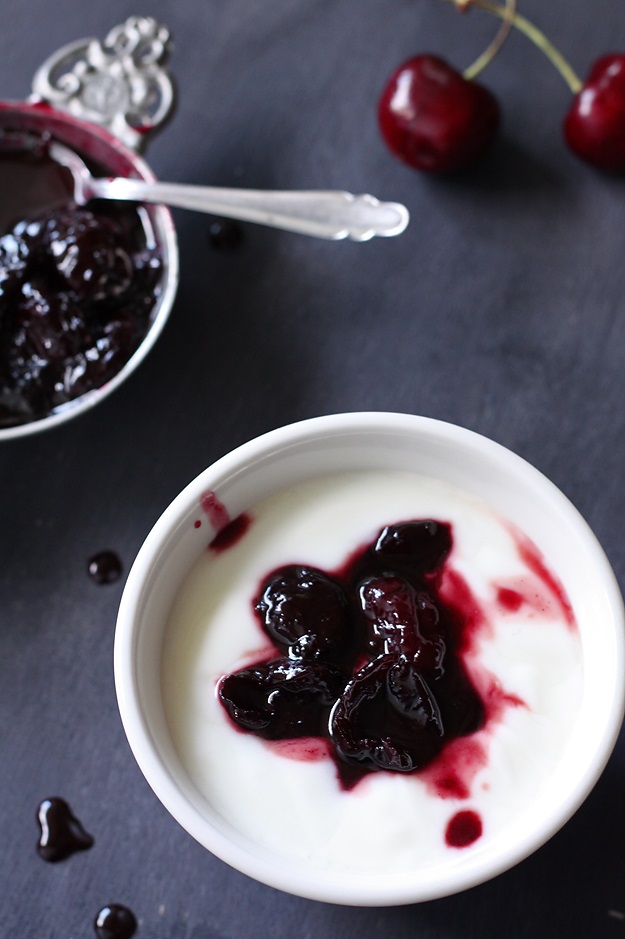 This Chutney tastes great as an accompaniment to nearly every Indian dish as well as to pork or turkey (BBQ). When freshly made and still warm, try over creamy plain yoghurt (my personal favorite).
Ingredients
18 oz sweet cherries such as bing or sweetheart (500 g or 455 g pitted)
1 small red onion (2.3 oz / 65 g) or ½ cup diced in ¼ inch
2 tablespoons finely minced fresh ginger (¾ oz / 20 g)
4 ½ tablespoons white wine vinegar
3 ½ oz dark brown sugar (100 g)
3 tablespoons lime juice (from 1-2 limes)
½ teaspoon ground allspice
¼ teaspoon table salt
¼ teaspoon freshly ground black pepper
1 ½ neutral-tasting oil for frying
Instructions
Wash cherries and pit them.
Dice onion finely, place together with the oil in a heavy saucepan over medium heat and cook for 4-5 minutes until translucent. Don't brown it.
Add minced ginger and cook for 1 minute.
Deglaze with vinegar, then add sugar, cherries, lime juice and allspice.
Let simmer, uncovered, for 30-40 minutes over medium heat, stirring often.
Season with salt and black pepper.
The Chutney is ready, when there is still a little liquid at the bottom of the saucepan left. This will thicken when cooled and gives the Chutney a creamy texture.
Remove pan from the heat, put chutney in a sterilized jar and seal. Let the chutney cool down and refrigerate – or eat it warm right away.
https://www.lilvienna.com/cherry-chutney/
Did you follow this recipe? You could share your result here. All you need to do is take a picture with your smartphone and send it to 

[email protected]
Cherry Chutney
was last modified:
February 12th, 2015
by