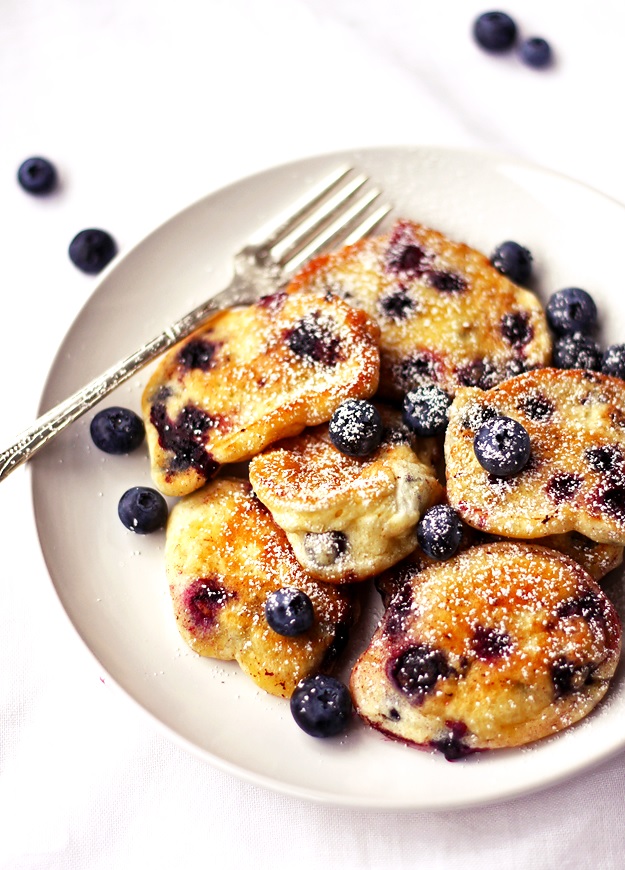 I bet you have never tried one of these before. Yep, thought so… Theses little pieces of heaven are made of blueberries and kind of a pancake batter. The whipped egg whites make them really fluffy. Just give this recipe a try, I promise it's really simple and I promise, it won't be the only time ;-)
In Austria people eat a lot of sweet stuff – even for main course, not only for dessert. These blueberry Nocken are a perfect example for this weird custom, I, a weirdo as well, eat them all the time for lunch in blueberry season. I just dip them into vanilla yoghurt or eat them plain, 'til I nearly burst ;-)
This dish is a rather traditional, lately kind of forgotten, treasure. Since i dug it out in one of my grannys cookbooks, I've made it one of my regulars. It's just too good not to share it ;-)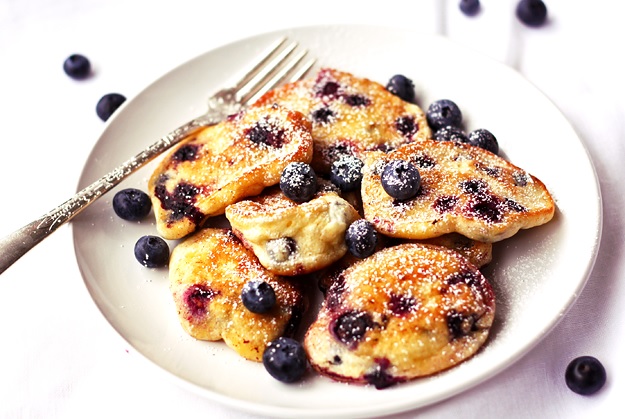 Enjoy!
Ingredients
7 oz/200 g (or about 1¼ cups) fresh blueberries, washed and patted dry
2 large eggs, separated
1/3 cup + 2 tablespoons (110 ml) milk
1/8 teaspoon salt
1 cup (130 g) all-purpose flour
2 teaspoons (10 g) granulated sugar
-----------------------

Ghee or neutral-tasting oil for frying
Confectioner's sugar for dusting
In addition: frying pan with lid
Instructions
Combine egg yolks, milk and salt in a large mixing bowl and whisk well.
Stir in flour – the batter will seem very thick but this is how it should be. If prepared too thin, the batter would spread too much in the frying pan later.
Beat egg whites together with granulated sugar in a separate bowl, until they form stiff peaks.
Gently fold beaten egg whites and blueberries into the batter with a spatula – the mixture should still look a little lumpy (detailed explanation here). Don't let the batter rest to long as beaten egg whites will deflate quickly.
Heat up the frying pan with a little oil/ghee. Scoop about 2 tablespoons of batter per Nocken into the heated pan (most pans will fit 5 or 6 Nocken). The batter has the right consistency if it doesn't spread too much.
Cover the pan with a lid as this will help to cook the batter all the way through. Turn the Nocken over and cook until both sides are golden brown.
Take the Nocken out of the pan and place them on a paper towel for a few seconds.
Repeat until all the batter is used up.
Serve hot and dusted with confectioner's sugar.
https://www.lilvienna.com/blueberry-nocken/
Did you follow this recipe? You could share your result here. All you need to do is take a picture with your smartphone and send it to 

[email protected]




User Betti: "Today I tried the Blueberry Nocken recipe. I did find it perfectly explained, and they were easy to make. And they tasted delicious ;-)".







Brigitte (right picture):"The Nockerl tasted fantastic and the recipe was easy to follow - my kids are really picky eaters but even they enjoyed them."







the everyday kitchen:"Couldn't resist! Actually, my husband's request early on Sunday morning. We did it with strawberries again like we have done in the past and it is simply delicious! Do bear in mind that we have a betty crocker pre-mix lying in the shelf that would have been even easier, but somehow, your recipe is just so yummy that we keep going back!"
[Click image to enlarge.]


malaysian kitchen:"Blueberry nocken for breakfast (again). Thank you!"
[Click image to enlarge.]


Blueberry Nocken (Heidelbeer Nocken)
was last modified:
September 14th, 2018
by