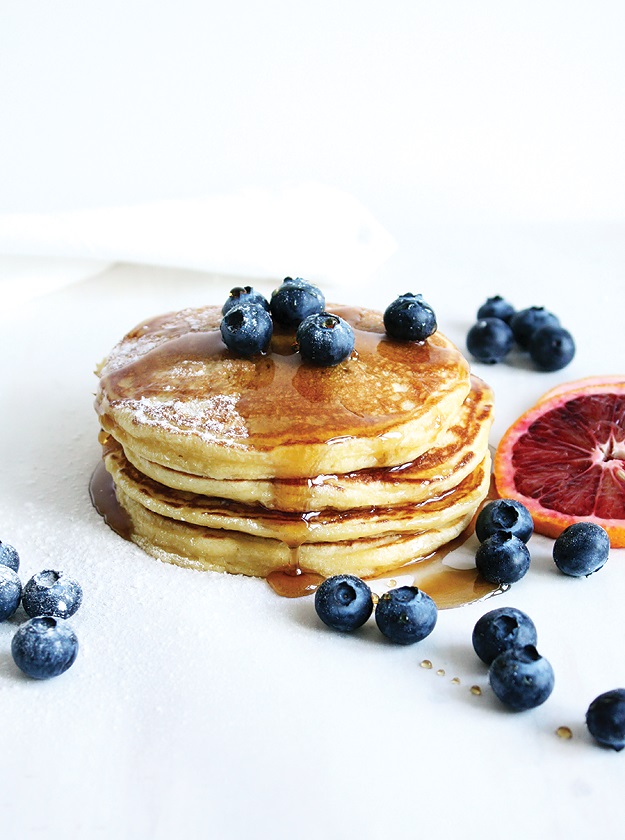 Yes, I know. You've heard and read it all: recipes for the world's best pancakes ever, the super-super fluffy ones and the oh-my-gosh-I-can't-live-without-them-any-more ones. And they all disappointed you, because they were okay but didn't keep what they have promised.
So let's do it the other way round: I hereby promise you a recipe for normal, "fluffy buttermilk pancakes" only and you are the one to tell me (or post it here) that they are just deeeeeeelicious and you are addicted to them from now on ;-)
I found it the easiest way, to combine all the dry ingredients, and to whisk all the wet ingredients in a separate bowl before mixing the dry ingredients into the wet ones (not vice versa). That way, the ingredients combine easier and you won't find an annoying layer of flour sticking to the bottom of your bowl. The batter should still contain lumps (not too big ones and not too many) but overmixing the batter yields tough pancakes.
Heat up your pan over medium heat. For the pancakes in the pictures I used a non-stick ceramic pan. However, right now I am using a (cheap) non-stick aluminum pan and it works just fine. Since we recently moved into a new apartment from overseas, which means a lot of expenses, some of our kitchen-equipment is still on the cheap side. This will change soon, when this blog turns into a money-making corporate machine ;-)
When the pan is heated up, brush it slightly with clarified butter (ghee), neutral-tasting oil or spray with a nonstick-vegetable spray. Scoop about 3 tablespoons of batter for each pancake onto the pan. Most pans will fit 2-3 pancakes with a 4 inch diameter. Cook them until bubbles show on the surface and the bottom is golden brown, then turn them and cook the other side. Rookies let the first pancake be a trial and use it to tests whether it's all baked through and if the temperature is right. Ok, I admit, I still do this sometime (and also, it's the perfect excuse to snack during cooking).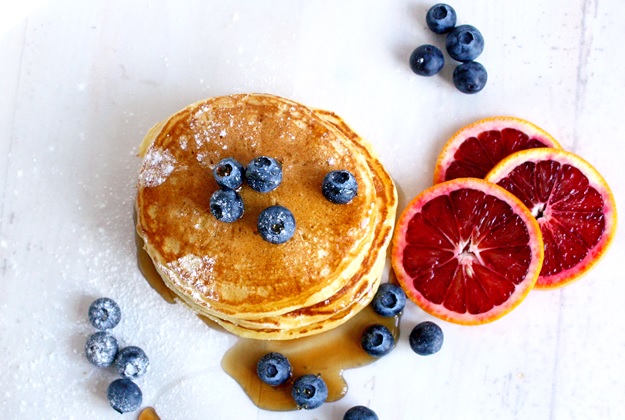 Pancakes are best served immediately. But if you have to, you can keep them warm in the stove or between two plates.
Ingredients
2 large eggs
1 cup buttermilk (240 g / 8 ½ oz)
2 tablespoons unsalted butter, melted (28 g)
1 ½ cups all-purpose flour (175 g / 6 oz)
1 ½ teaspoons baking powder
¼ teaspoon baking soda
2 teaspoons granulated sugar
1/8 teaspoon salt
Clarified butter or neutral-tasting oil for the frying pan
Whipped butter (cream), maple syrup and blueberries for serving
Instructions
In a large bowl whisk together eggs, buttermilk and melted butter.
In a separate bowl combine flour, baking powder, baking soda, salt and sugar.
Put the dry into the wet ingredients and whisk to combine. The batter should still have small lumps. Do not overmix the batter or your pancakes will be tough.
Place a large nonstick frying pan over medium heat and lightly oil it, using a brush (or spray with a non stick vegetable spray).
Scoop the batter onto the pan, using approximately 3 tablespoons of batter for each pancake (Ø 4 inch).
When the pancakes have bubbles on top and the bottom is golden brown (after about 2 minutes), flip over carefully. Cook until opposite side is browned, about 1 minute.
Repeat until batter is used up, brushing the pan with oil between batches.
Pancakes taste best when served immediately with whipped butter, maple syrup and blueberries on top.
If not served immediately, place in a bowl covered with a lid/plate or keep them warm in an oven at 175 °F (80 °C) for up to 15 minutes.
Notes
If you don't have buttermilk on hand, you can replace it: Simply mix 3 tablespoons of plain yogurt together with 3 tablespoons of sour cream in a liquid measuring cup. Add as much milk to yield 1 cup, whisk well.
https://www.lilvienna.com/fluffy-buttermilk-pancakes/
Did you follow this recipe? You could share your result here. All you need to do is take a picture with your smartphone and send it to 

[email protected]




User Manu tried our pancake recipe: "I tried your recipe last Sunday morning, and they turned out perfect (even though I omitted the baking soda). And I never eat them without salted butter on top, it's essential. :-)!!"

Fluffy Buttermilk Pancakes
was last modified:
April 13th, 2016
by