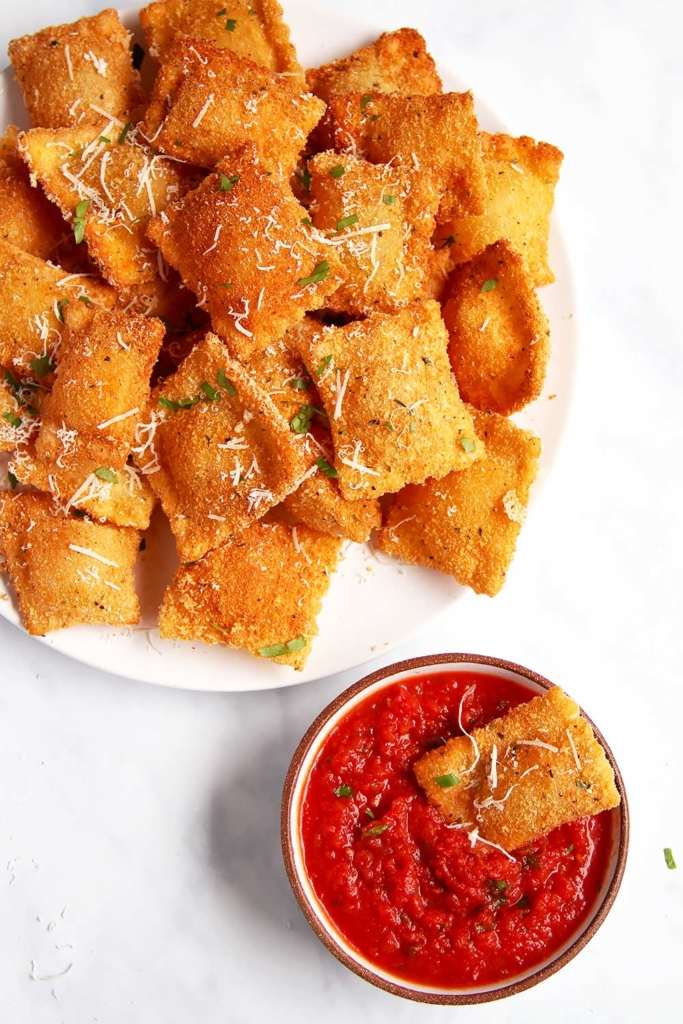 Crispy, toasted ravioli dipped in warm marinara sauce, topped with parmesan cheese and fresh parsley is a St. Louis classic! I'll show you how to make cheese ravioli from scratch. It's the perfect party appetizer – for the Super Bowl or any other occasion.
Toasted Ravioli is made using cheese filled ravioli, coating it in bread crumbs and frying until golden brown and crisp. Traditionally, in Missouri this appetizer is fried, but I've added instructions in the recipe below for baking it in the oven as well.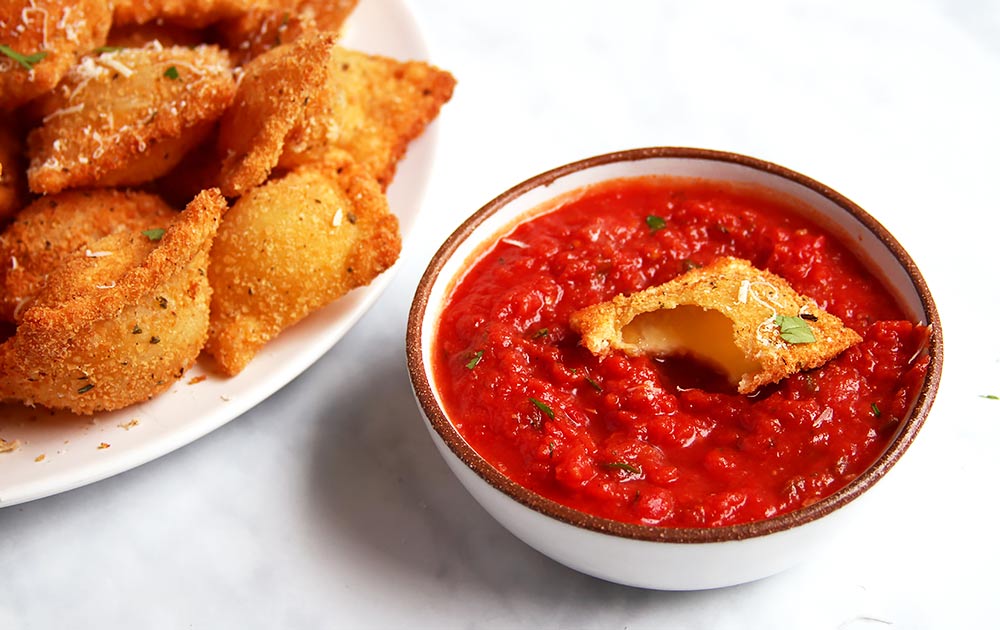 How to make toasted ravioli in the oven
Instead of deep frying, you can make toasted ravioli in the oven. To do so, coat each ravioli with breading, then arrange the ravioli on a baking sheet lined with parchment paper.
Preheat oven to 425 °C (220 °C) or 400 °F (200 °C) if using a fan-oven. Spray tops of ravioli with cooking spray or drizzle with oil and bake for about 15 minutes until golden. They might turn out slightly crispier than fried ones.
Step-by-step recipe St. Louis-style toasted ravioli
It's fun to make ravioli from scratch but it will take a while and you won't notice their homemade taste after frying. So, I suggest to use store-bought ones when in a hurry. Still for completeness, the instructions on how to make cheese ravioli from scratch are given here.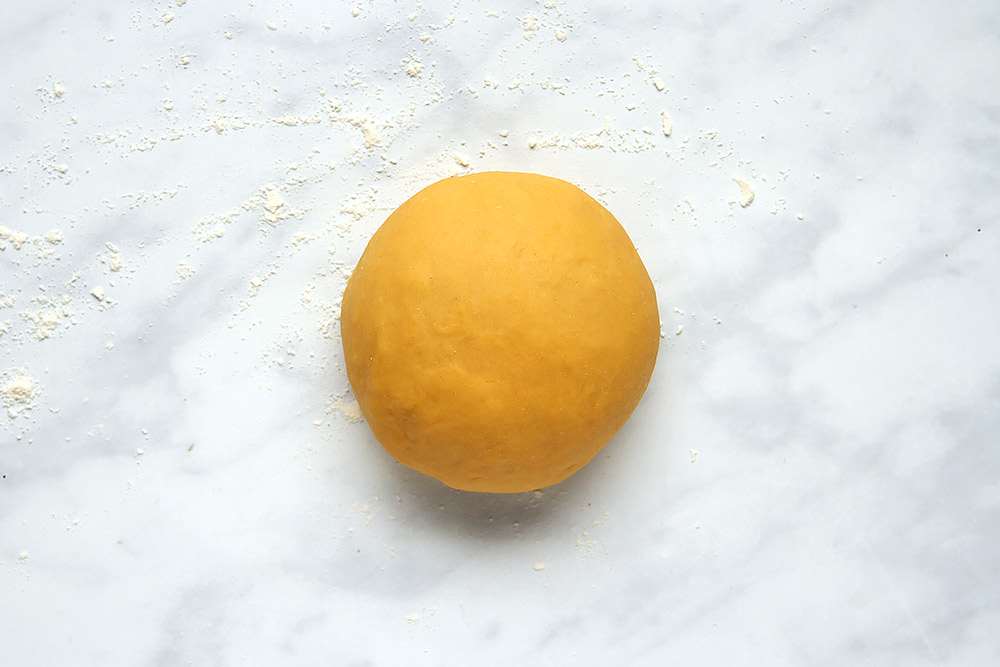 Make the pasta dough and let it rest for 30 minutes. Meanwhile prepare marinara and the breading.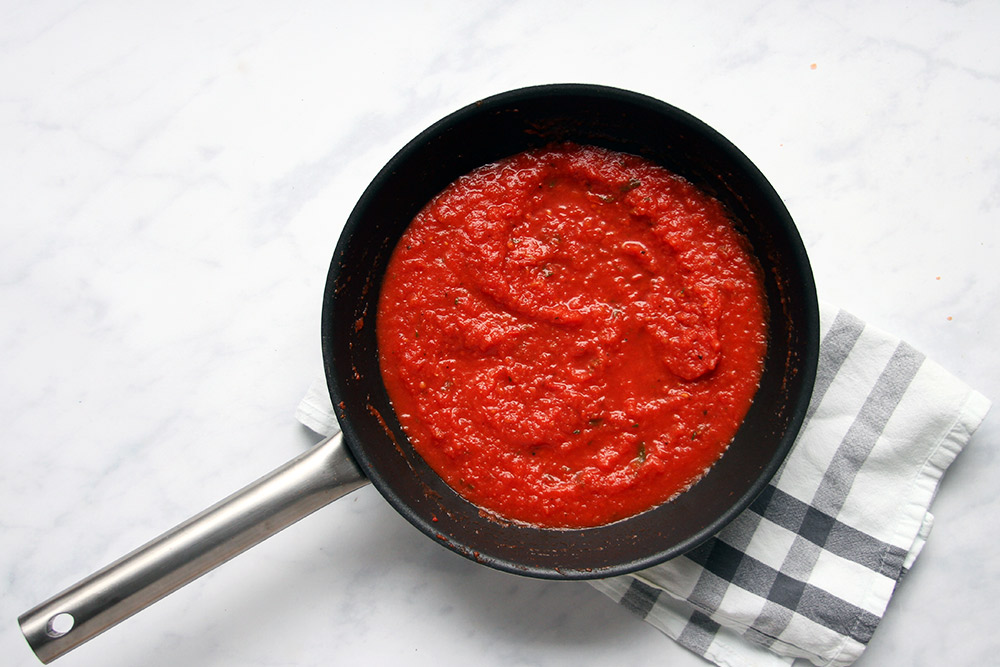 Heat crushed tomatoes, parmesan, herbs, a pinch of salt, and pepper in a saucepan and let it cook over medium-low heat for about 10 minutes. Set aside and keep warm. Alternatively, you can use your favorite store-bought marinara sauce for a quick approach.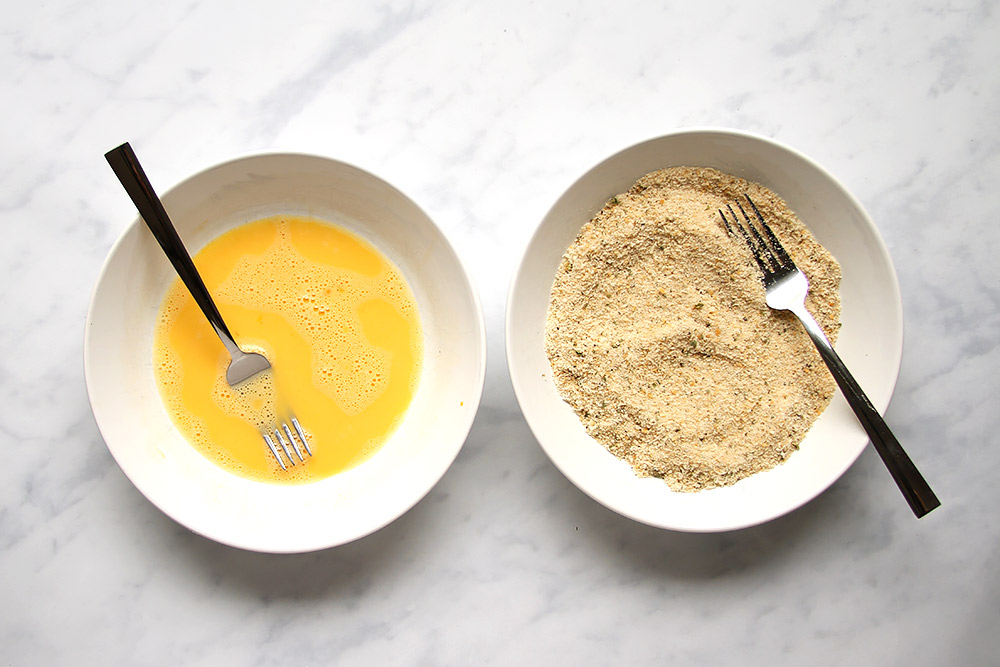 In a shallow bowl beat together egg and milk with a fork. Put bread crumbs in another shallow bowl, add parmesan and mix with a fork until combined well.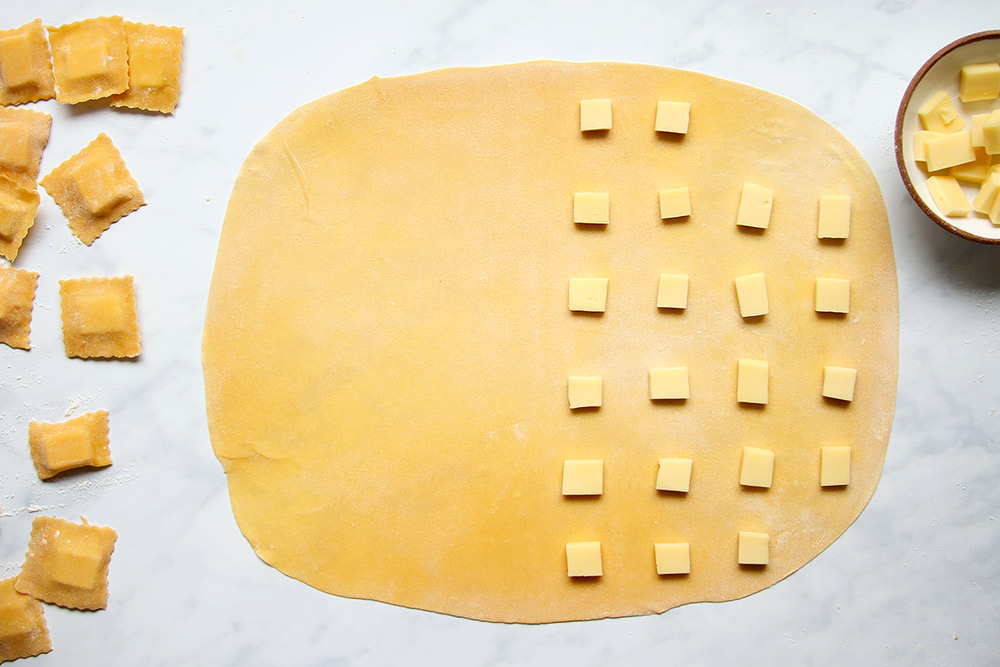 Cut dough in half and re-wrap one half so it doesn't dry. Roll the other portion of the dough into a thin sheet either with a rolling pin (like I do), or with a pasta machine. Arrange cheese cubes spaced apart onto one half of the dough, saving half of the cheese for the wrapped dough.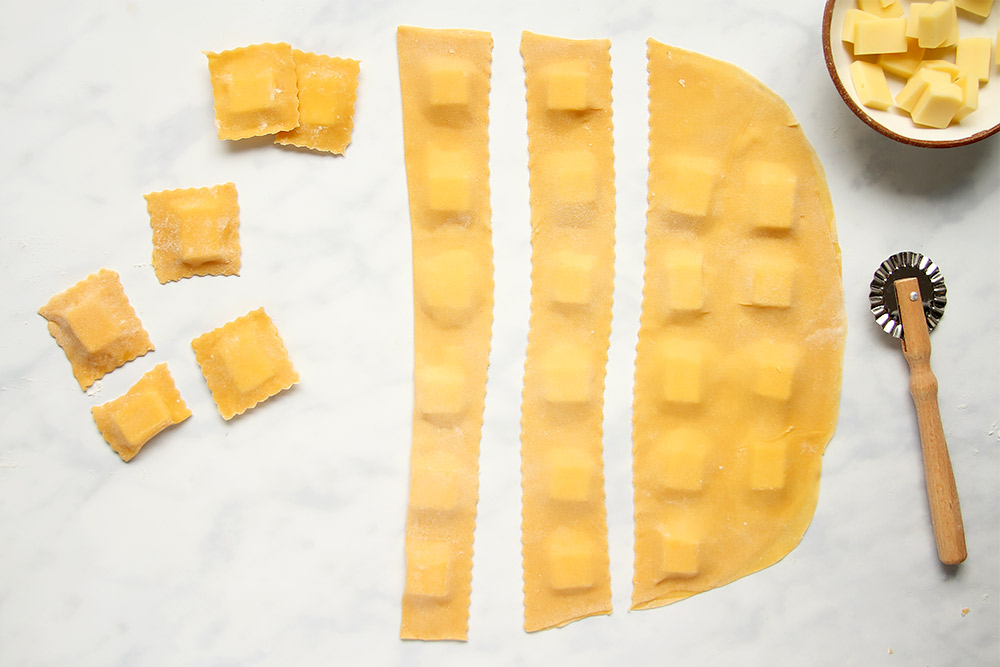 Brush the area around the cheese with water, then fold dough over the cheese. Press firmly with your fingers to make sure the cheese is tightly wrapped in dough with no air pockets inside. Cut dough with a fluted pasta cutter or knife into squares.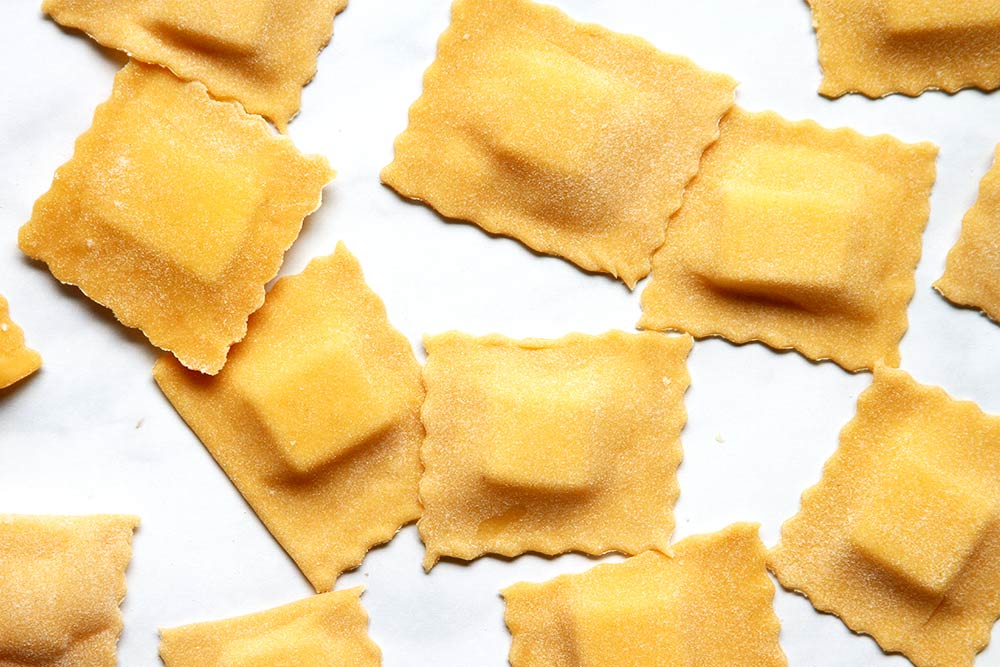 Check every ravioli again if tightly sealed (if not, cheese might ooze out while frying). Proceed the same way with the remaining dough.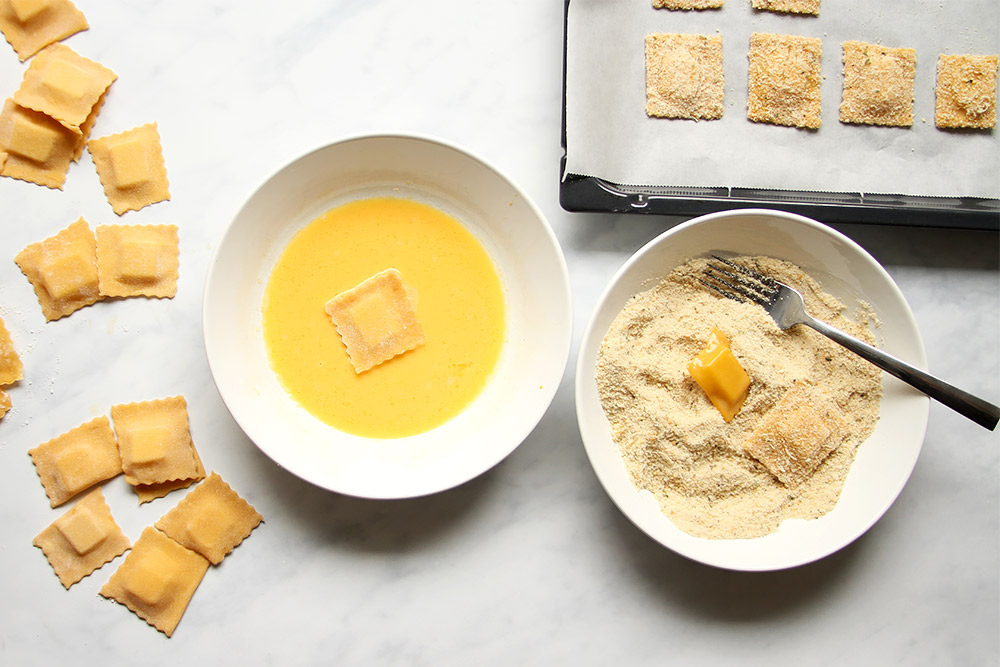 Dip each ravioli in the egg-milk mixture, letting excess drip off, and then dredge in bread crumbs. Coat both sides of the ravioli well, shaking off excess. Place on a large baking sheet. If you prefer to bake them in the oven (see instructions above), line the sheet with parchment paper.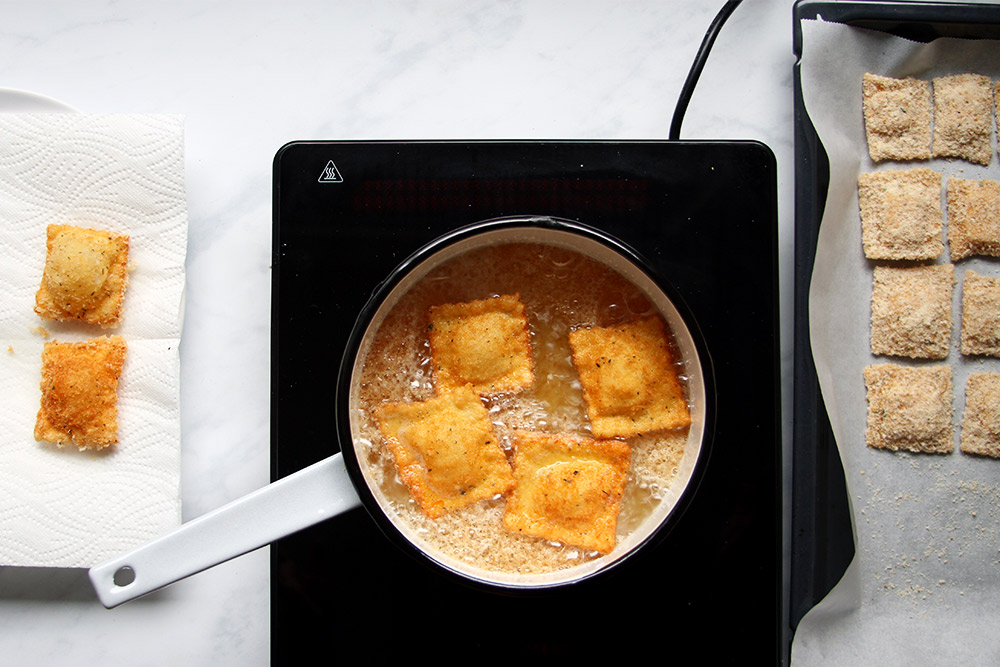 Fry ravioli in batches in the hot oil, turning them half-way through, until golden brown, about 2 minutes. Transfer ravioli to paper towels to drain.
If you would rather bake the toasted ravioli in the oven, see instructions above.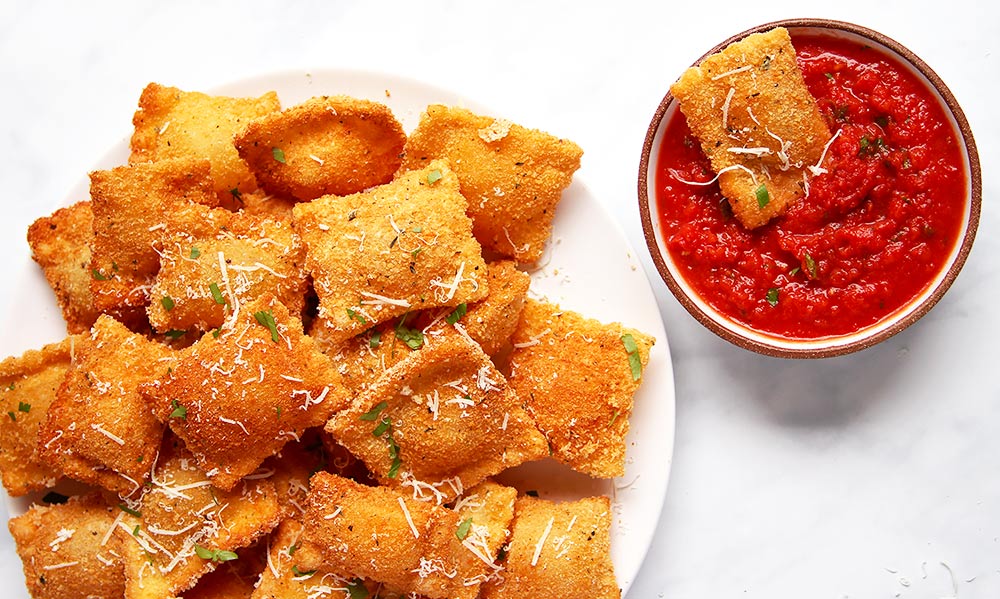 Transfer them to a serving platter, sprinkle on the parmesan and parsley. Serve them with warm marinara sauce for dipping.
Enjoy!
Toasted Ravioli from Scratch – Baked or Fried
was last modified:
February 6th, 2021
by