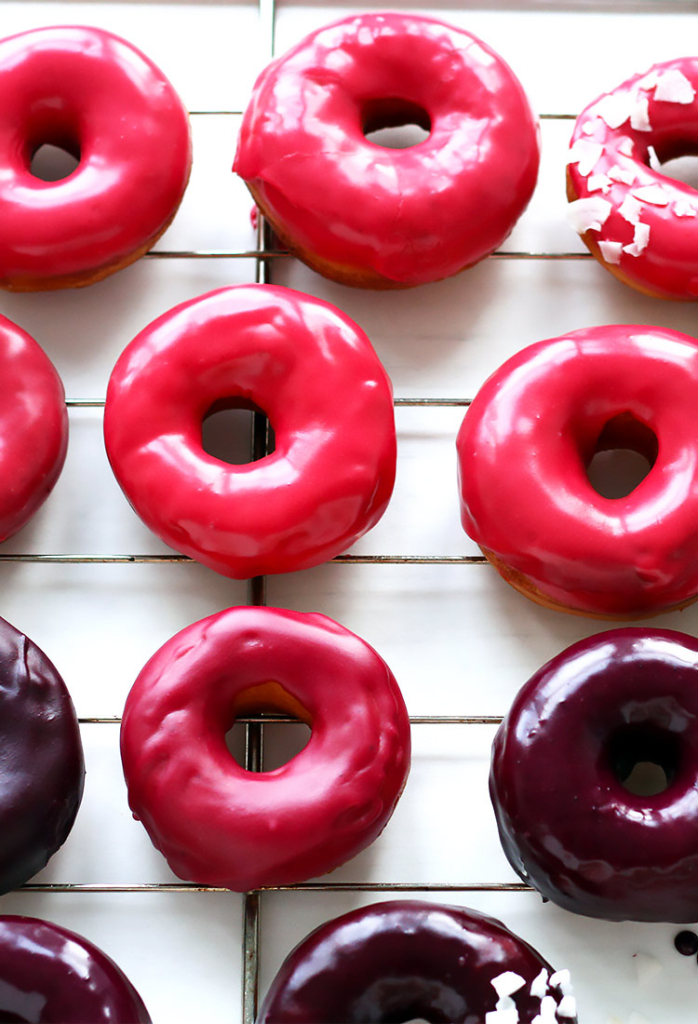 Recipe for fluffy donuts with pink berry glaze. They taste amazing! The naturally dyed pink raspberry icing is bursting with raspberry flavor. No artificial food coloring needed. Just raspberries and sugar.
How to make a pink raspberry glaze?
Making a vibrant pink glaze without food coloring is easy. You simply cook fresh or frozen raspberries with a splash of water until they release their pink juice. Cook them for a few minutes to reduce the juice, then pass them through a sieve.
This way, you get a raspberry juice concentrate, full of raspberry flavor. Mix the raspberry juice with powdered sugar. Dip the doughnuts in and you'll get pink glazed donuts. You could also call them Homer Simpson donuts ;-) If you prefer an intense purple glaze, simply substitute blueberries for raspberries.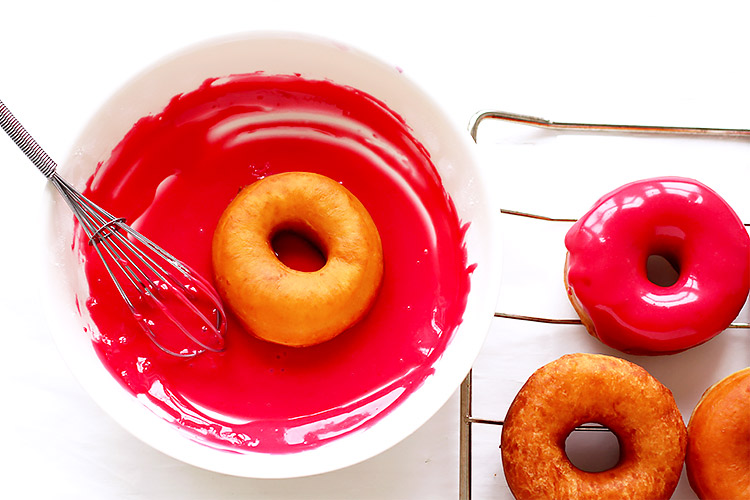 How to make fluffy donuts
This recipe produces light and fluffy donuts. The dough is not too sweet or greasy, it's soft and fluffy inside. I use my easy go-to yeast dough for doughnuts, which is fool-proof and the key to light donuts.
The dough comes together with a mixer but you can also make the dough by hand, which I have done for the step-by-step pictures below. Deep-frying the dough will yield the best results. I've tried baking them in the oven as an alternative, but they would come out less fluffy and rather pale (see pic here). So, I recommend deep-frying them for a perfect light donut.
The bright pink glaze on top makes these donuts perfect. Alternatively, you can dust them with confectioner's sugar – like the traditional Austrian jam filled donuts.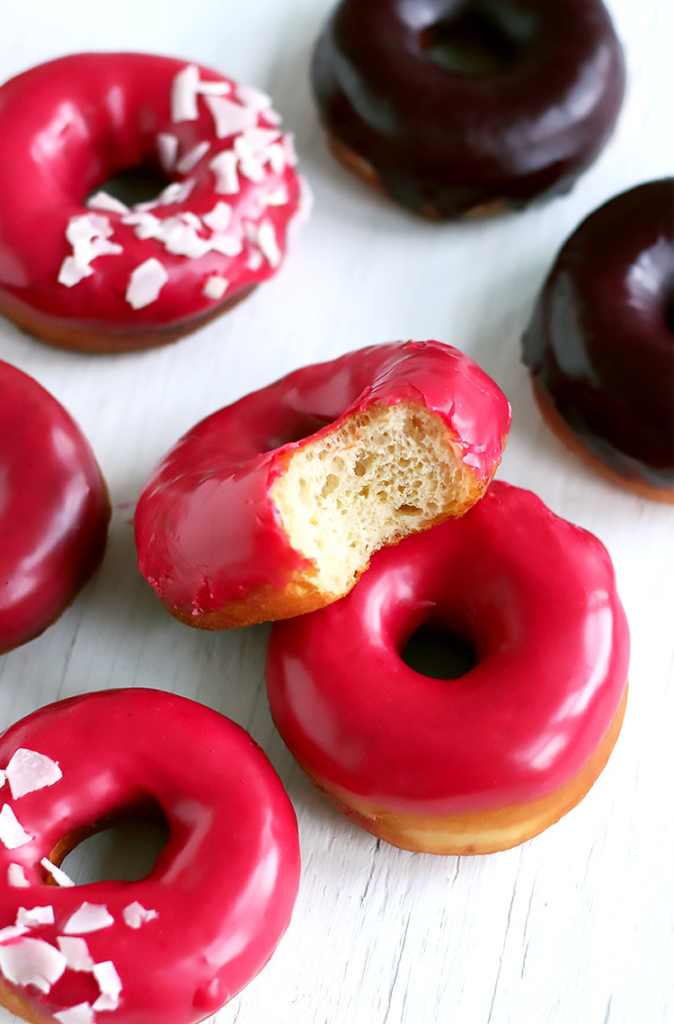 Step-by-step recipe for fluffy donuts with berry glaze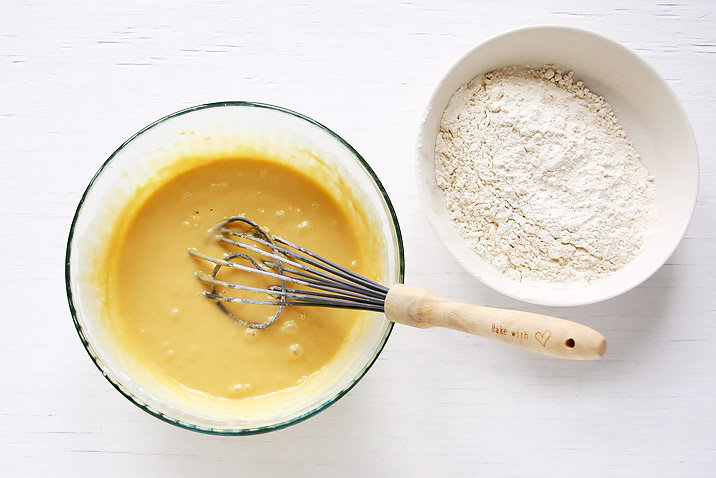 You can make the dough by hand (see recipe note below) or in a stand mixer with the dough hook attachment. I recommend the latter since the dough is rather sticky. However, I made the dough by hand for this article because I didn't own a stand mixer at the time I took the pictures.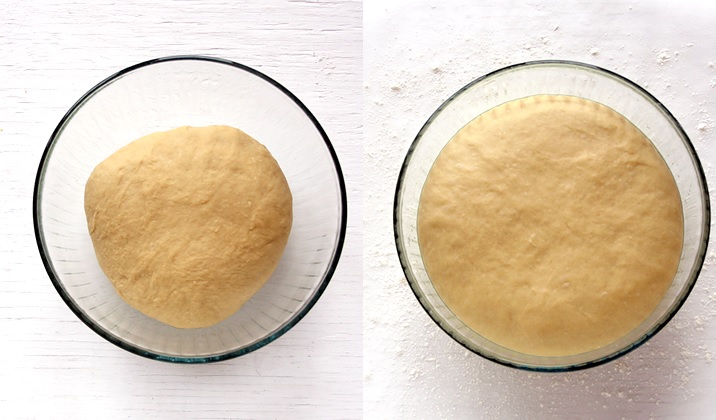 Mix all dough ingredients and allow the dough to rise, covered, until doubled in size, about 1 to 1 1/2 hours, depending on the room temperature.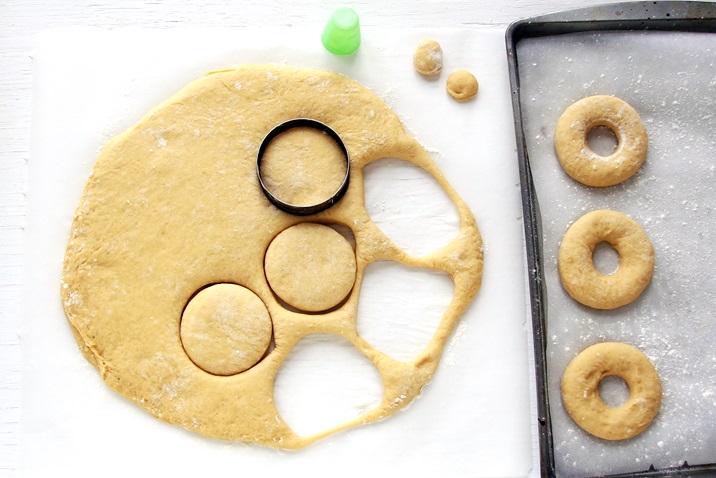 Roll the dough to 3/4-inch (2 cm) thickness using a rolling pin. Cut out the donuts with a doughnut cutter. Alternatively, you can use a large circle cookie cutter (or glass) with 3 inch in diameter plus a small cookie cutter (or shot glass) to cut out the center.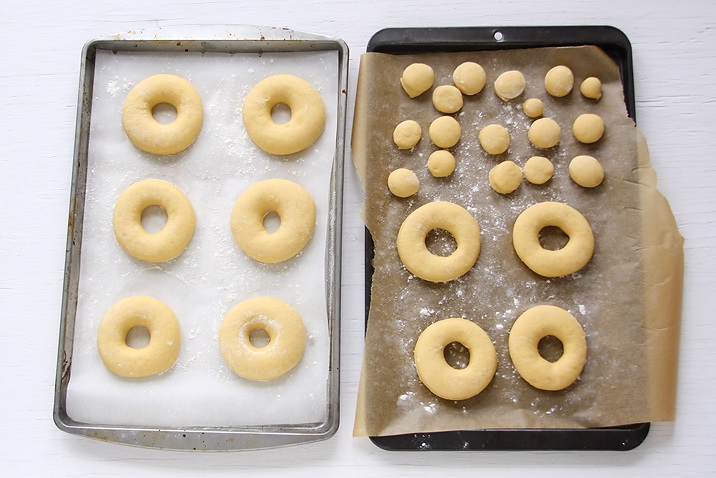 Transfer cut-out donuts on two floured baking sheets with room in-between. Cover with a kitchen towel, and let rise at warm room temperature until slightly puffy, about 30-45 minutes.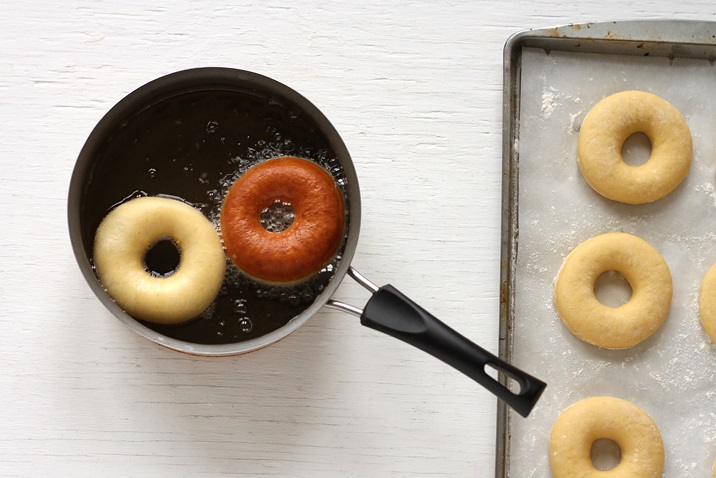 Heat oil in a pot over medium heat to 338 °F (170 °C). See recipe note in case you don't have a thermometer. Fry for ½ minute to 1 minute on each side. They should be deep golden all over.
Raspberry Glaze or Blueberry Glaze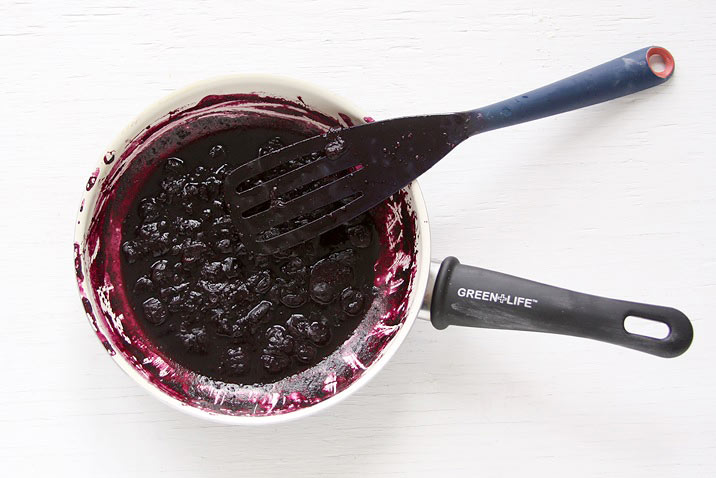 For the blueberry glaze, heat blueberries and some water. I also added some sliced ginger to enhance the blueberry flavors. Let berry-mixture reduce, then pass it through a sieve to remove seeds.
For the raspberry glaze, simply use raspberries instead of blueberries and proceed the same way.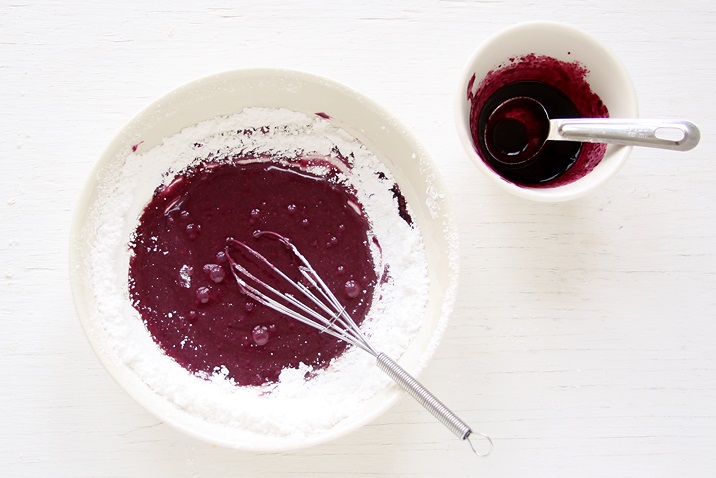 In a bowl that's wide enough to dip a donut in, whisk together confectioner's sugar and 2 tablespoons raspberry/blueberry juice concentrate, using a hand whisk.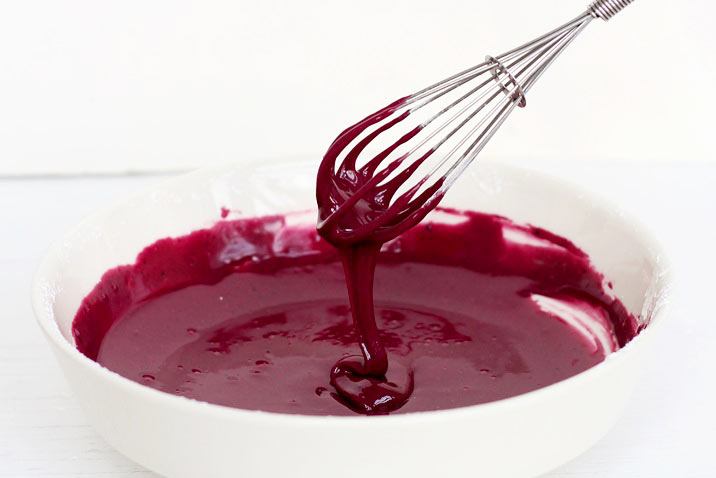 Mix well until smooth. Add another tablespoon of juice if necessary until you get the right glaze consistency. It should be thick but still runny.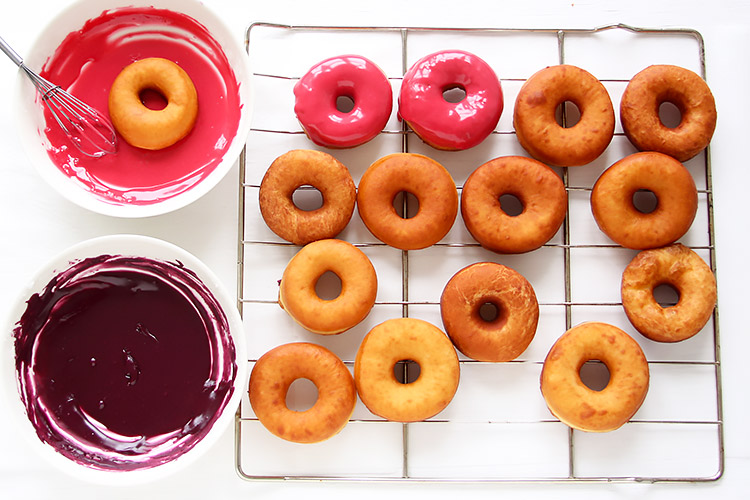 Dip each donut into the glaze. Let excess glaze drip off and place onto a rack with parchment paper below the rack. Stir glaze every now and then with a whisk to prevent it from forming a skin.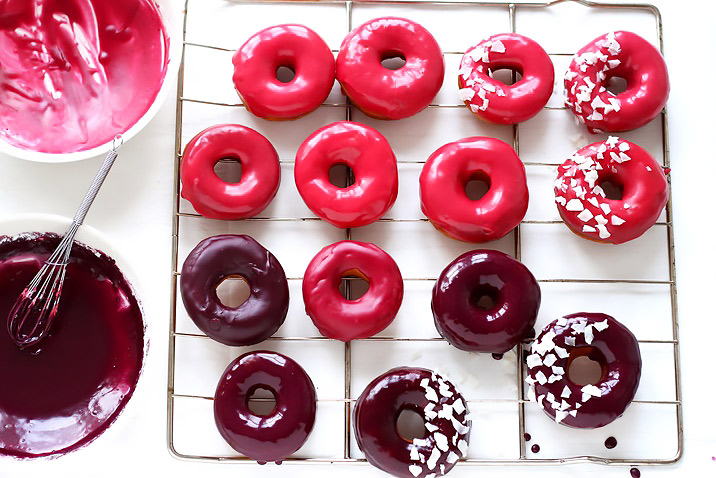 If glaze is too thick, add more raspberry/blueberry juice (or water), if too runny, add some confectioner's sugar. If glaze hardens over time, a few seconds in the microwave will make it runny again. Let the glaze set on the donuts and enjoy.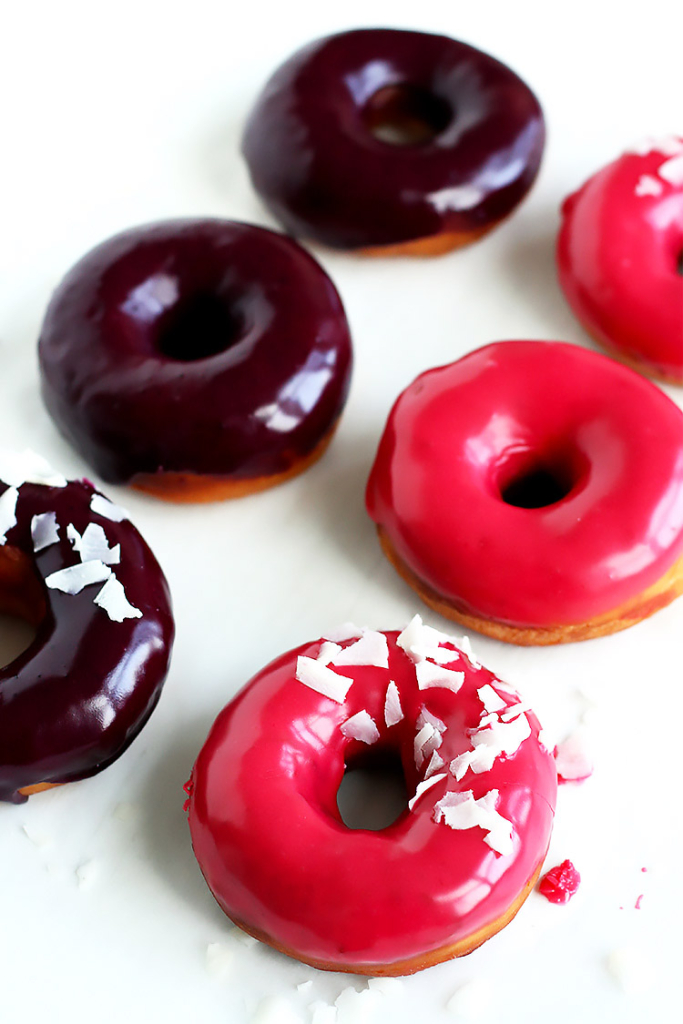 Donuts are best eaten on the same day. If you store them in an airtight container at room temperature overnight, the glaze will get sticky (but donuts still taste good). If you have too many donuts, freeze them without the glaze.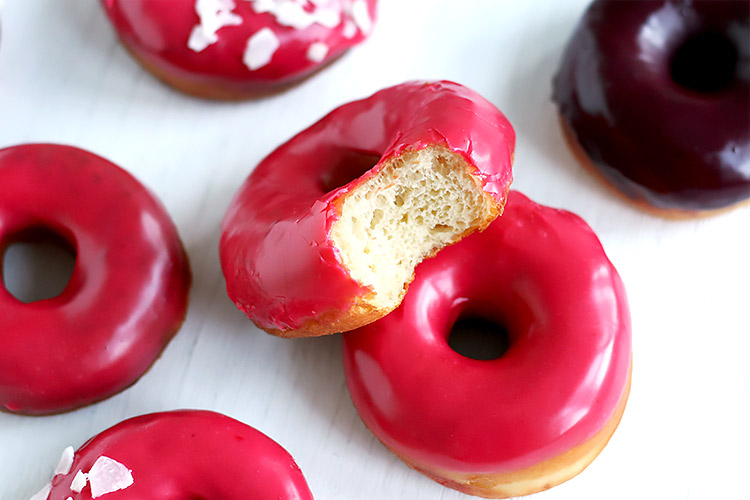 Enjoy!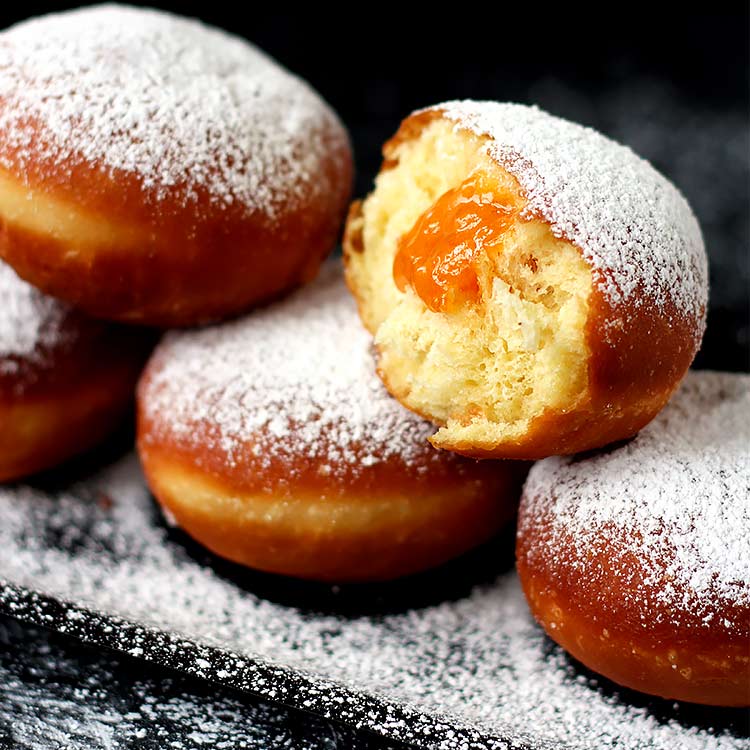 Are you looking for jam-filled donuts? How about these fluffy Austrian-style jam fille donuts!
Pink Donuts (no food coloring)
was last modified:
February 15th, 2021
by