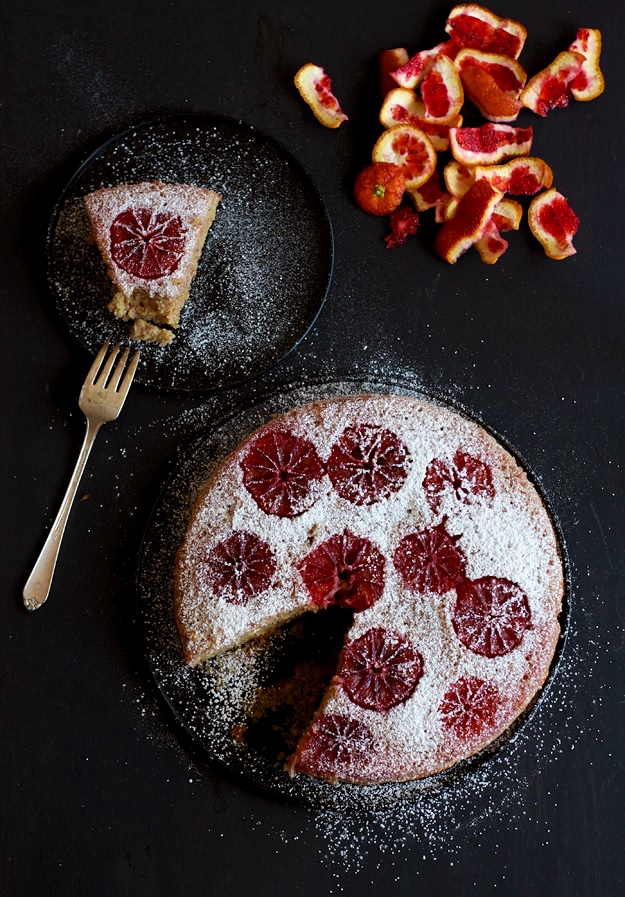 This cake is super-moist and ohhhhh soooo delicious, and ready in no time. I am particularly proud of this recipe since I developed it from scratch without having any other recipe as basis to work from. And do you know what? It worked so perfectly that I did't need to change the recipe at all after the first try.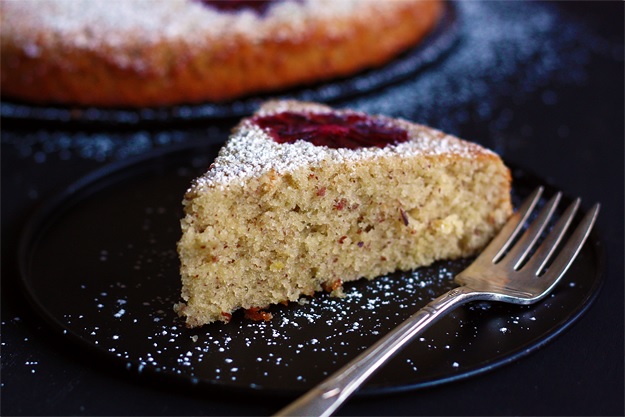 I posted it on my German blog Taste of Travel a year ago and I have been making this cake pretty often ever since. It soon became one of my go-to recipes and the batter is brilliant for cakes and muffins!
Originally, I wanted to make a blood orange upside-down cake but I simply was too lazy to cook the caramel that goes on top (well, or the very bottom?) of the orange slices.
You can even consider it a one-bowl cake if you add the flour and baking powder directly to the wet ingredients. Just make sure to distribute the baking powder evenly.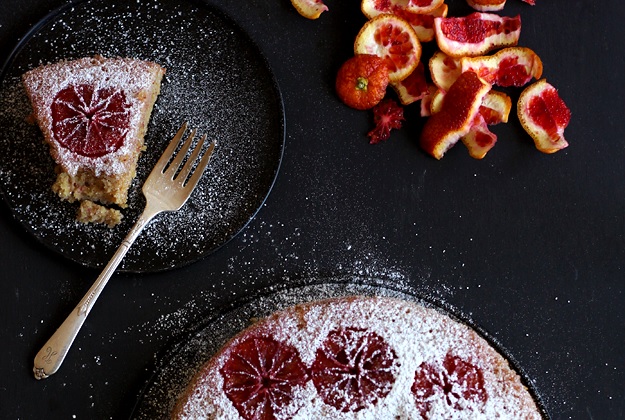 Nothing left to say, except: Enjoy!
This cake is super-moist and ready in no time. It uses freshly squeezed blood orange juice and you can make it with or without orange wheels on top (no caramel necessary). Add some almond extract for an intense almond flavor (even without it has a nice almondy aroma).
Ingredients
1 or 2 blood oranges to fillet, depending on their size (see note)
1 stick (113 g) unsalted butter, cubed and softened*
1/2 cup plus 1 tablespoon (120 g) granulated sugar
3 large eggs, at room temperature
1/4 teaspoon fine salt
1/4 teaspoon almond extract or 1/2 teaspoon vanilla extract (optional)
1 cup (100 g) almond meal
1/3 cup (80 ml) blood orange juice (from 2 small oranges; add some pulp if you like)
2/3 cups (90 g) all-purpose flour
1 teaspoon baking powder
Powdered sugar for dusting
Additional: parchment paper and a 8 or 9-inch (21 cm) round cake pan

* >> Did you forget to soften the butter or bring eggs to room temperature in time? No problem: Simply place eggs in a bowl with warm water for a couple of minutes. Slice butter very thinly and arrange them in a single layer in a mixing bowl. The butter should be soft within 5 minutes (or place mixing bowl onto a radiator or microwave for 15 seconds).
Instructions
Line the bottom of a round cake pan with parchment paper and grease the sides.
Fillet 1 or 2 blood oranges and cut them crosswise into 1/8 to 1/4-inch wheels; discard any seeds. Arrange the orange wheels in a single layer – as tight as you like - on top of the parchment paper.
In a large bowl, cream together the softened butter with granulated sugar for about 5 minutes.
Beat in eggs, one a time, mixing 30 seconds after each addition. It's crucial that butter and eggs have room temperatures or they'll separate easily.
Add salt (and almond or vanilla extract if using), mix until well combined.
Add almond meal and blood orange juice at the same time and mix on low speed until combined.
In a separate bowl, mix together flour and baking powder and then add it to the wet ingredients. Mix for just a few seconds, until combined.
Carefully scrape the batter over the oranges. Bake the cake in a 350 °F (175 °C) preheated oven until it is golden and a toothpick inserted in the center emerges clean, 30 to 35 minutes.
Cool the cake in the pan for 10 minutes, then run a knife along the pan's edges to loosen it. Invert the cake onto a platter and cool completely. Dust with confectioners' sugar before serving.
Notes
For a quick version or if you simply are not really into filleting citrus (like me) you can skip filleting the oranges. The cake doesn't look as pretty without the orange slices on top but it sure tastes delicious!
https://www.lilvienna.com/blood-orange-almond-cake/
Did you follow this recipe? You could share your result here. All you need to do is take a picture with your smartphone and send it to 

[email protected]



Blood Orange Almond Cake
was last modified:
March 7th, 2016
by