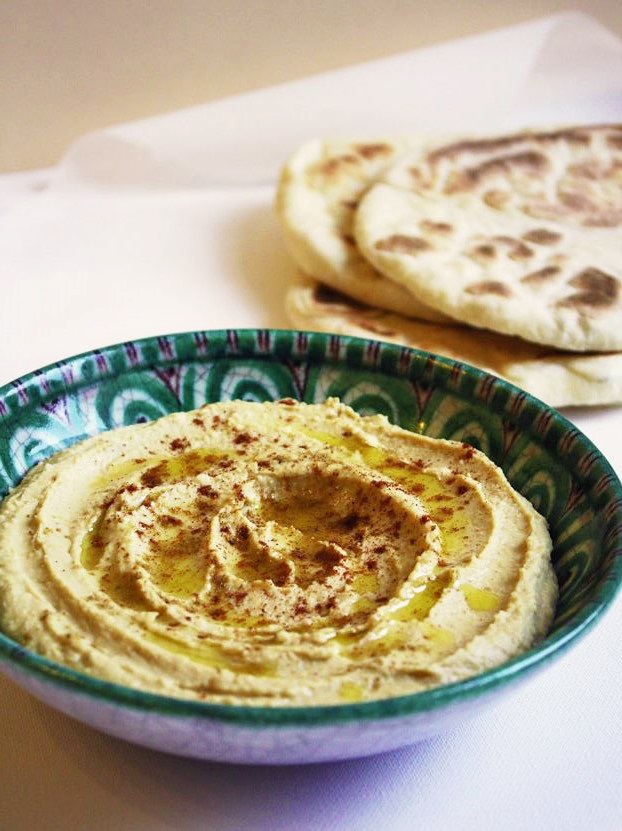 When we lived in Vienna (the actual big version of this blog), we ate hummus all the time. Not only are there a lot of Turkish grocery stores, but also some really good Turkish restaurants (people from Turkey are the 3rd largest ethnic group in Austria) – and guess what they all serve: yes, hummus.
A few years back, I started experimenting with hummus myself, and was just surprised, how easy it was. From these days on, I would always have some cans of cooked chickpeas in the pantry and a glass of tahini in the fridge. The rest of the ingredients are regulars in my kitchen anyway.
The distinguishing feature that makes this recipe so special and totally different from the tons of other recipes online is cooking the garlic before blending everything together. This reduces the dominant taste and sharpness of the garlic, so your hummus won't end up as a garlic hummus (we do love garlic in Li'l Vienna, but in decent doses).
And also, I'm totally with David Lebovitz when it comes to the question of removing the green germ in the garlic or not:
"I still advise plucking out the green sprout from the center, which I will continue to do, mostly because it brings me the same joy as cleaning the lint filter on my dryer." Nothing else add there ;-)
This creamy hummus calls for cooking the garlic first, to reduce the sharpness and dominant flavor of the garlic. It's very easy to make, provided you have a hand blender or food processor. It also freezes well, so it's probably a good idea to make extra and store the rest.
Ingredients
2 15 oz cans cooked chickpeas
3 tablespoons tahini
1 clove of garlic, finely chopped
2 teaspoons olive oil
1 ½ tablespoons lime juice
¾ teaspoon salt
1/3 teaspoon ground cumin
½ to 2/3 cup water
1 tablespoon olive oil for frying
Olive oil, chili powder (spice mix) and ground cumin for garnish
Instructions
Peel garlic, remove the green germ - it can be bitter - and mince it. Heat 1 tablespoon of olive oil in a small frying pan and fry gently for about 1 minute, don't brown it.
Drain and rinse chickpeas.
In a food processor (or with a hand blender) blend the chickpeas together with the tahini, olive oil, lemon juice, salt, ground cumin, ½ a cup of water and the fried garlic from the pan (including oil). Blend until pureed, turn off machine and scrape down the sides if necessary.
If your hummus is still a little thick, drizzle in water 1 tablespoon at a time, with the machine running until you get a very smooth and creamy mixture.
Eat the hummus immediately or keep it in the fridge until ready to serve.
Just before serving, transfer the hummus to a bowl and drizzle it with a little olive oil, and sprinkle it with just a pinch of cumin and chili powder. Serve it with pita bread or pita wedges.
https://www.lilvienna.com/hummus/
Did you follow this recipe? You could share your result here. All you need to do is take a picture with your smartphone and send it to 

[email protected]
Hummus
was last modified:
June 23rd, 2017
by