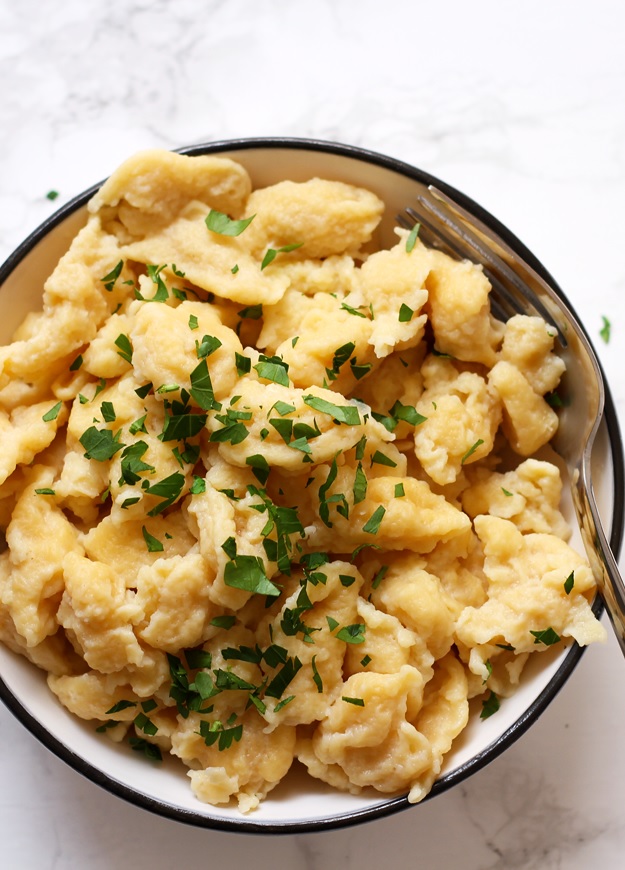 Nockerl are the perfect side dish for traditional Austrian beef goulash. In fact, I can't remember having beef goulash with a dark and thick gravy without a side of these Nockerl. Nockerl are Austrian-style gnocchi, more or less, but way easier to make. You simply stir together a batter, which you'll drop into boiling salted water by the spoonful. That's it. Isn't this fantastic?
Before I tell you a little more about this terrific quick pasta dish, I've got some great news: I made my first video for the blog!!! Hope you like it. Drop me a line in the comments if you like it or if you are missing something. I'm happy for feedback.
I proudly present:
Nockerl: The movie.
This is the easiest fresh pasta from scratch that I know of. The batter comes together in 2 minutes and only needs 4 ingredients you'll have on hand anyways: flour, eggs, milk, and salt.
However, I honestly don't know how to accurately name this dish since Nockerl is basically German for gnocchi in Italian. Btw, gnocchi derives from Nockerl and not the other way round ;-). But still, I don't feel comfortable to simply translate Nockerl to gnocchi since most of us associate gnocchi with a dough that contains potatoes or ricotta and has to be rolled into a rope and cut into pieces. So that's quite some effort you have to put into making gnocchi.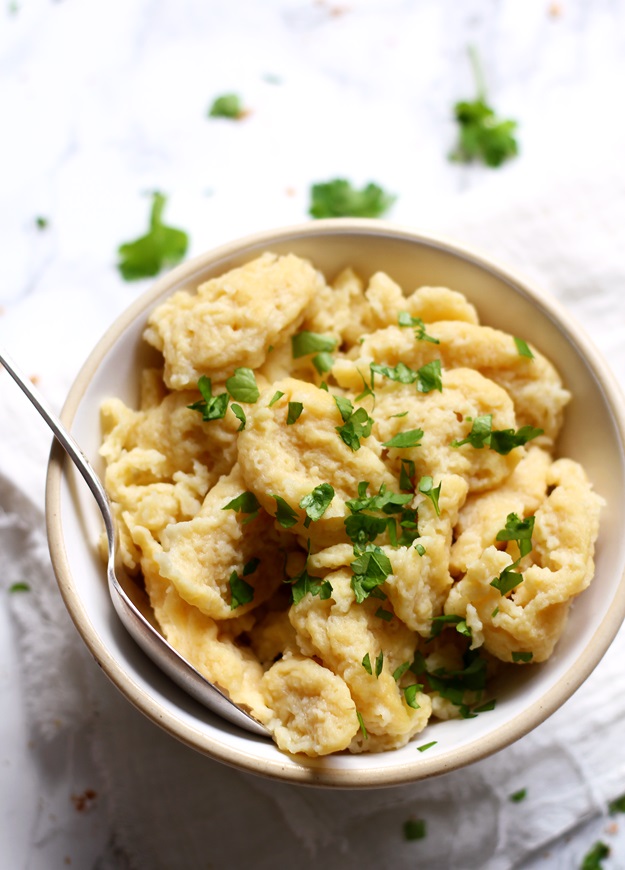 These Nockerl on the other hand, are way faster and easier to make. You simply mix eggs, milk, salt, and flour and drop the batter into boiling water with a spoon. It doesn't get any easier. That's why I have decided to call these Nockerl spoon drop dumplings aka the easiest fresh pasta ever. They are basically gnocchi without potatoes and ricotta and without the annoying rolling and cutting part.
They are similar to Hungarian nokedli dumplings, a great side for chicken paprikash and a little larger than spaetzle, which are often made with a spaetzle maker (like I did in my cheese spaetzle recipe).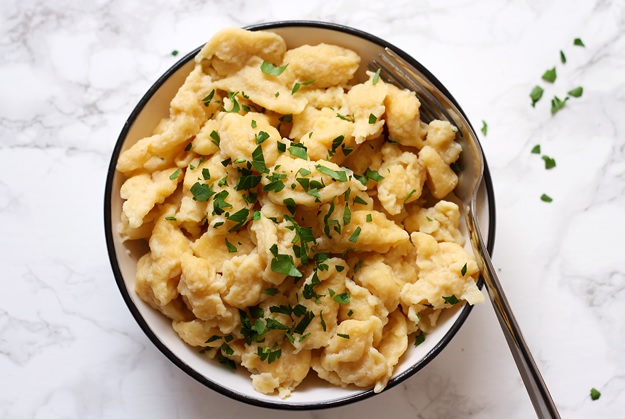 Transform leftovers into the best comfort food
If you have leftover Nockerl, you can make "Eiernockerl", which translates to spoon drop dumplings with eggs. For this dish, you simply heat leftover Nockerl with a drizzle of oil in a pan and crack some eggs over these Austrian-style gnocchi. Season with salt and pepper, and a sprinkle of chopped parsley if you feel like it. Voila! It's one of my favorite comfort foods ever, which I will definitely put on the blog some time soon. By the way, I didn't make this dish up just now, even though it kind of sounds like that. Eiernockerl is a true favorite among Austrians, especially vegetarians, often listed on menus of traditional Austrian restaurants.
I can't emphasize this enough: Beef goulash and Nockerl belong together. They are simply the dreamiest of all combos!
This is the easiest fresh pasta from scratch that I know of. You simply stir together a batter (4 ingredients), which you'll drop into boiling water by the spoonful. The batter comes together in 2 minutes and only contains flour, eggs, milk, and salt.
Ingredients
2 large eggs*
1/4 cup (60 ml) milk, whole or 2 %
1/2 teaspoon fine salt
1 cup + 2 tablespoons (150 g) all purpose flour
Optional: Unsalted butter to toss, and finely chopped parsley for sprinkling

*I use large eggs for this recipe. The eggs should weigh 60 g/2.12 oz each, incl. shell. If you are using larger or smaller eggs, adjust the amount of milk accordingly.
Instructions
In a medium bowl, whisk eggs, milk, and salt with a hand whisk or fork. Add flour and stir well with a cooking spoon. You kind of have to beat the batter to get a lump-free and stiff batter.
Bring a large pot filled with salted water to a boil.
Dip the spoon into the gentle boiling water first, to keep the batter from sticking to the spoon.
Using the side of a small spoon (dessert spoon), drop a small amount of batter – not more than ½ teaspoon - into the boiling water. Dipping the spoon into the hot water will remove the batter from the spoon.
Drop in the dumplings one by one, until the batter is used up. Proceed quickly to prevent the first dumplings in the cooking water from overcooking and getting too soft. Note: If you proceed rather slowly, you can cook the drop dumplings in two (or more) batches and remove the batches from the water with a slotted spoon. I would also advice to work in batches if you are doubling the recipe.
When all dumplings are in the pot, give them a stir to keep them from sticking to the bottom of the pot. Simmer for 1-2 minutes after you dropped the last dumpling into the water, then drain. Serve the dumplings right away – if not, rinse them with cold water to prevent them from clinging together.
Nockerl are the perfect side dish for traditional Austrian beef goulash. Enjoy!
https://www.lilvienna.com/austrian-style-gnocchi-nockerl/
Did you follow this recipe? You could share your result here. All you need to do is take a picture with your smartphone and send it to 

[email protected]



Austrian-style Gnocchi – Nockerl, with Video
was last modified:
April 11th, 2018
by