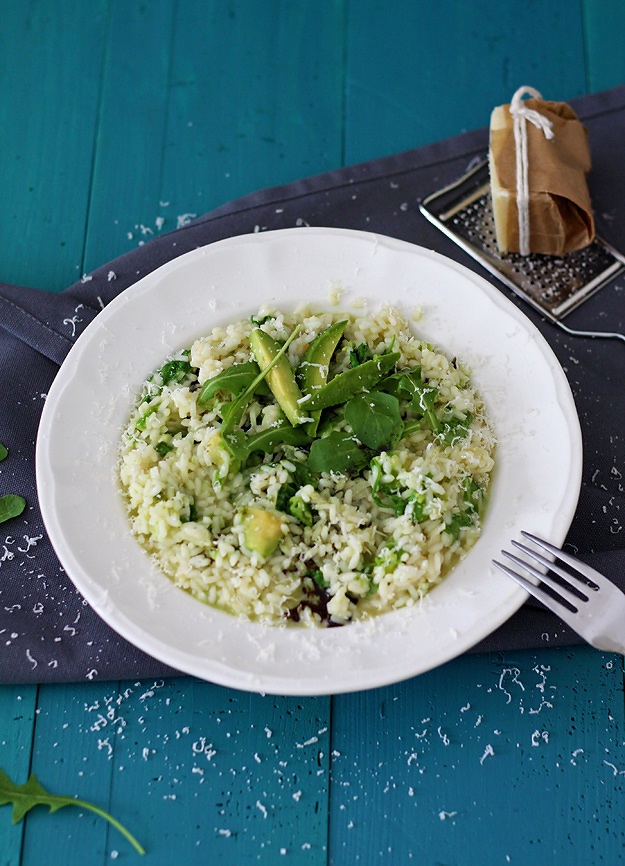 Being Austrian basically means eating a lot of Italian food. In fact: Austrians and Swiss eat more pasta than Italians themselves. So Austria is, and always has been, a big melting pot absorbing all the food of its neighbor-countries. Risotto is one of my favorites though – besides pasta, pasta and pasta. It is easy to prepare, great to modify (asparagus, pumpkin or mixed veggies) and since you need some wine for the preparation, you always get a glass to drink ;-) Just a tiny note you probably shouldn't read: If you really don't have any wine at home, you may substitute it with the same amount of stock, but it will taste slightly different. But I didn't tell you this. So go and get a bottle!
Risotto cooking is always fun. There are no excuses for less enthusiastic cooking partners to help, because the whole process is composed of cutting and stirring. And who can't do that? In fact, I think risotto is one of the best anniversary gifts for people who are not really into cooking, but want to try. Why, you ask?
Easy-peasy: It's just cutting and stirring.
Great outcome: The result always tastes good if not gorgeous – if you follow the instructions at least somehow closely (it's a very forgiving recipe).
Classy: Risotto is a dish people associate with special Italian cooking skills and great chefs, it's something you would order in a classy restaurant.
I am telling you, you will look pretty good serving a homemade risotto!
I always drizzle this risotto with half a tablespoon of pumpkin seed oil. Austria is very famous for this kind of oil, but it's often hard to get here in the US. So if you can get your hands on a bottle, I recommend buying it. Pumpkin seed oil is dark green in color, has a rich and nutty flavor, it tastes really awesome in salads (instead of olive oil) and can turn you into an addict.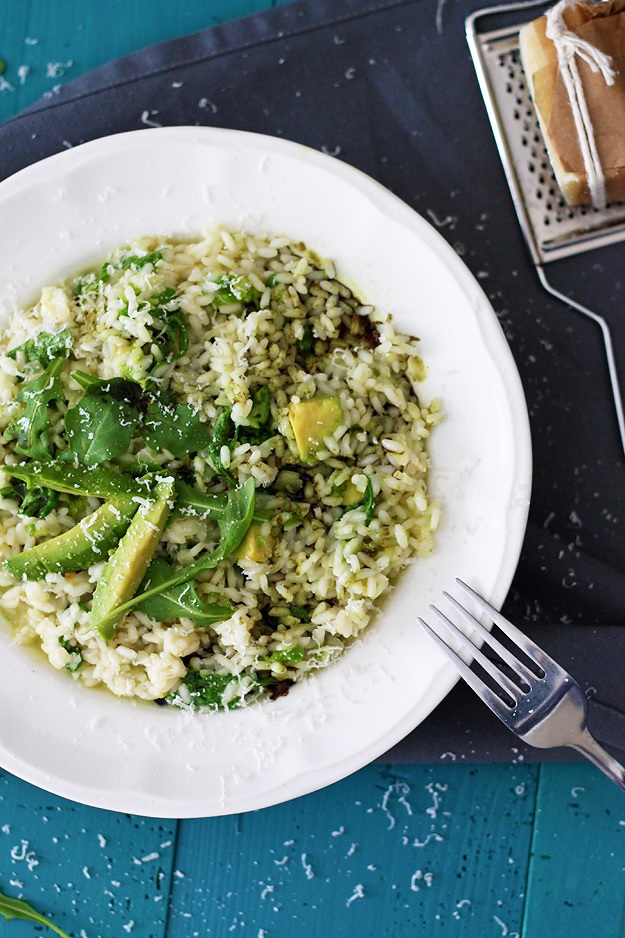 Ingredients
2 tablespoons olive oil
2 shallots, chopped finely (½ cup, 60 g)
1 cup risotto rice (medium grain rice such as Arborio or Carnaroli) (200 g)
¾ cup dry white wine (you would drink) (180 ml)
2 ¼ cups vegetable stock (540 ml)
1/3 cup Parmesan cheese, freshly grated (1 oz / 30 g)
1 medium-sized, ripe avocado (just under ½ lb, 190 g)
1 handful of arugula, washed, dried, tough stems removed
For serving: some arugula leaves, grated Parmesan and 1 tablespoon pumpkin seed oil (optional)
Instructions
Heat vegetable stock and keep it hot over low heat.
In a medium heavy-based saucepan, heat olive oil over medium heat. Add the shallots and sauté until softened (don't brown them), about 3 minutes.
Add the unwashed rice and cook, stirring continually, until the grains begin to crackle or are at least hot, for about 1 minute.
Add wine and stir until absorbed completely.
Begin adding the warm stock, about ½ cup at a time. Let the stock absorb, then continue adding stock until the rice is cooked yet still firm to the bite, about 15 minutes. The risotto should be creamy – neither soupy nor dry.
Peel the avocado, remove the pit and cut into ½ inch cubes, just a minute before the rice is cooked. This way you don't have to coat the avocado with lemon juice to keep it from turning brown, which would alter the taste of the risotto.
Stir in the Parmesan cheese, turn off the heat.
Add the avocado cubes, give it a stir until combined and remove from the heat.
Tear arugula leaves into bit-size pieces (keep some leaves for decoration) and stir them in.
Serve the risotto immediately, drizzle with pumpkin seed oil if you have some on hand, and garnish with some arugula leaves and grated Parmesan. Enjoy with a glass of white wine.
Notes
Do not wash the rice before cooking, the starch is what makes the risotto creamy.
https://www.lilvienna.com/avocado-arugula-risotto/
Did you follow this recipe? You could share your result here. All you need to do is take a picture with your smartphone and send it to 

[email protected]
Risotto with Avocado and Arugula
was last modified:
February 16th, 2015
by