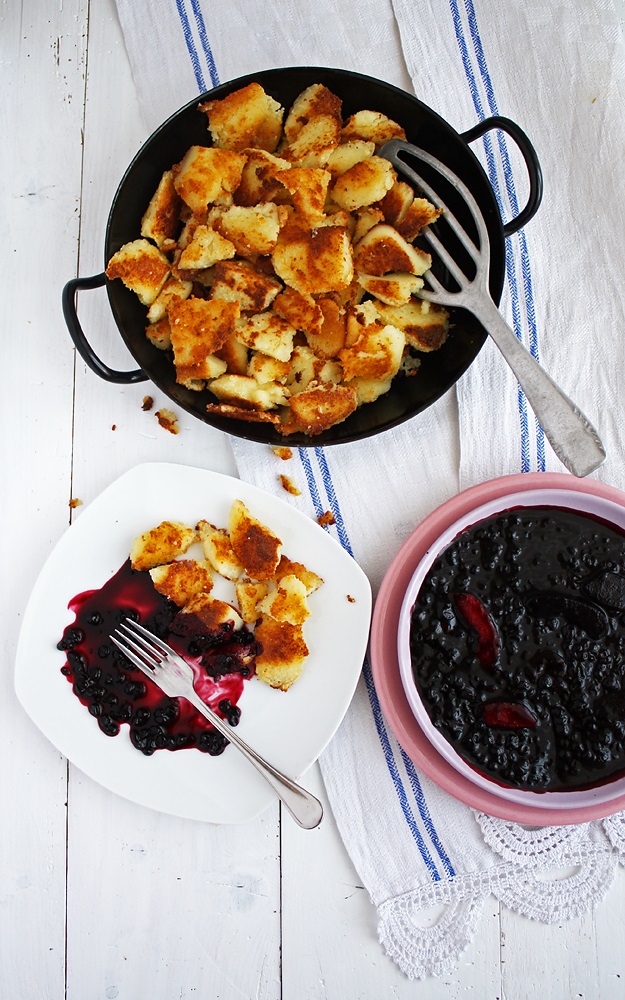 So, this is a real Austrian classic. When consumed, it dyes your lips and tongue purple which can make a whole family look like zombies. Believe me, my granny does look really scary after eating stewed elderberries ;-)
If you are lucky like me you have an elder bush right in your garden. If not, make it a daytrip out of the city to pick some of these wonderful berries. The elderberry-season starts in late August and lasts till the end of September. So far, I have never found any of these berries at farmer's markets or supermarkets, so you have to get your hands dirty.
Please call me Hollerröster
In German, the dish Stewed Elderberries is actually called "Hollerröster". It's an ancient, traditional dish and all Austrian grandparents will know it, but maybe not the younger generation – unfortunately. The only thing to keep in mind when preparing a dish with elderberries is, to cook them properly. Unripe red berries and uncooked black berries are inedible, so make sure to always have them cooked.
Stewed elderberries are usually accompanied by some sort of Baked Semolina – I think that's actually more a European, especially Eastern European thing. In Boston, it was pretty hard to find that kind of wheat semolina (coarse, white-beige in color) you will need for that dish. In the end I found it in an Indian grocery store under the name of cream of wheat (sooji).
Schmarrn, pleased to meet you
In Austria there a many types of Schmarrn [shmarn, comparable to the pronunciation in darn]. This word refers to anything that is shredded or cut into pieces. A Kaiserschmarrn for instance is some sort of shredded pancakes, a Semmelschmarrn is made of shredded rolls. And a Grießschmarrn, yeah ok, I get the difficulties in that word. The weird letter ß is pronounced similar to the letter c in the word place. Well, let's call it baked semolina from now on.
Btw Schmarrn is also refererd to as nonsense ;-) So, let's start the nonsense. My granny always cooked Baked Semolina in the oven. I kind of thought for a long time that that's the one and only way to do it. However, some years ago I discovered that frying the milk-soaked semolina pieces in a pan works just as well and will yield a pretty nice dish.
So it's really up to you, either you bake it in the oven or fry it in the pan. It's faster in the pan, but will have to keep an eye on it, otherwise it will get burnt. The oven needs more time to do the trick, but at least you don't have to watch it for the entire time.
Ingredients
For the Stewed Elderberries

9 oz elderberries, after de-stemming (250 g)
1/2 cup water (120 ml)
4 tablespoons sugar (2 oz / 50 g)
1 small stick of cinnamon (2 inch)
2 cloves, either ground or whole
½ apple
3 damson plums (walnut size) or 1 sweet or black plum
1 tablespoon instant vanilla pudding mix (substitute 1 tablespoon cornstarch + ½ teaspoon vanilla extract)

For the Baked Semolina

2 cups + 2 tablespoons milk (17 fl oz / 500 ml)
3 ½ tablespoons unsalted butter (1 ¾ oz / 50 g)
¼ teaspoon table salt or fine sea salt
1 cup + 2 tablespoons coarse wheat semolina (not semolina flour!) or cream of wheat (7 oz / 200 g)
2 tablespoons clarified butter (ghee) or neutral-tasting oil
confectioner's sugar for dusting (optional)
Instructions
For the Stewed Elderberries

Gently separate the berries from the stalks (yes, even the very fine stems), discarding any unripe berries. You can do that either with your fingers (they will dye purple as with red beet) or you can use a fork instead – although little bits of stem that attach to the berries still need to get plucked off by hand.
Rinse them, then put them in a medium saucepan together with the water, sugar, cinnamon and cloves.
Bring to a boil and gently simmer over medium-low heat for 20 minutes.
In the meantime, peel and core the apple-half and cut it into slices (about 16).
Half the plums and pit them. If you are using big plums, divide them into quarters or even eights.
Add the fruits to the stewed elderberries and cook until they are soft – about 10 minutes.
Meanwhile put the pudding-mix together with 1-2 tablespoons of water in a cup and stir until the lumps are gone.
When the plums and apple-slices are soft, stir in the pudding mixture and cook one more minute. The liquid should get a little thicker and creamier.
Remove from the stove, pick out the cloves and cinnamon, if you can find them and serve with Baked Semolina. It goes also great with pancakes, crepes or Kaiserschmarrn.

For the Baked Semolina

Heat milk together with half the butter and the salt in a saucepan. When the milk is close to boiling, remember to stir so the milk won't burn on the bottom of the pot.
When the milk is boiling (or at least nearly boiling) gradually add the semolina while stirring.
Boil the mixture up again (you should see some bubbles), then remove from the heat.
Now you have two options: either baking the semolina in the oven or frying it in a pan.

For baking in the oven:

Melt the other half of the butter in an ovenproof baking dish/casserole and brush the bottom and sides of the dish with the melted butter. Pour the mixture into the casserole and bake it in the preheated oven for 20 minutes (400 °F). Check if the bottom has already browned, if so, turn around by making some big pieces, then break them down into smaller pieces with a turner. Bake for another 15 minutes or until the bottom side turns golden.

For frying in the pan:

After having removed the semolina-milk-mixture from the stove, cover it with a lid and let it sit for 5-10 minutes, so the semolina can soak the milk until firm. Heat the clarified butter/oil together with the other half of the butter in a frying pan, then spoon some of the batter (about ½ to ¾ inch thick) into the frying pan. Continue until all the batter is used up. Every piece of semolina should be in contact with the bottom of the pan. You can use two pans if necessary or make them in two batches, one after another (keep the first batch warm in the oven. Fry the pieces for about 5-10 minutes until the bottom side turns golden, then turn around and break the pieces down into smaller ones. Fry until the other side turns golden.
Serve the baked semolina with a compote of your choice– stewed plums or elderberries taste really nice - or warm apple sauce. Dust it with confectioner's sugar if you like.
https://www.lilvienna.com/stewed-elderberries-with-baked-semolina/
Did you follow this recipe? You could share your result here. All you need to do is take a picture with your smartphone and send it to 

[email protected]
Stewed Elderberries with Baked Semolina
was last modified:
February 12th, 2015
by