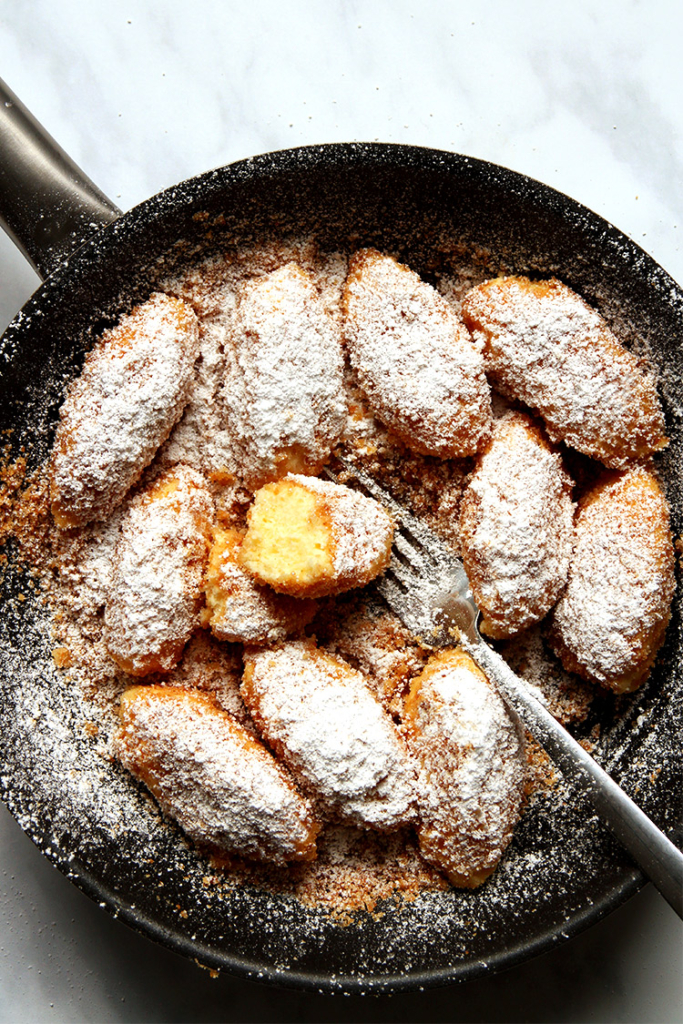 These curd cheese dumplings (Topfennockerl) are light, fluffy and taste soooo good, I could eat them every day. Austrians eat them as main dish or for dessert. I have a sweet tooth, so I eat them as a main dish every once in a while.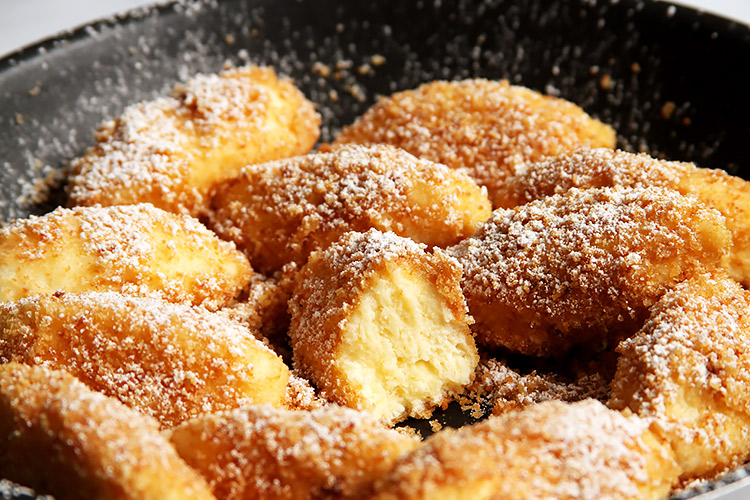 Curd cheese, also known as farmer's cheese, is very popular in Austria and many Eastern European countries. The texture is similar to cream cheese or ricotta but the flavor is different – slightly tangier.
In some areas of the US, farmer's cheese is somehow hard to find in stores. In the Northeast, Market Basket carries it. To substitute farmer's cheese, it's best to use dry curd cottage cheese.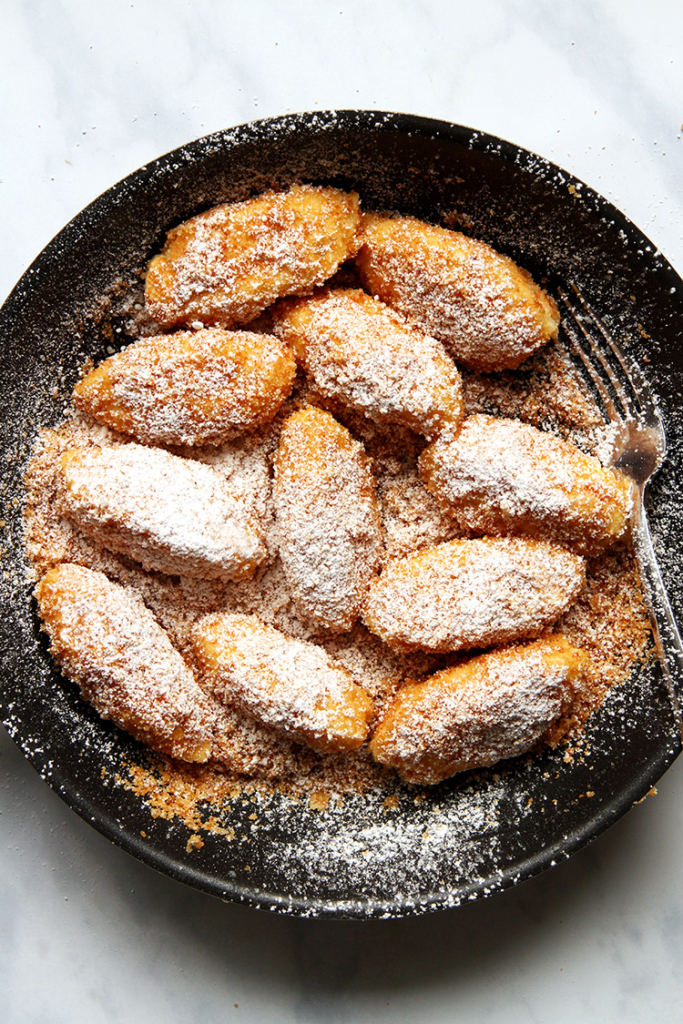 The dumpling batter is very easy to make and does not contain any sugar. The dumplings are only slightly sweet due to their toasted crumb coating, which contains some sugar. To finish, they are usually dusted with powdered sugar. Seriously, drooling alert!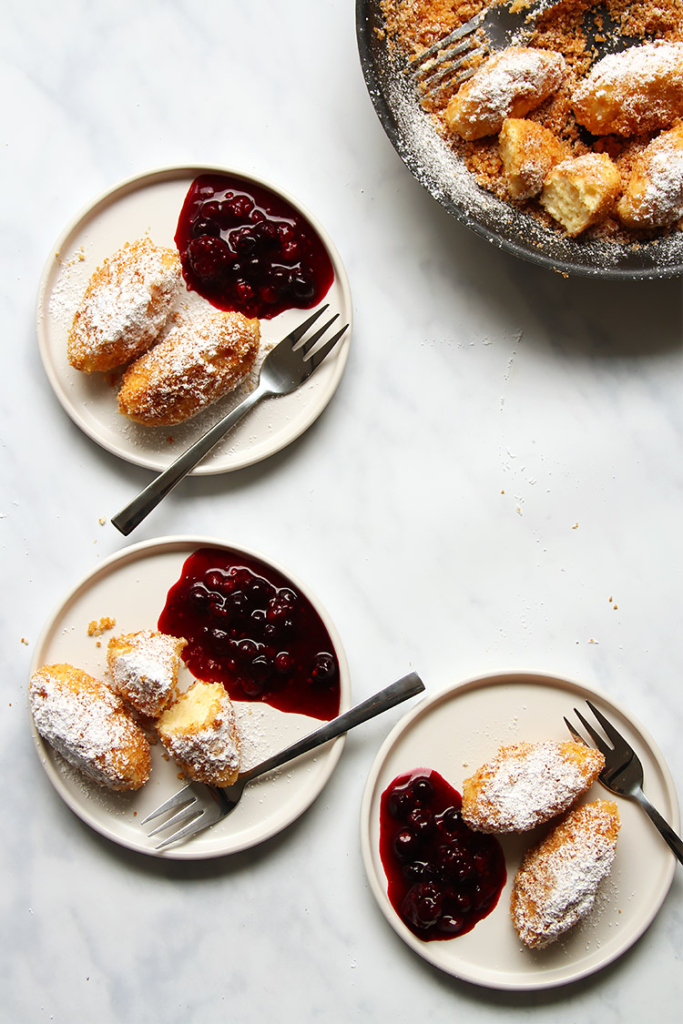 How to shape dumplings
The only slightly tricky part is to shape the dumplings. However, once you get the knack of it, it's super easy. I've included a video for you to show you how they are made. Above you can learn, how to shape dumplings using two spoons. Tip: There is a more detailed video on how to shape dumplings here.

With a little bit of practice, you'll learn that it's not rocket science. In case you can't make it work, you can shape little curd cheese balls with your hands.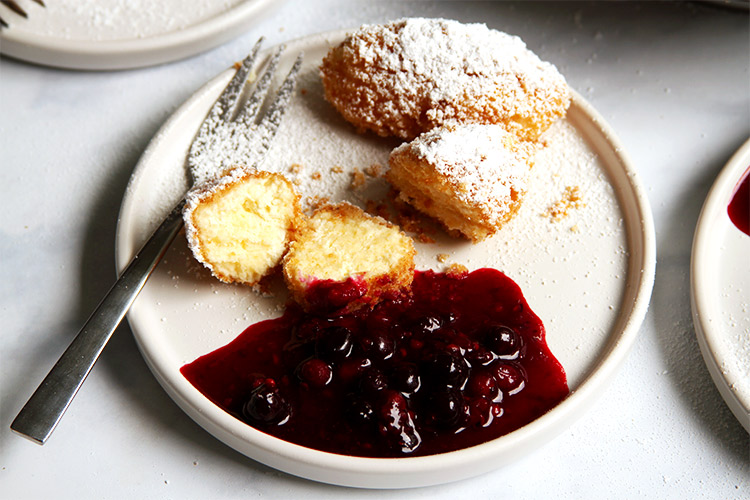 1-minute video: How to make curd cheese dumplings:
Recipe for light and fluffy Austrian curd cheese dumplings. They are not overly sweet so you can enjoy them as a main or for dessert.
Recipe: Ursula | lilvienna.com
Ingredients
Curd Cheese Dumplings:

250 g (8.8 oz) farmer's cheese, 20 % fat (sometimes called dry curd cottage cheese)
2 3/4 tablespoons (40 g) unsalted butter, melted and cooled
1 large egg
3 tablespoons (25 g) all-purpose flour
2 tablespoons (25 g) white wheat semolina (also called wheat farina or cream of wheat)
1/4 teaspoon salt

Toasted Crumb Coating:

2 tablespoons (30 g) unsalted butter
1/2 cup + 1 tablespoon (70 g) dry bread crumbs (fine ones, no panko)
2 1/2 tablespoons (35 g) sugar

Berry compote:

2 cups (280g) mixed frozen berries
1 tablespoon sugar (more, if needed)
3 tablespoons water
1 teaspoon cornstarch

To serve:

Powdered sugar for dusting
Berry compote or any other fruit compote or fruit sauce
Instructions
Curd cheese dumplings:

Using a fork, stir together farmers cheese, melted butter, and egg in a bowl. Add flour and semolina and stir until smooth. Cover the bowl and let rest for at least 10 minutes in the fridge. In the meantime, make the toasted breadcrumbs and berry compote (recipes below).
Bring a wide pot of generously salted water to a boil. Reduce temperature to medium-low. The water should only simmer gently. Dip two soup spoons into the hot water (to avoid sticking), place some batter on the spoon and form tight, oval quenelles as shown in the video. They should be tightly shaped and have three clear edges and a smooth surface. If this is too difficult, you can wet your hands and shape the batter into small balls. Lower your spoon with the dumpling into the hot water, release them gently and shape the next one. Tip: If you are rather slow, you can shape all dumplings, place them on a semolina-dusted plate and later add all dumplings at once to the hot water to ensure even cooking.
Simmer dumplings uncovered for 3 minutes. Lightly stir the dumplings with a spoon to unstick them from the bottom of the pot. Reduce the temperature to the lowest possible – the water should be barely simmering - and let the dumplings cook for another 5-7 minutes, depending on their size. Try one dumpling: If the center is cooked through, they are ready.
Remove the dumplings from the water with a slotted spoon, transfer them to the pan with the breadcrumbs and roll them in the toasted crumbs to coat. Serve with fruit compote or fruit sauce. Enjoy!

Toasted breadcrumbs:

Melt butter in a pan over medium heat, and then add the breadcrumbs. Toast them, stirring constantly, until they are golden. Add sugar and stir until combined. Make sure the residual heat doesn't toast the breadcrumbs too much, they can burn easily.

Berry compote:

Put berries, sugar and 2 tablespoons water in a small saucepan over medium heat. In a small bowl, stir together 1 tablespoon water with the cornstarch. Stir until the slurry is smooth, and then stir it into the compote. Cook for a few minutes until the compote thickens slightly. Remove from heat and cover until needed.
https://www.lilvienna.com/curd-cheese-dumplings/
Austrian Curd Cheese Dumplings – with Video
was last modified:
September 23rd, 2021
by