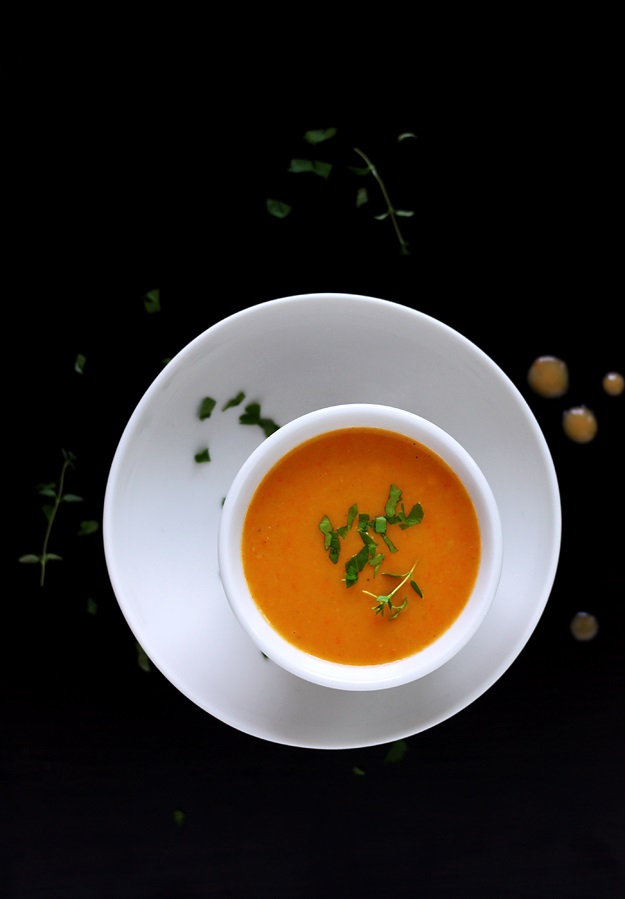 I can't deny it any more: Winter is coming is here! And what else would you desire more on cold days than a steaming hot bowl of homemade soup? Just before suggeling up under a sofa-blanket with a warm soup belly for a movie.
The recipe below is one of my regulars: It's easy to prepare, needs only a handful of ingredients (onion, carrots, potatoes and celery) and is ready in less than 30 minutes. As this wouldn't be enough, this soup also freezes well – so clever minds double the ingredients and stock up for lazy days.
One thinkg I should properly mention: Please be careful when blending the vegetables. I did this right in the pot where I cooked the vegetables out of habit – as I would do in Austria, where most of my pots are made of stainless steel. Well, here in Boston I use coated pots, and turns out that my hand blender eats nonstick coatings for breakfast. When I did the dishes after that, I noticed that I had scratched the bottom of the pot all over. So I recommend rather blending the lightly cooled soup in an extra bowl. If you are using a countertop blender, work in batches. Do not fill the blender more than half full and use a dishcloth to hold the lid of the blender tight. The heat will cause the blender's lid to fly off if you aren't careful.
If this hasen't scared you off (the blender part sounds horrible, I know) you will soon figure out that this is the perfect soup for winter days.
Ingredients
1 medium yellow onion, finely diced (¾ cup chopped / 120 g)
1 stalk of celery, finely diced (½ cup chopped / 50 g)
3 medium carrots, diced (1 1/3 cups chopped / 180 g)
2 medium potatoes, diced (2 cups chopped / 280 g)
1 garlic clove, minced
1 tablespoon vegetable oil
1 ½ tablespoons flour
2 ½ cups (600 ml) hot vegetable broth (or hot water)*
½ teaspoon freshly ground black pepper
¼ - ½ teaspoon salt (depending if you use broth or water)
Fresh parsley and thyme for serving (optional)
Instructions
Place the oil in a large pot over medium heat.Add the onion, celery and carrots and cook for 5 minutes, stirring occasionally, until the onion becomes translucent.
Add garlic and potatoes and cook for an additional minute.
Evenly dust the vegetables with flour, then stir thoroughly.
Pour the hot broth or hot water over the vegetables, give it a stir and simmer covered over medium low heat for 15 to 20 minutes until the veggies are soft.
Pour the mixture in a heat- and scratch-proof bowl and carefully blend with a hand blender until the mixture is smooth.
Put the soup back into the pot and reheat, add salt and pepper. If you added water instead of broth, you will need a little more salt because usually broth is salted already.
If you think the soup is too creamy, add some water or broth and adjust the seasoning.
Sprinkle with some sprigs of fresh thyme and chopped parsley if you like and serve with some slices of brown bread or ciabatta.
Notes
* I used ½ a bouillon cube (usually for 1 cup soup) for 2 ½ cups water (600 ml). And yes, if you have time, homemade broth is better ;-)
https://www.lilvienna.com/simple-silky-vegetable-soup/
Did you follow this recipe? You could share your result here. All you need to do is take a picture with your smartphone and send it to 

[email protected]
Simple Silky Vegetable Soup
was last modified:
January 6th, 2015
by