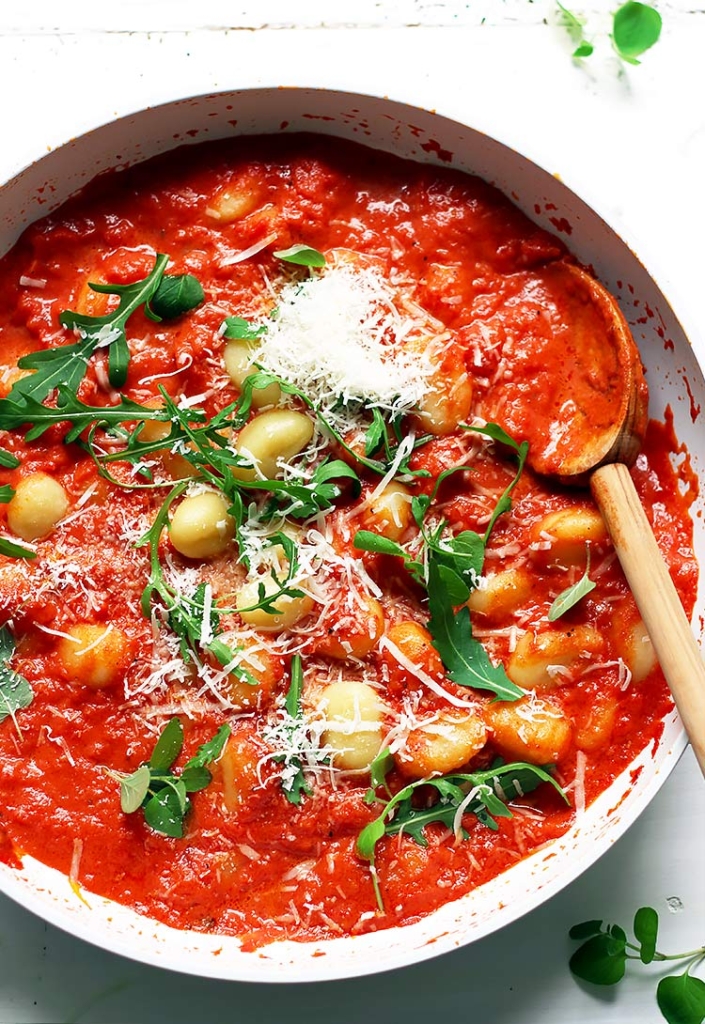 Ready in 10 minutes from start to finish: Easy and quick gnocchi in creamy tomato sauce is a delicious meatless weekday lunch or dinner.

You'll only need a handful ingredients and you don't even need to chop onions or garlic. This recipe is super simple, yet packed with rich Italian flavors.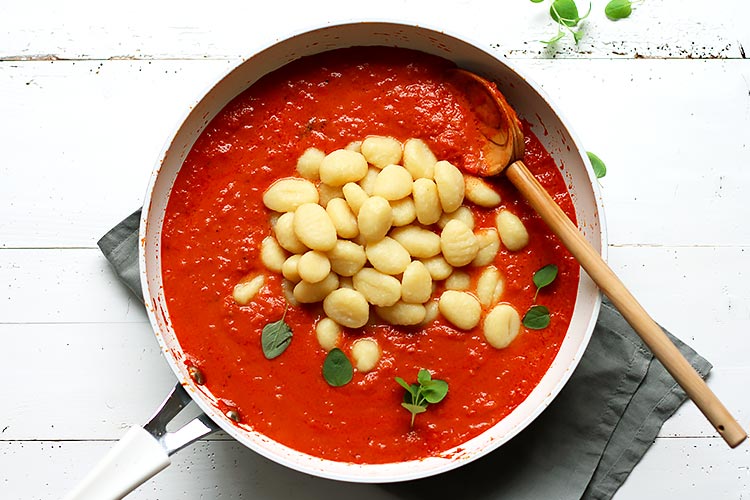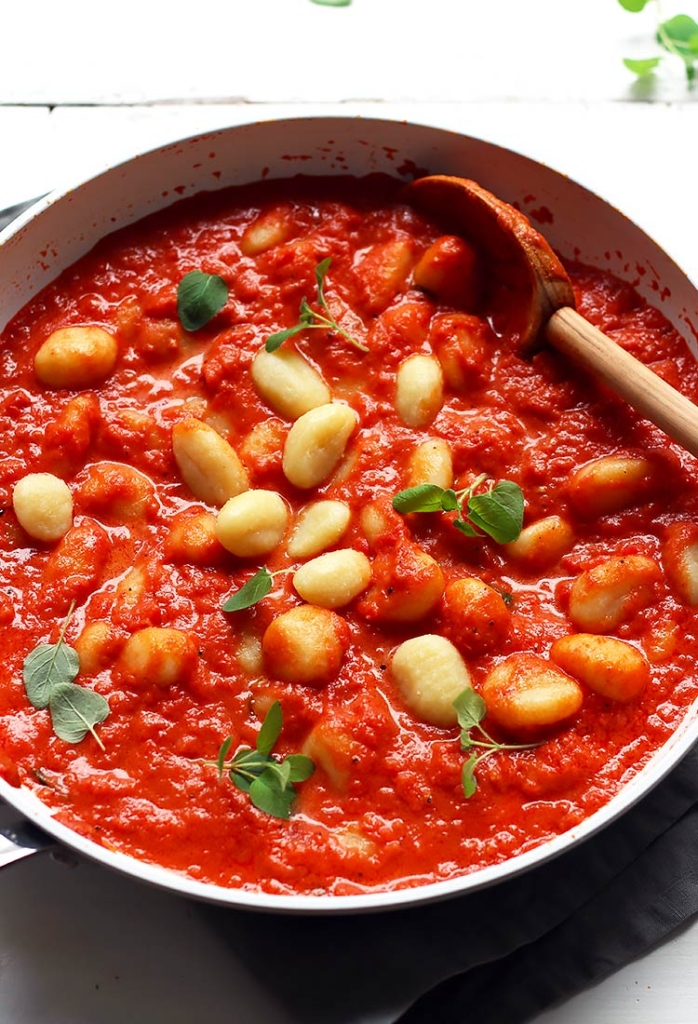 Easy home office recipe
It's a perfect recipe that makes home office cooking a breeze. I usually have the ingredients on hand since they are pantry staples: gnocchi from the dry pasta aisle (they keep forever), a can of crushed tomatoes, some parmesan cheese and heavy cream to balance the flavors.

If you don't have heavy cream on hand, simply use half-and-half, crème fraiche or cream cheese. All these options will work. Adding some fresh herbs like oregano or basil elevates this dish to the next level.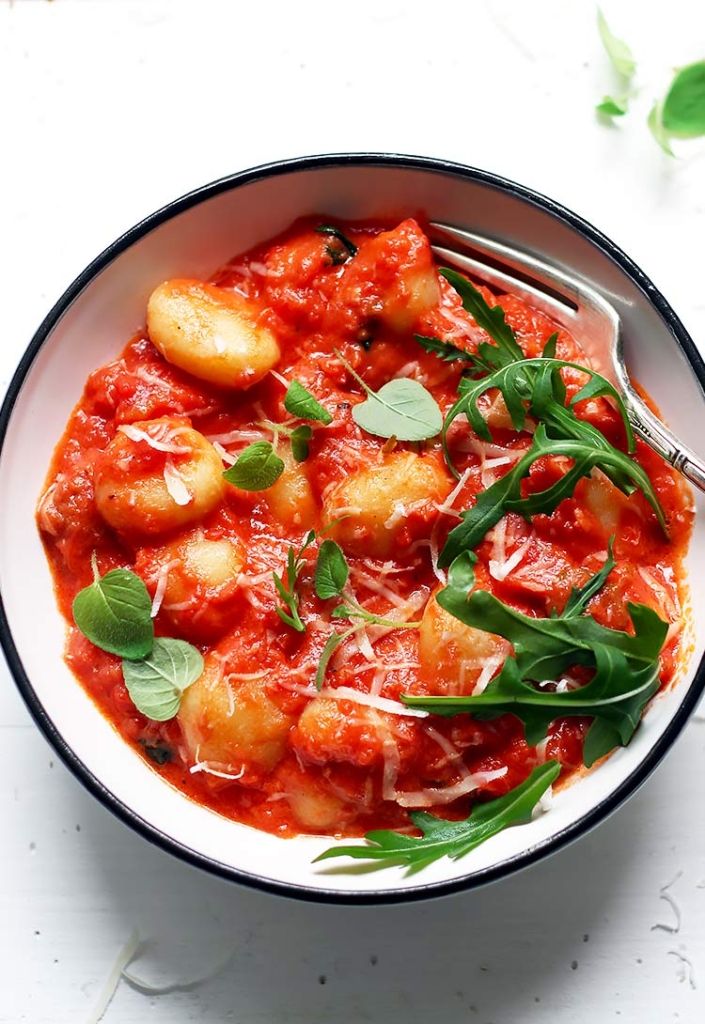 Simple date night recipe
By the way: This recipe is not only a great weekday lunch but at the same time it is a fancy recipe to impress for a date night or anniversary. These soft, pillowy gnocchi in a rich tomato sauce are simply mouthwatering – no matter the occasion.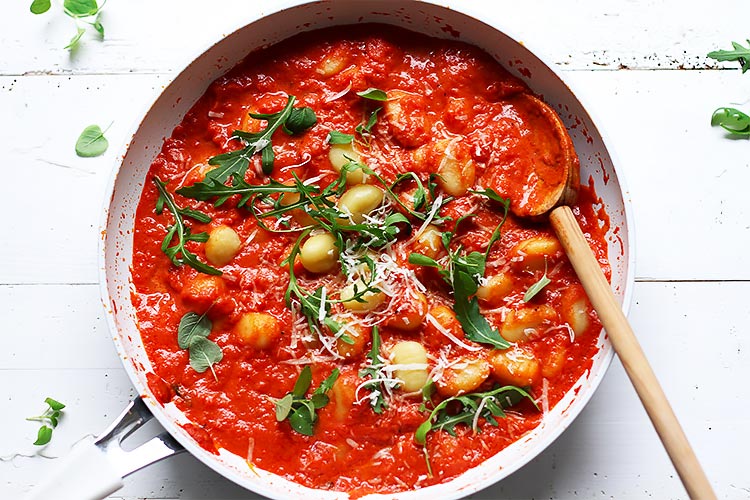 Try them some time!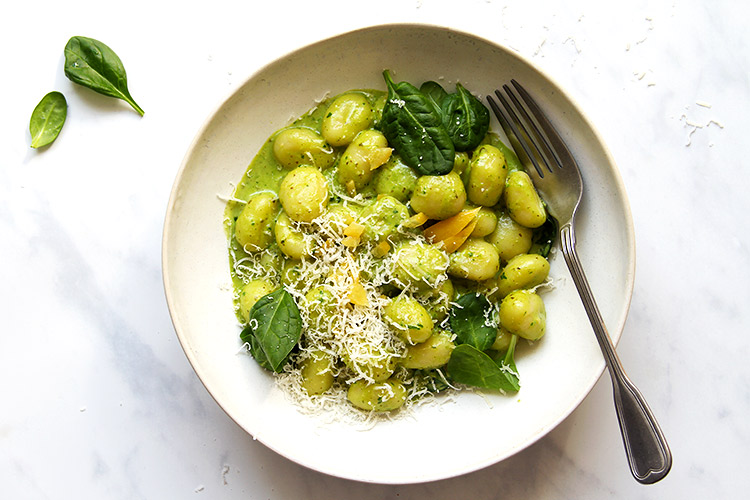 Oh, and if you are into easy gnocchi recipes: Here is a recipe for easy basil gnocchi. It's creamy, and only needs 3 ingredients and 10 minutes.


Ready in 10 minutes from start to finish: Soft, pillowy gnocchi in creamy tomato sauce. Super simple, yet packed with rich Italian flavors.
Recipe: Ursula | lilvienna.com
Ingredients
1 tablespoon olive oil
14 oz can (400 g) crushed tomatoes
3 tablespoons (15 g) freshly grated parmesan cheese
1 handful fresh oregano (you can substitute fresh basil)
Pinch of salt, sugar, and freshly ground black pepper
1.5 tablespoons heavy cream*
17.6 oz (500 g) potato gnocchi**
Garnish: Fresh oregano, arugula, grated parmesan cheese
Instructions
Add the olive oil and crushed tomatoes to a skillet over medium heat (start with step 3 in parallel). Once crushed tomatoes are hot, add the parmesan, fresh oregano - larger leaves torn -, salt, sugar, and black pepper. Cook for 3-5 minutes, stirring occasionally.
Stir in the heavy cream. The sauce should be creamy. Cook a few more minutes if you need to further reduce it. Taste and season with salt as needed.
Meanwhile, bring a saucepan of water to a boil (I use an electric water kettle), salt it, and add the gnocchi. Cook until gnocchi float to the top of the boiling water, usually 3 minutes (see package instructions).
Drain gnocchi, and place them in the tomato sauce. Stir until combined.
Top with fresh oregano, arugula, parmesan cheese, and serve. Enjoy!
Notes
* Heavy cream: If you do not have heavy cream on hand, you can substitute half-and-half or 1 tablespoon of crème fraiche or cream cheese. Do not use sour cream or yogurt as it can easily curdle.
** Gnocchi: I use gnocchi that you can find in the dry pasta aisle. A 16 oz (1 lb) package works just as well.
https://www.lilvienna.com/quick-gnocchi-with-tomato-sauce/
Quick Gnocchi with Tomato Sauce (10 minutes)
was last modified:
January 7th, 2021
by