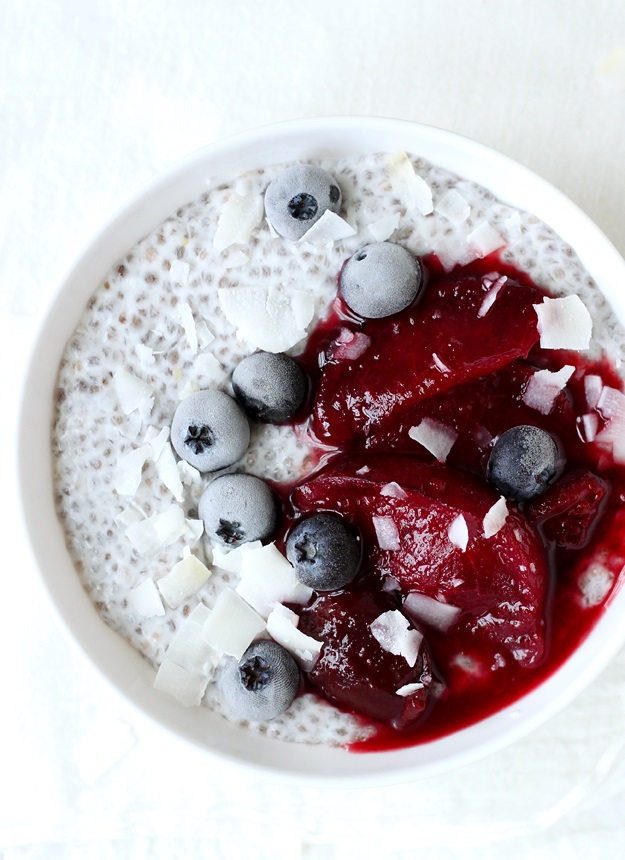 In Austria, stewed plums are a big deal. No, as weird as it sounds, I am not kidding. I think for the most part this is probably because they are THE accompaniment for Kaiserschmarrn (shredded pancakes). Besides apple strudel, traditional Kaiserschmarrn is one of the most famous and iconic Austrian dishes. If you order it at any Austrian restaurant, you are almost guaranteed that they will come with stewed plums (Zwetschkenröster in German). And if Kaiserschmarrn is not served with stewed plums, stewed apricots (Marillenröster) are the way to go.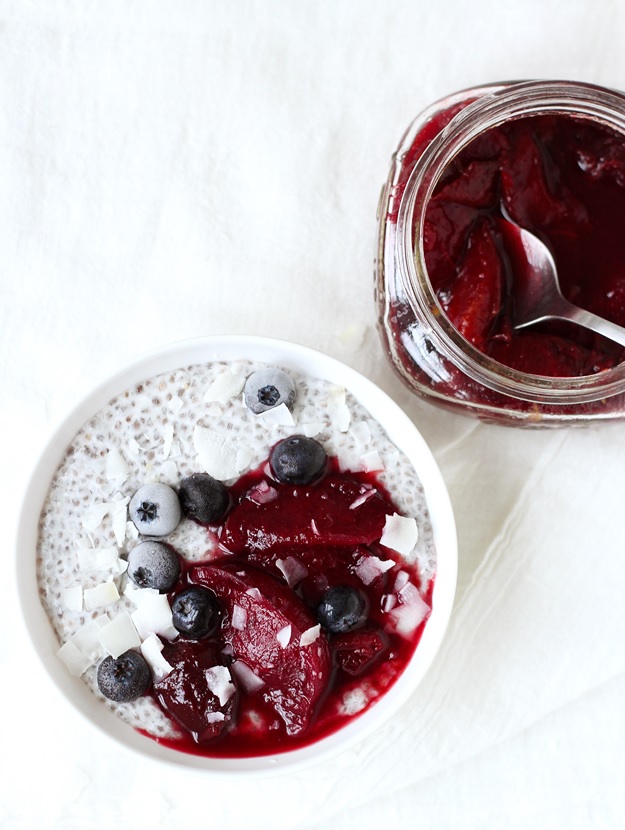 Making stewed plums the Austrian way means combining the pitted plum halves (I prefer quarters), a little sugar and water, some cloves, and a piece of cinnamon bark and cook it over medium heat. Many people cook the plums until they entirely fall apart but, again, I prefer when they still hold their shape.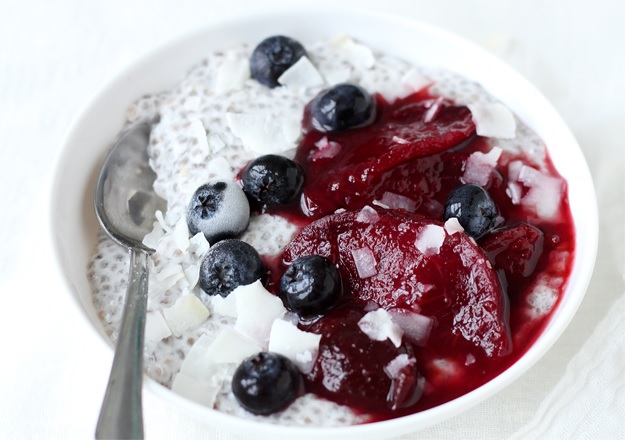 Also, the small egg-shaped plums with a skin similar to blueberries (are they called damsons?? Or sugar plums?) are native to Austria. During fall, people harvest tons of these plums to make plum jam, stewed plums … or plum brandy. Oh, now I get, why these plums are so important to Austrians ;-)
This is the way I like my chia pudding most: With coconut milk and a little maple syrup, topped with warm stewed plums. The chia pudding recipe makes 2 small bowls. The recipe for the stewed plums makes more than you will need as a topping. Keep the leftovers in a jar in the fridge for up to 1 week. Stewed plums is THE side dish served alongside traditional Austrian Kaiserschmarrn, just that you know ;-)
Ingredients
Chia pudding:

2 tablespoons chia seeds
10 tablespoons (150 ml) coconut milk
1/4 teaspoon vanilla extract (optional)
1-2 teaspoons maple syrup, or other sweetener (optional)

Stewed plums: :

1 pound (450 g) plums, pitted (usually damsons, sugar or Italian plums but any other will work too)
1/4 cup (55 g) sugar (you can substitute packed light brown sugar) *
3 cloves
1-inch piece of cinnamon (or 1/8 teaspoon ground cinnamon)
1 tablespoon water (or more if using less juicy plums)

Topping:

Blueberries, fresh or frozen
Coconut flakes
Stewed plums
Instructions
For the chia pudding:

Mix chia seeds and coconut milk in a small bowl or jar. Add vanilla extract and maple syrup, if you like, and stir well. Let sit for 1/2 hour at room temperature or put it in the fridge overnight. Stir again 5 minutes after mixing to avoid clumping.

For the stewed plums:

Quarter small plums lengthwise or slice larger plums into 1/8 to 1/4-inch thickness. In a medium saucepan, combine plums, sugar, 1 tablespoon water, cloves and cinnamon. Place over medium heat, stirring occasionally, until plums give up their juice and soften but don't fall apart, about 5 to 10 minutes. Let cool slightly.
Put chia pudding in a small bowl, top with warm stewed plums including some juice. Sprinkle with blueberries and coconut flakes. Enjoy!
Notes
* The amount of sugar will depend on the tartness of the plums.
https://www.lilvienna.com/chia-pudding-with-stewed-plums/
Did you follow this recipe? You could share your result here. All you need to do is take a picture with your smartphone and send it to 

[email protected]



Chia Pudding with Austrian-style Stewed Plums
was last modified:
September 13th, 2016
by