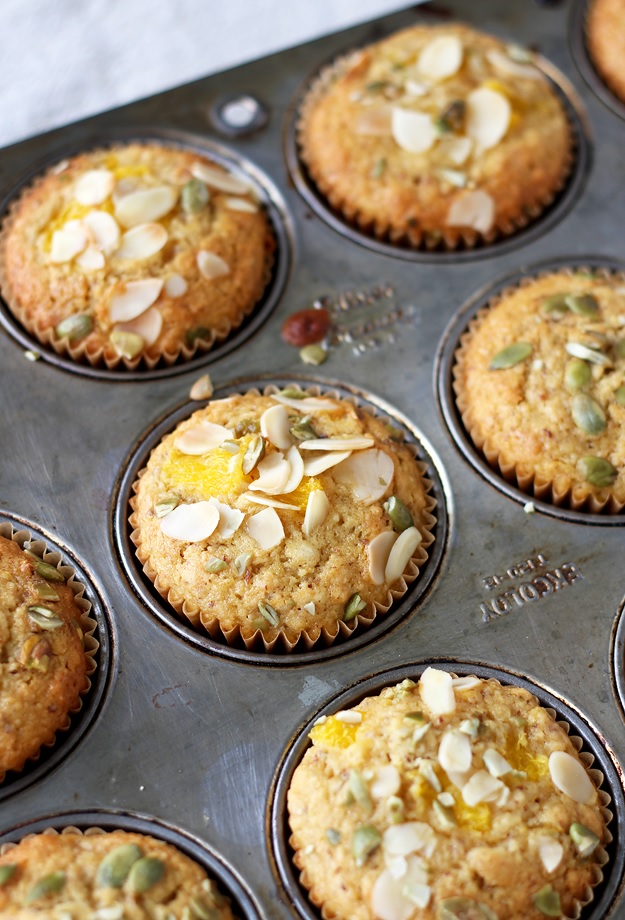 I simply love the combination of oranges and almonds – particularly in cakes. And what's not to love about this combo? Ever since I have developed this gorgeous tasting Blood Orange Almond Cake about a year ago, I am including these two ingredients in all sorts of cakes.
These orange muffins are a new favorite of mine, so it's high time to post the recipe before orange season is over again. They make a perfect second breakfast when your stomach is already growling before lunch. Also, they come in handy as a hostess gift for brunch and breakfast dates.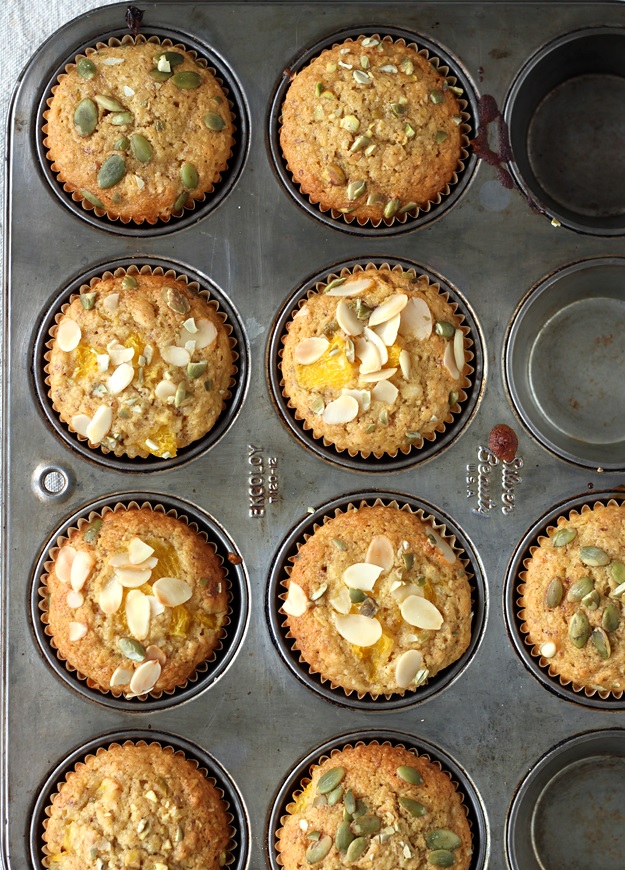 The recipe is straight forward, and you don't need much else than two bowls and a whisk.
I prefer to add filleted orange pieces to the batter and on top of the muffins, but I do understand that some people (not I, of course) are too lazy to fillet two oranges. So if you think it's absolutely annoying, you will do fine filleting only one orange for the topping instead of two.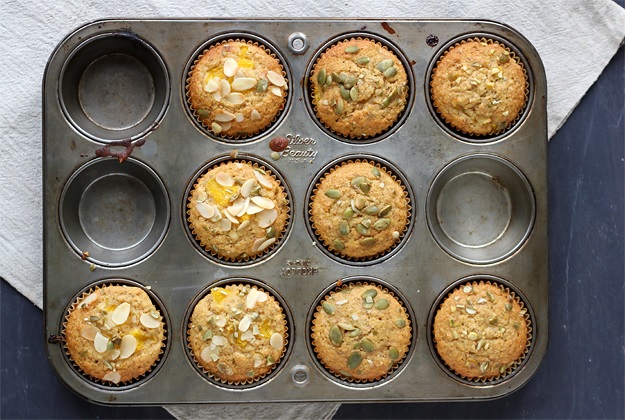 Enjoy!
Ingredients
1 cup + 2 tablespoons (150 g) all-purpose flour
1/2 cup (50 g) quick rolled oats
1/2 cup (50 g) almond meal
1/8 teaspoon fine salt
1 ½ teaspoons baking powder
2/3 cups (140 g) light brown sugar, packed
1/4 teaspoon ground cinnamon (optional)
1/8 teaspoon ground nutmeg (optional)
2 large eggs
3/4 cup (180 ml) orange juice, freshly squeezed (from about 2 oranges)
1 teaspoon vanilla extract
1 stick unsalted butter (113g), melted

Topping:

Sliced blanched almonds
1-2 oranges, filleted and cut into 1/2-inch pieces (see note)
Raw pumpkin seeds or coarsley chopped pistachios (optional)
Instructions
Line a 12-cup muffin tin with paper baking cups (the batter is enough for 11 muffins) and preheat the oven to 375 °F (190 °C).
Place the flour, oats, almond meal, salt, baking powder, brown sugar, cinnamon, and nutmeg in a medium bowl and mix well.
In a separate, large bowl, add the eggs and mix with a hand whisk for a few seconds. Add orange juice and vanilla and stir until combined. Add the melted butter and mix well.
Add the dry ingredients to the wet ingredients and mix until combined.
-> If you have filleted 2 oranges: Spoon the batter into the prepared pan, filling each cup to about half full. Distribute the fillet-pieces of 1 orange evenly between the 11 cups. Spoon the rest of the batter on top of the oranges and place the remaining filleted orange, as well as some sliced almonds, on top. Additionally, you can sprinkle them with some pumpkin seeds or chopped pistachios.
->If you have only filleted 1 orange: Fill your muffin tins until almost full and place the filleted orange pieces and almonds on top of each muffin.
Bake for 25-30 minutes or until a skewer inserted in the center of a muffin comes out clean.
Notes
You can either fillet one or two oranges. The pieces of one filleted orange are placed in the center of each muffin (see step 5), the pieces of the second filleted orange are placed on top of the muffins. If you only fillet one orange, use it for the topping.
https://www.lilvienna.com/orange-muffins/
Did you follow this recipe? You could share your result here. All you need to do is take a picture with your smartphone and send it to 

[email protected]



Orange Muffins
was last modified:
April 8th, 2016
by