This giveaway is closed. The winners are Marietta G. and Kim H. I have notified them via e-mail.
Today, is a very special day. I'm announcing the first giveaway ever here on the blog … a really, really good one. Two lucky people can win the just released mystery novel Apple Strudel Alibi by Australian author H. Y. Hanna and join the book's protagonist Gemma as she finds mystery and murder while on holiday in Vienna with her cat Muesli. As a bonus, my traditional apple strudel recipe is included at the end of the story. Yay!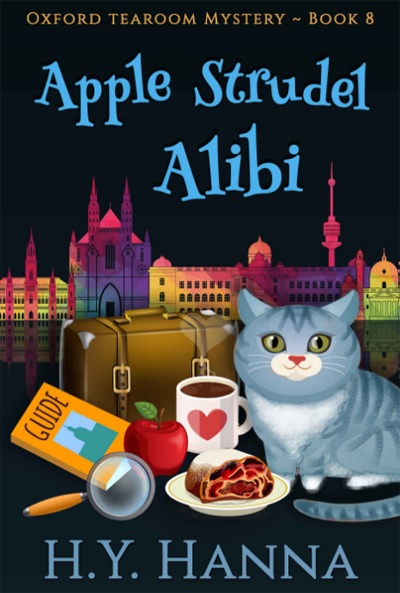 This book is the eighth book in H.Y Hanna's Oxford Tearoom Mysteries series. I haven't read a mystery novel in about a decade (seriously), but finished this one within a week. For me, it was especially enjoyable since the book is set in Vienna and I know all the places the author is talking about. And, it's a nail biter too! I didn't figure out the case until it was revealed. I was really off, guessing the murderer…
A special thanks to H.Y. Hanna for providing two winners the choice of print or an e-book copy of Apple Strudel Alibi. The giveaway is open worldwide and ends Wednesday, May 2, 2018 at 6 pm Central European Time (noon EST). The winners will be announced on the blog and notified by email.
To enter, simply leave a comment and tell me why you want to win this book and if you prefer a print copy or an e-book. Good luck!
Apple Strudel Alibi – Book Giveaway – Closed
was last modified:
May 3rd, 2018
by