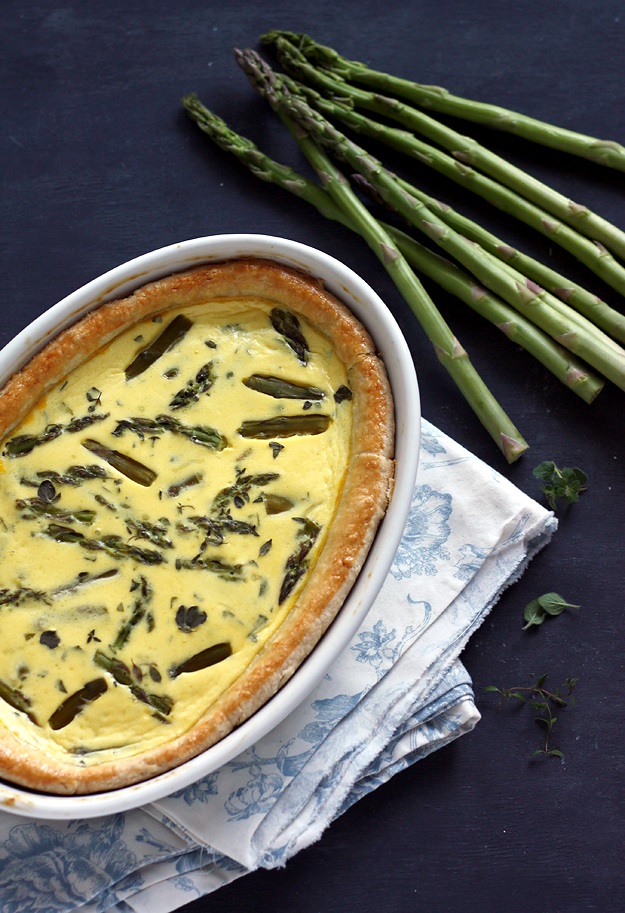 I have to admit: I just love this Quiche. Usually, I am not a huge fan of asparagus, but in this quiche, it is irresistible. Served with a mixed green salad on the side, you will simply love it. Whenever I am taking it along to potlucks and brunches, something that I regularly do, I am usually baking the quiche in a shallower pan or baking sheet. This way it is much easier to cut into smaller, squarish pieces.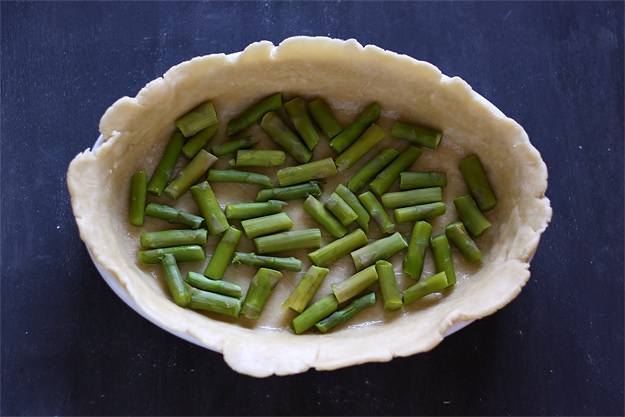 As for the asparagus: I always cut it into 1½-inch pieces pieces. Make sure to discard woodier ends as they are tough, even after cooking. Pre-cook the thicker stems (picture above) to make sure they are entirely done when finished baking. You can do this either in a steamer or in a pot of slightly salted water – 5 minutes cooking will do. The tips and thinner pieces are fine without pre-cooking and will soften while baking. I place half the asparagus pieces, usually the pre-cooked ones, onto the crust, pour the filling in and place the remaining asparagus (tips and thinner pieces) on top.
I prepared the crust from scratch, which is going to take some time, but you will be rewarded with an extremely flaky crust.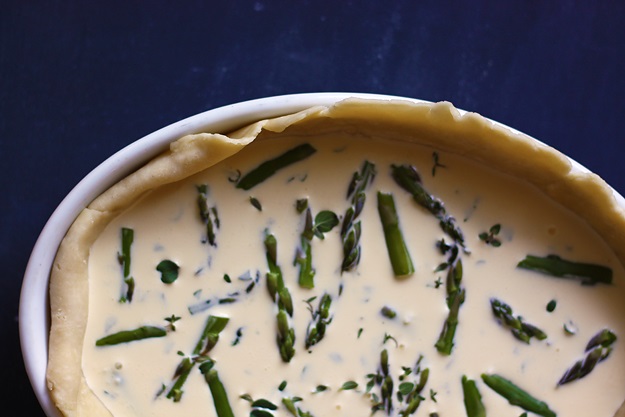 If you brush the dough with egg white before you pour in the filling, it doesn't get soggy ;-). And if you brush the crust with egg wash (or egg yolk), you will get a nicely golden crust.
The filling is very basic – it's just sour cream (full fat or light, both work fine), eggs, salt, feta and fresh, chopped herbs. If you don't have fresh herbs on hand, simply replace them with a teaspoon of basil pesto, which adds a delicious, fresh flavor.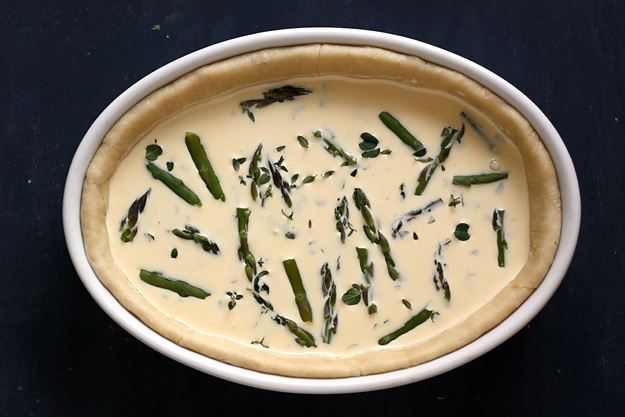 Nothing left to say, except: Bon appétit!
Ingredients
For the crust

230 g / 8 ¼ oz (about 1 ¾ cups) unbleached all-purpose flour
1 stick (113 g / 4 oz) unsalted cold butter, cut into ½ inch pieces
4 tablespoons (60 ml) ice water
¼ teaspoon fine salt

For the filling

200 g / 7 oz green asparagus (about 10 stalks), washed and bottoms trimmed
200 g / 7 oz sour cream (regular or light)
3 large eggs
1/8 teaspoon fine salt (more, if you don't use salty cheese like feta)
2 tablespoons chopped fresh herbs (oregano, thyme, parsley), or 2 teaspoons basil pesto
55 g / 2 oz (about ½ cup) crumbled feta cheese
Instructions
For the crust (food processor or by hand)

Food processor:

Process flour, salt and chilled butter cubes in a food processor until mixture resembles coarse crumbs. Transfer the mixture to a mixing bowl, and then add the ice cold water, 1 tablespoon at a time. Use a spoon to incorporate the liquid, until the pastry just comes together. To avoid overmixing, don't do the adding water-part in a food processor. In case the dough doesn't come together, add 1 additional tablespoon water.
If you are a purist and want to do everything

by hand

: Put flour and salt in a large bowl. Using a knife, a pastry cutter or your fingers, work in the butter into the mixture until it resembles coarse meal. Add the ice water until the dough comes together.
Turn pastry onto a lightly floured surface and knead for a few seconds until the ingredients form a ball.
Shape the dough into a 7-inch disc; wrap and refrigerate for 1 hour before rolling. Meanwhile prepare the filling.

For the filling

Cut the asparagus stalks into 1 ½ inch long pieces (discard woodier ends). Cook the thicker pieces in lightly salted water for 5 minutes – or steam them until tender but still firm, about 5 minutes. Drain, rinse with cold water and set aside on a kitchen towel. You do not need to precook the tips and thinner pieces as they will soften in the oven.
With a hand wisk, beat the sour cream until smooth. Stir in 2 eggs and salt.
Separate the egg yolk and white from the 3rd egg in 2 separate mugs/small bowls. Keep about 2 teaspoons, each of the yolk and the egg white, and add the rest to the sour cream-mixture (you will need it later for brushing).
Add most of the herbs and the feta to the filling and stir until combined - keep a tiny amount of feta and herbs to sprinkle on top.
Roll out the cool crust between two sheets of wax paper to prevent it sticking to the counter. The dough should be 2 inch larger than the bottom of your pie-pan. If you are rolling the dough between wax paper, you will not have to add any additional flour, nor will you have to flip it. You can also drape it over a pie pan much more easily. Don't forget to preheat the oven.
Place the crust in the pan and brush it with egg white (prevents soaking). Place the chopped and pre-cooked asparagus (about half the amount of all pieces) into pie shell.
Carefully pour in the filling, place the remaining asparagus (tips and thinner pieces) atop and sprinkle with some feta and herbs you set aside earlier.
Fold down the edge like a shirt collar, so the edge is placed between the pie pan and the dough and carefully press the dough against the sides of the pan. There should be about 1/4 to 1/2 inch thick rim of crust, as the filling may rise slightly during baking.
Brush the crust with the remaining egg yolk for a nice color. Bake the Quiche at 375 °F for about 40 minutes in the center rack of the preheated oven. When the curst turns golden, remove Quiche from the oven and let rest for 5-10 minutes to settle, then cut and serve with green salad.
https://www.lilvienna.com/asparagus-quiche/
Did you follow this recipe? You could share your result here. All you need to do is take a picture with your smartphone and send it to 

[email protected]




Asparagus Quiche
was last modified:
June 13th, 2015
by