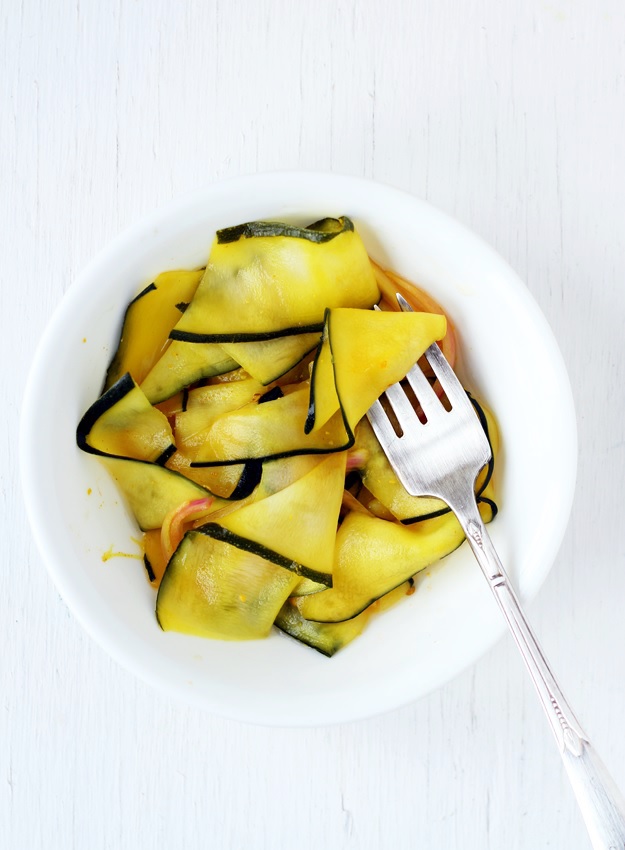 What to do with all of those zucchini? Right now, a lot of people who are lucky enough to call a garden their own, are asking themselves this question. Late summer is zucchini time. And as you might know, zucchinis can turn out quite large.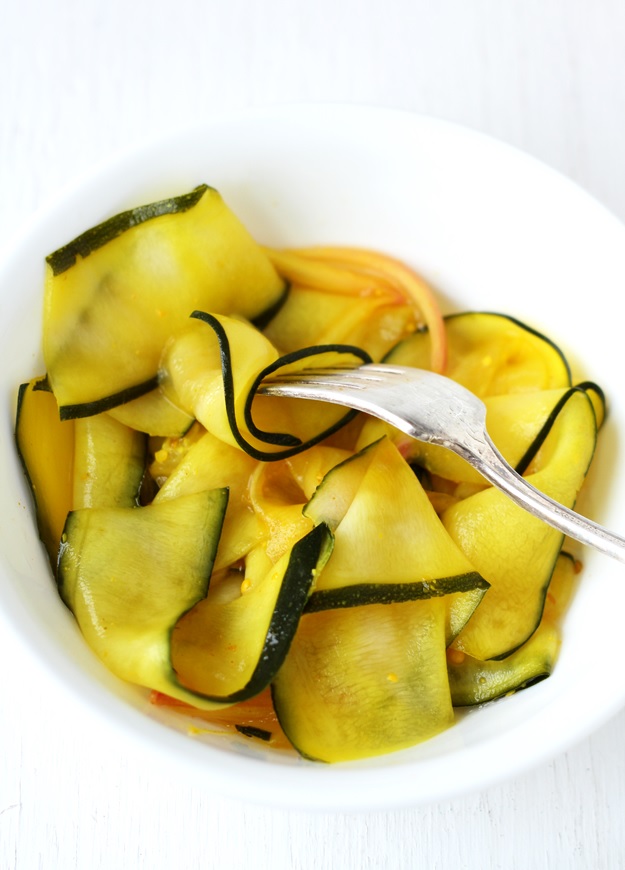 A week ago, I visited my family in Austria. My mom would harvest one large zucchini almost every day from our garden, asking herself the same question. She gave away a lot of them to neighbors and friends but still … there were enough zucchini left. Therefore, her daughter (aka me) jumped in suggesting to make some quick zucchini pickles. I've made them before, adapting a recipe that I've found on Food52 , which turned out great. A cold brine prior to pickling gives these zucchini pickles a saturated flavor and crisp texture, which I particularly enjoy. I reduced the amount of sugar quite a lot though.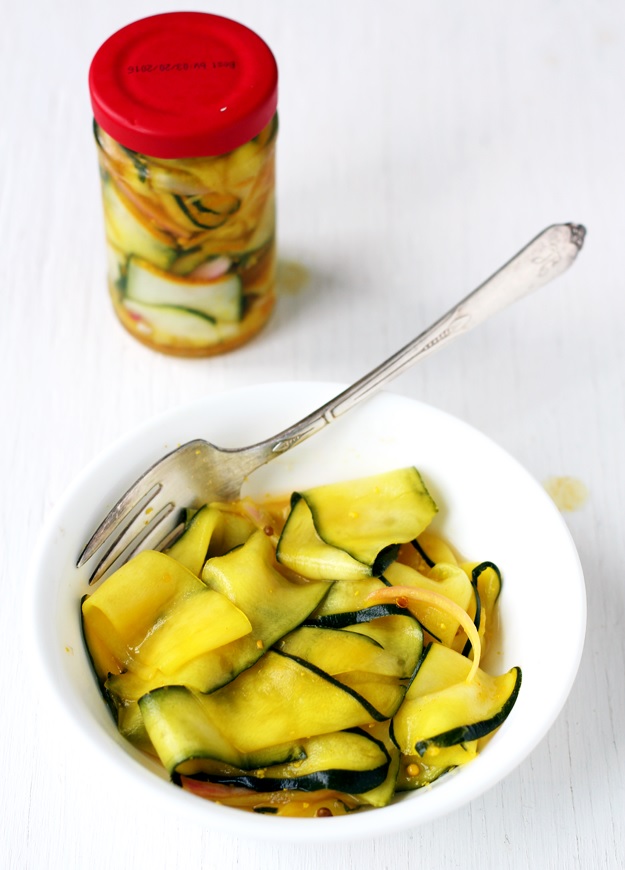 And of course, I solved the entire problem of the zucchini surplus by making pickles. Just kidding – there was one zucchini less to care about. But at the same time this means that you can make a whole lot out of one medium zucchini. These pickles taste great as an accompaniment to cheese, on top of burgers, or stuffed into sandwiches. Enjoy!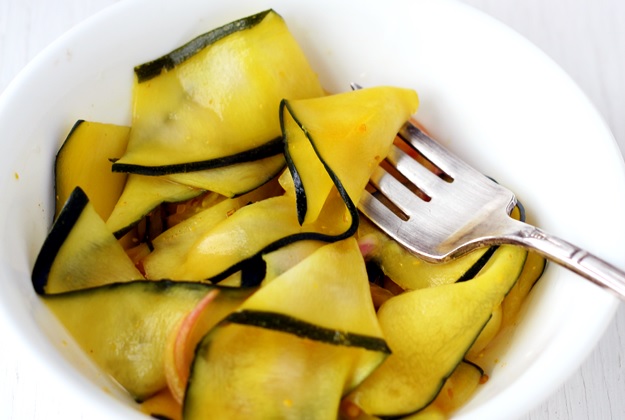 Recipe adapted from Food52.
Recipe for quick and crisp zucchini pickles - ready to eat within one day. They taste great as an accompaniment to cheese, on top of burgers, or in sandwiches.
Ingredients
1 medium zucchini (390g/14oz/a little less than 1 lb)
1 small shallot

For the cold brine:

1 tablespoon fine salt
Ice cubes and some cold water

For the vinegar brine:

1/2 cup (120 ml) cider vinegar (or white wine vinegar)*

Update: 08/30/2019

1/2 cup (120 ml) water
4.5 tablespoons (55 g) granulated sugar
1/4 teaspoon fine salt
1 teaspoon yellow mustard seeds, slightly crushed
1 teaspoon coriander seeds, slightly crushed
1/2 teaspoon ground tumeric
Instructions
Wash and trim the zucchini. Slice lengthwise into 1/16-inch-thick slices on a mandoline. Cut them in half or thirds for a convenient length to eat. If you don't have a mandoline, slice the zucchini with a sharp knife into 1/16-inch thick slices. I usually slice them diagonal for the perfect length, about 3 to 4 inches long. Slice the onion very thinly as well.
Combine the zucchini and onions in a large bowl, add 1 tablespoon salt, and toss to distribute. Add a handful or two of ice cubes and cold water to cover, then stir again to dissolve the salt.
After about 1 hour, taste a piece of zucchini. It should be a tad softened and have a slightly salty taste. Drain them. Transfer the zucchini and onion to two 1-cup (240 ml) jars.
Bring the vinegar, water, sugar, salt, mustard seeds, coriander seeds, and turmeric to a boil in a small saucepan. When the sugar dissolves, pour hot brine over veggies

(Update 08/30/2019)

. Seal tightly, let cool and refrigerate for at least a day. They'll last for a month in the fridge (I eat them way longer!). Make sure that the zucchini and onions are submerged in brine after opening.
Notes
Update 08/30/2019:
- In the original recipe, I used 1 cup vinegar and no water. I prefer the pickles slightly less acidic these days, so I updated the recipe.
- I now pour hot brine over the zucchini. In the original recipe, I let the brine cool. This is not necessary, the pickles are not getting soft and using hot brine extends shelf life.
https://www.lilvienna.com/quick-zucchini-pickles/
Did you follow this recipe? You could share your result here. All you need to do is take a picture with your smartphone and send it to 

[email protected]



Quick Zucchini Pickles
was last modified:
August 30th, 2019
by