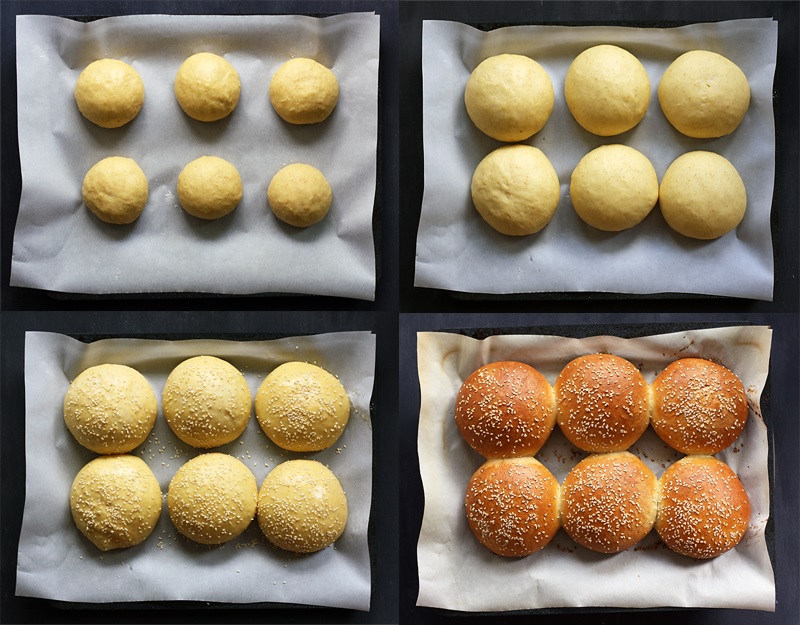 I started making burger buns myself a few years ago. I couldn't find any good buns in the Austrian supermarkets, because they all tasted too sweet and artificial to my taste buds. Frankly, I bought some rolls at one of the many bakeries. The bakeries in Austria are awesome not to say ones of the best in the world. I really miss them here in Boston: brown bread with a fantastic crunchy crust or perfect baguettes, traditional cakes like Sachertorte and of course Viennese kaiser rolls (why else would the roll be the logo of Li'l Vienna). The bread I bought for using as burger bun was excellent – but it wasn't right for its purpose. What I was looking for was one of these soft, fluffy, slightly sweet buns and not rustic ciabatta buns or kaiser rolls. That's why I started baking my own buns a couple of years ago.
Ever since, I've tried a lot of different recipes for the "best burger buns ever" and the "fluffiest buns" – and yes, I also tried the New York Times recipe, but honestly, I have to admit it was just not that great. So here comes a recipe for buttery, only slightly sweet brioche burger buns, I came up with after exhaustive trying. I think they taste great with Portobello mushrooms and a sweet-sour chutney like cherry chutney or one made of plums. Usually when making burger with beef patties I use a different kind of bun, which tastes baguette-like (less briochy) but in a round shape and with a softer crust. For now, I suggest you to try these great brioche buns and hopefully they are a credit to Little Vienna. Toast them before assembling – you will see, the taste and structure of the buns will improve further.
These brioche buns not only make great burger buns but are also one of the most delicious things I've ever had for breakfast. When making them, I always double the recipe to have enough buns left for breakfast next morning. By the way: They freeze well. In my opinion, they again taste best when lightly toasted. If they are too thick to fit into your toaster, just cut them twice or use the oven broiler. Spread with unsalted butter and orange marmalade or apricot jam. Enjoy!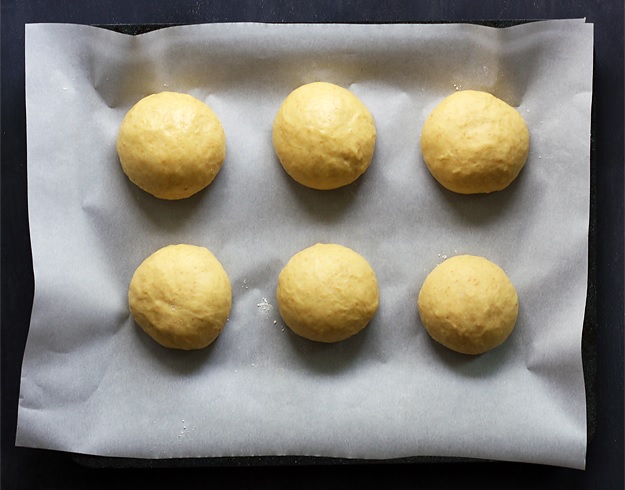 After the first rising, shape the dough into 6 equal balls.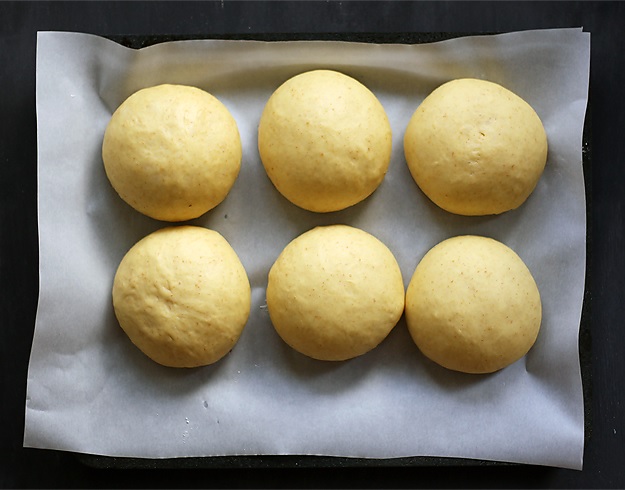 Let them rise for another hour (uncovered) so they get puffy. I tried covering them before, but the dough sticks to the plastic wrap or tea towel. So rather don't do that.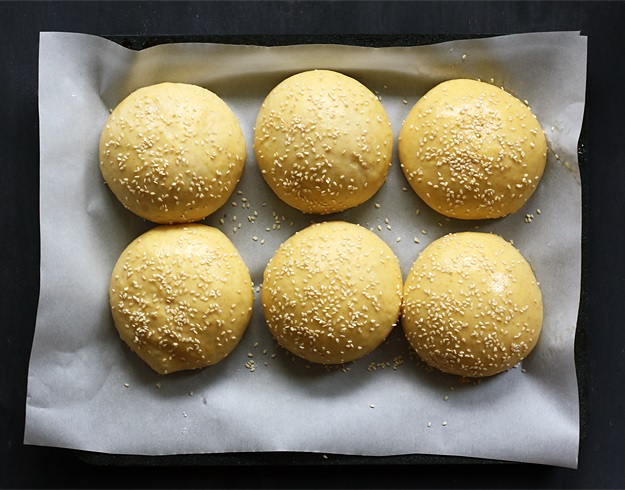 Preheat the oven to 375 °F and brush the buns with egg wash (egg and a little milk). Sprinkle with sesame seeds.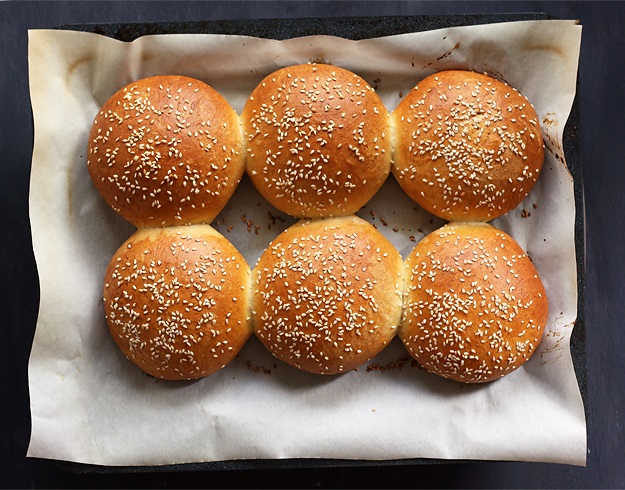 Bake until golden brown, about 20-25 minutes and let them cool on a rack.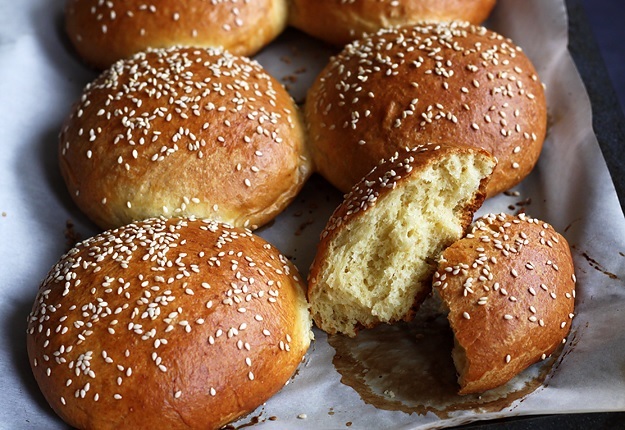 Enjoy!
Ingredients
1/3 cup + 1 ½ tablespoons (100 ml) lightly warmed milk
1 teaspoon active dry yeast (3.5 g)
5 ½ tablespoons (80 g) unsalted butter in pieces, softened
½ tablespoon granulated sugar
2 large eggs, lightly whisked (- 1 tablespoon for the egg wash)
1/3 teaspoon fine salt
300 g (about 2 1/3 cups) white bread flour (also works with all purpose)
1 tablespoon sesame seeds
1 teaspoon milk for the egg wash

>> All ingredients at room temperature. For the dough, I recommend measuring the flour by weight in grams since it is more accurate than measuring by volume.
Instructions
Put active dry yeast in a bowl with the lightly warmed milk to activate (about 10 minutes).
With a hand mixer, beat together softened (not melted) butter and sugar for 5 minutes in a large mixing bowl.
Gradually add the whisked eggs – set about 1 tablespoon of whisked eggs aside for the egg-wash you will need later. If the eggs are not at room temperature, they will separate from the butter – but don't worry, as soon as the flour goes in, everything will come together again.
Gradually add the flour and salt and mix with your mixer on low speed until you get a crumbly mixture.
Add the yeast-milk-mixture and stir with a spoon until the ingredients come together. [OR: Instead of the milk, you can make a tangzhong, which you add now together with 1 tablespoon warm milk including dissolved yeast, see note.]
Knead the dough with your hands either directly in the mixing bowl (less messy) or on a lightly floured surface for 5 minutes until smooth. For the first minutes, the dough will be very sticky, but it gets better after a while. Please don't add any additional flour as the buns will get tougher (also see note for tangzhong). After the first rise, the dough is a lot easier to handle.
Put the dough in a big clean bowl, and let it rise covered with a lid or cling wrap at room temperature until doubled in volume, about 2 hours. Do not let the dough rise at a too warm temperature as it will be a lot tackier when the butter melts.
Gently deflate the dough. Turn the dough out onto a lightly floured work surface and knead it softly for a few seconds. Divide it into 6 equal pieces.
Shape each piece of dough into a smooth, tight round ball and place them onto a baking sheet lined with parchment paper, 2 inch apart. Let the buns rise uncovered for 1 hour until puffy.
Make an egg wash, mixing 1 tablespoon whisked egg you've set aside earlier and 1 teaspoon milk. Brush the buns carefully with egg wash (don't poke them) and sprinkle with sesame seeds.
Put them in the center rack of the preheated oven (I use rack 2 from 4 from top) and bake them for 20-25 minutes at 375 °F or until golden brown. Transfer the buns immediately to a cooling rack.
Notes
For an even easier to handle dough you can make tangzhong which you would add instead of the milk. This is a type of roux-like paste where the flour and the milk are heated together to bind the liquid in a better way, resulting in a softer, moister and fluffier bun.

For making a tangzhong: Whisk together the milk (set 1 tablespoon of warm milk aside for dissolving the yeast) and 2 tablespoons (16 g) of the flour until lump-free. Heat the mixture in a saucepan over low heat, whisking constantly. The milk should be hot (about 150 °F), but not simmer. After a few minutes, the milk should thicken to a gel-like consistency. Transfer it to a small bowl and let it cool covered to room temperature.
https://www.lilvienna.com/brioche-burger-buns/

Did you follow this recipe? You could share your result here. All you need to do is take a picture with your smartphone and send it to 

[email protected]
Brioche Burger Buns
was last modified:
June 23rd, 2017
by