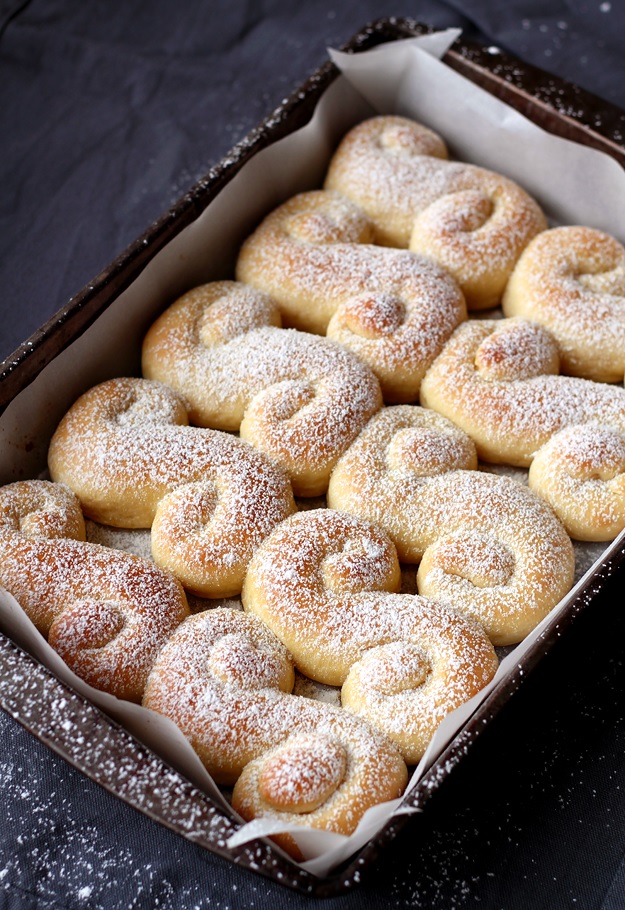 Today, I am going to share a very special recipe with you. This pastry is called "Himmelsleiter" in German, which translates to "ladder to heaven". It goes way back, it's really ancient. This pastry is traditionally baked and eaten around All Saints day on November 1st.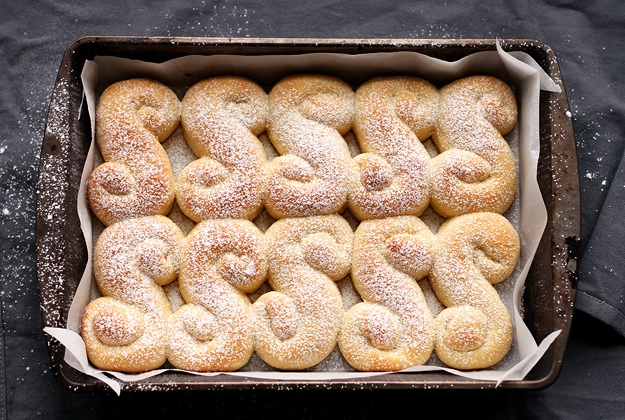 So, why is it so special? Well, because it's kind of a lost treasure. The yeasted pastry with the interesting shape is only known in the very region of Austria where I come from (Upper Austria). And even there, not many people know of its existence. Lucky me, I grew up with a traditional bakery opposite the street from our house, which offered these treats around All Saints day.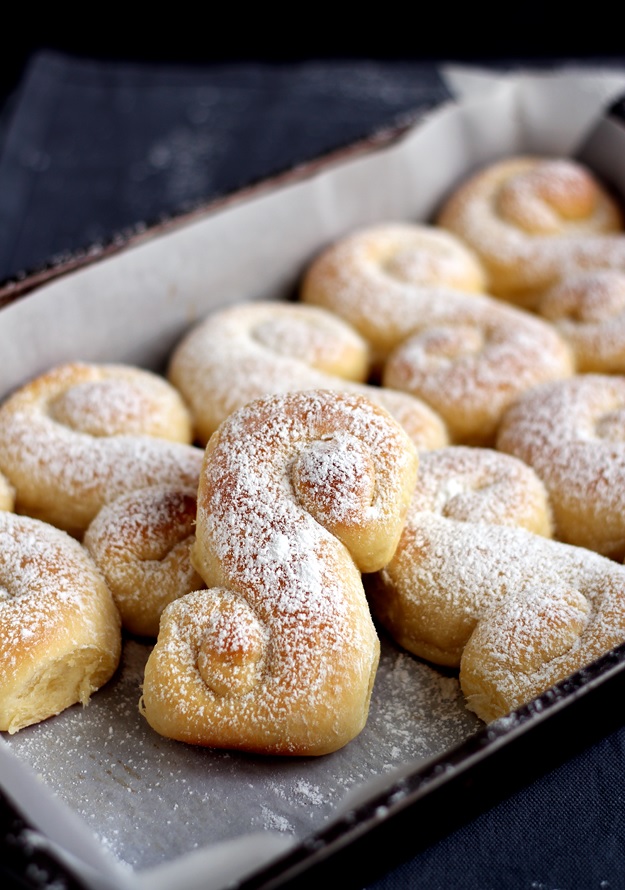 About the pastry: It is made of a moderately sweet yeasted dough and dusted with confectioner's sugar. One row of huggled S-shaped pastries yields one ladder. So every "S" is basically a rundle of the ladder. You could buy either an entire ladder or just some rundles at our nearby bakery. At least until it closed its doors for good more than a decade ago, unfortunately.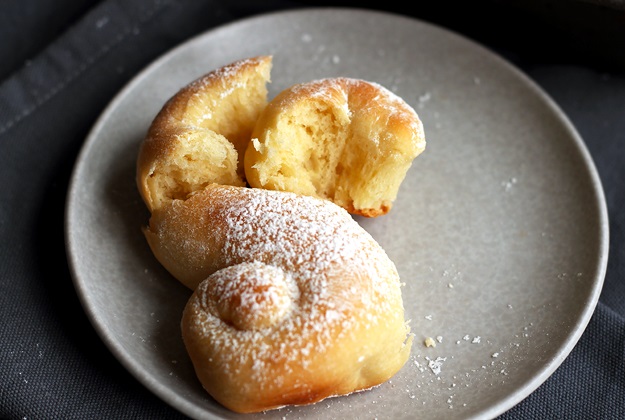 Ever since, I didn't eat the Himmelsleiter any more because no bakery close by offered it (and for some reason, no one in the household happened to make it). Plus, there are many other yeasted brioche breads and buns for this time of the year, which you can buy or bake so that my family simply switched to one of those. You can bake a Rosinenzopf (sweet braided raisin bread) or a Brioche-Striezel (soft brioche braid), which are both very popular for the beginning of November.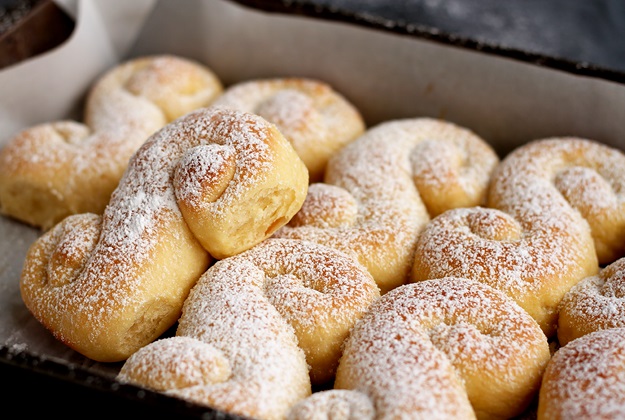 By­ the way, the shape of the Austrian Himmelsleiter may remind you quite a bit of the Swedish Lussekatter (Lussebuller, St. Lucia Buns) for December 13, but they are made with different ingredients and do not resemble taste-wise.
This Austrian sweet yeast pastry is traditionally baked for November 1st (All Saints day). It's kind of a forgotten treasure and only a handful of people know of its existence. It's simply too special to get lost forever.
Since I didn't have any recipe to adapt or to use as a basis, I developed this one from scratch. I hope you will like it.
Ingredients
7 tablespoons (105 ml) warm milk
3 ½ tablespoons (50 g) sugar
2 ¼ teaspoons (7 g) active dry yeast
1/2 cup (120 ml) heavy whipping cream
3 tablespoons (40 g) unsalted butter, melted
1 teaspoon vanilla extract
1 large egg + 1 egg yolk, at room temperature
4 ½ tablespoons (70 g) sour cream, stirred
1 ½ (9 g) teaspoons fine salt
400 g/14 oz (about 3 cups) white bread flour


Confectioner's sugar for dusting
Instructions
Mix milk and sugar in a large bowl. Sprinkle the yeast over the milk and let it activate until it forms a creamy layer on top of the water, about 5-10 minutes.
Add whipping cream, butter, vanilla, egg and egg yolk, sour cream and salt. Stir well.
Add half the flour and stir with a sturdy cooking spoon until the batter is smooth, about 1 minute.
Stir in the rest of the flour. Make sure you mixed in the flour thoroughly and that there is no flour sticking to the bottom of the bowl. The dough is quite sticky and almost impossible to knead by hand. Refrain from adding more flour or the Himmelsleiter will get firm.
Work your dough with the spoon for 5 minutes; try to fold the edges towards the center, while turning the bowl clockwise.
Let the dough rise, covered at warm room temperature until almost doubled in volume (about 1 to 1.5 hours) or put it in the fridge to rise overnight.
Place the dough onto a floured surface, lightly flour the top, and roll dough into a rectangular shape with one side 15 inch long and 1/2 inch thick. Flip and flour the dough while rolling to make sure it doesn't stick to the counter.
Cut the dough into stripes (15-inch x 1/2 inch). Roll each stripe into an S-shape, leaving about 6 inch unrolled (straight) in the middle part.
Place the rolled pastries one next to each other onto a baking sheet, leaving about 3/4 inch space between them (the should "grow together" a bit, when baking).
Cover the dough with a tea towel (sprinkle a little flour on top if they are sticking and distribute the flour with a brush) and leave to prove until puffy, about 30-45 minutes at room temperature.
If you like, you can brush the pastries with egg wash right before baking, which makes them shiny and darker. I usually don't since I dust them with confectioners' sugar anyway later.
Bake them in the preheated oven at 350 °F until they get yellowish/golden, about 15 minutes. Don't let them brown too much.
Let them cool on the baking sheet. Dust with confectioners' sugar. Enjoy!
Notes
For the pictures in this blog entry, I didn't roll out the dough as described in the recipe above. I made them the same way as I did make the Lussekatter and rolled out 16 strands with 12 inch length, which I shaped like an "S" (see details here). The dough was horribly sticky and the whole thing was so messy, that I changed the method for the next batch – which is exactly the way I describe in the recipe above.
https://www.lilvienna.com/ladder-to-heaven-himmelsleiter/
Did you follow this recipe? You could share your result here. All you need to do is take a picture with your smartphone and send it to 

[email protected]



Ladder To Heaven – Himmelsleiter
was last modified:
November 23rd, 2016
by