Hugo Spritz is a floral-fresh cocktail made of prosecco, elderflower syrup, and soda water. It's the perfect summer drink! Alternatively a dry white wine is a good substitute for prosecco.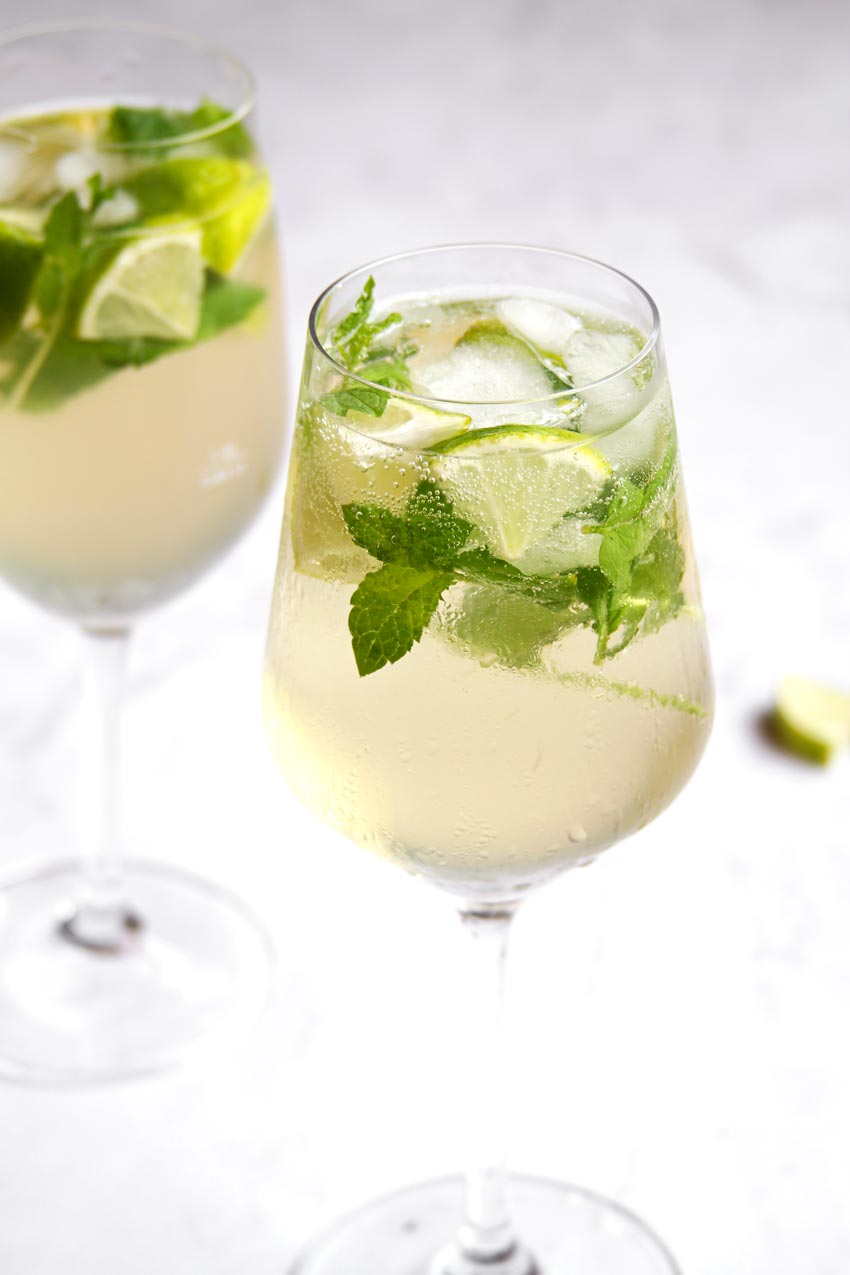 May I introduce: this is Hugo! He is the younger, hipper cousin of the Aperol spritz. He is the lesser-known bright and bubbly Italian cocktail but even more refreshing than Aperol spritz, thanks to mint leaves and a squeeze of lime.
Living in Austria I soon got a taste of Hugo cocktails since it was invented just a short car ride away, in northern Italy.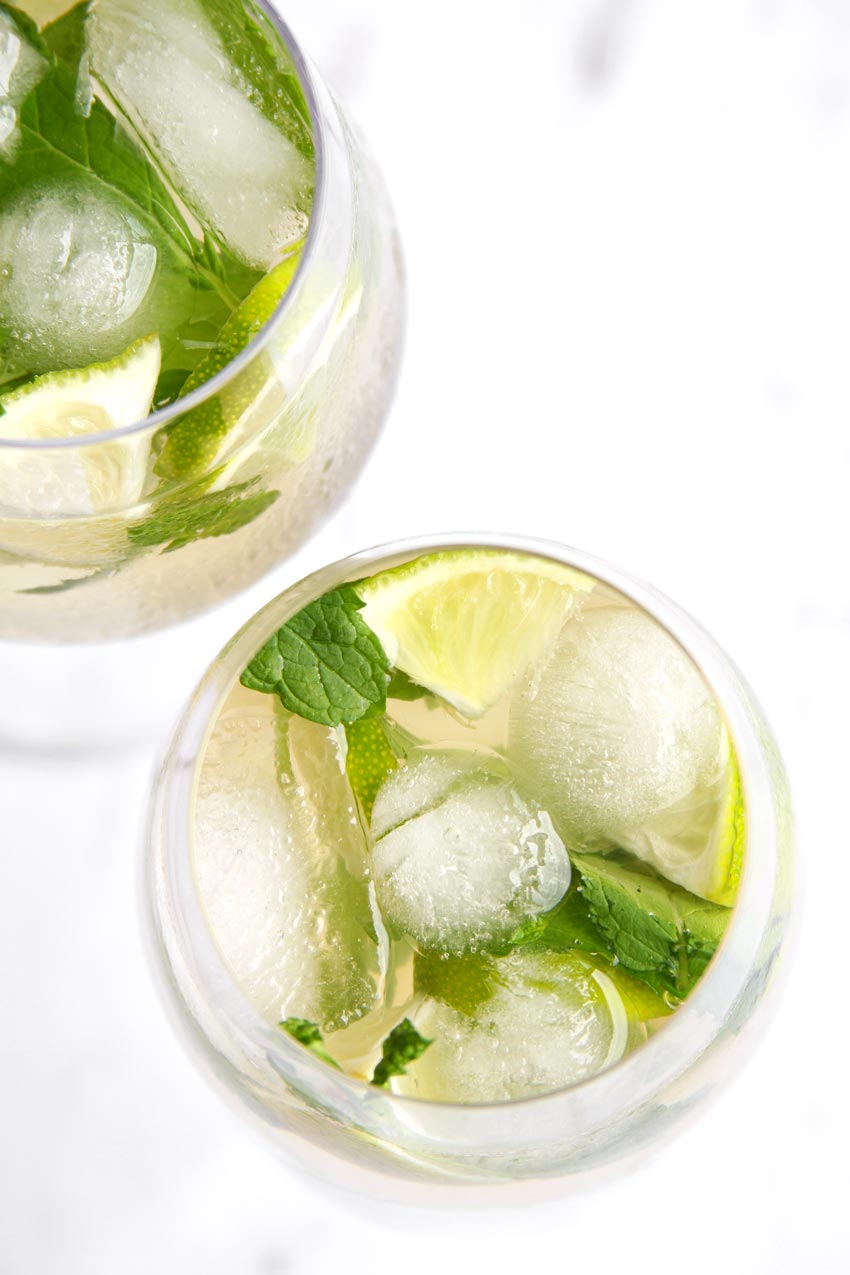 History of Hugo Cocktail
Roland Gruber, a native of South Tyrol, invented this drink in 2005 in a bar in South Tyrol, the northern part of Italy, which borders Austria in the Alps. He was looking for a refreshing alternative to the Aperol spritz, which was popular back then in Europe as it is still today all over the world.
After putting the new drink on a menu for the first time, Gruber seemingly forgot about the drink as he came to work in different parts of Europe as a barkeeper, when years later he stumbled by chance over a Hugo in a bar in Germany.
He hadn't realized that the drink spread like a wildfire in the meantime. Without marketing, only through word-of-mouth, the Hugo had become popular in Italy, Austria, Germany, and Switzerland, and soon after in the rest of Europe and North America.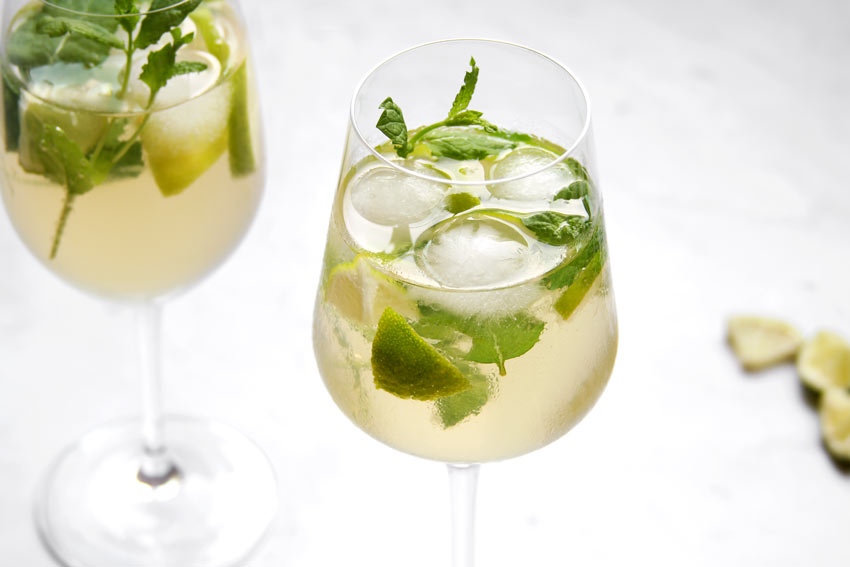 Original Hugo recipe
The original Hugo recipe, as Gruber describes it, was slightly different though. Lemon balm syrup was used in place of elderflower syrup, and a lemon slice (not lime) for garnish. Since lemon balm syrup is not as easily available as elderflower syrup, which you can get at every supermarket in Austria, soon the elderflower-version took over.
The original cocktail uses 150 ml (1/2 cup + 2 Tbsp) prosecco, 20 ml (1 ½ Tbsp) lemon balm syrup, a few mint leaves, and a splash of soda water. It is finished with some ice cubes and a lemon slice.
For Gruber himself, the drink is too sweet, and using elderflower syrup in place of lemon balm, the cocktail becomes even sweeter. This is probably the reason, why many barkeepers add a squeeze of lime juice to balance the sweetness.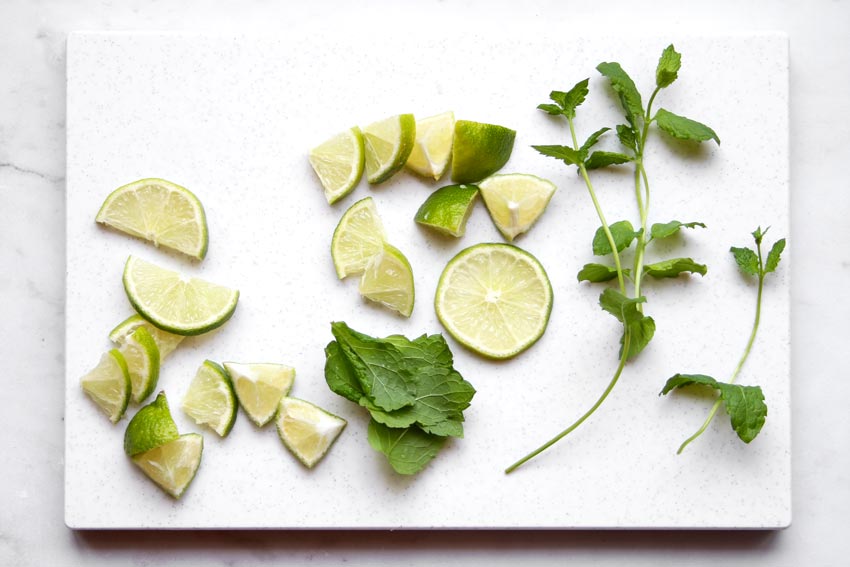 Hugo Variations
There are a lot of different Hugo Spritz recipes out, some using lemon balm syrup, others elderflower syrup, or elderflower liqueur like St. Germain. The lime is sometimes replaced with a lemon or omitted entirely.
And if you think the prosecco is a must, think again! Many Hugo cocktails are made using other sparkling white wines or even regular white wine. In fact, the Hugo cocktail with white wine is my go-to version since white wine keeps longer in the fridge … also, I don't usually have prosecco on hand.
Non-alcoholic Hugo mocktail
Over the years I have turned the regular Hugo cocktail into a delicious alcohol-free mocktail using white grape juice in place of the prosecco and add an additional squeeze of lime juice to make up for the sweetness of the grape juice.
Of course you could simply use non-alcoholic sparkling wine instead of the prosecco. Some recipes use ginger ale as a replacement, which also tastes great but taste-wise is a different mocktail.
Homemade elderflower syrup
By the way, the cocktail tastes best when made with homemade elderflower syrup. I have 2 different recipes on the blog for you: my classic elderflower syrup and elderflower syrup that is made without citric acid, just lemons.
I hope that you'll try this Hugo cocktail. This is my version of it – not too sweet and not too strong but incredibly refreshing! Let me know how you like it in the comment section!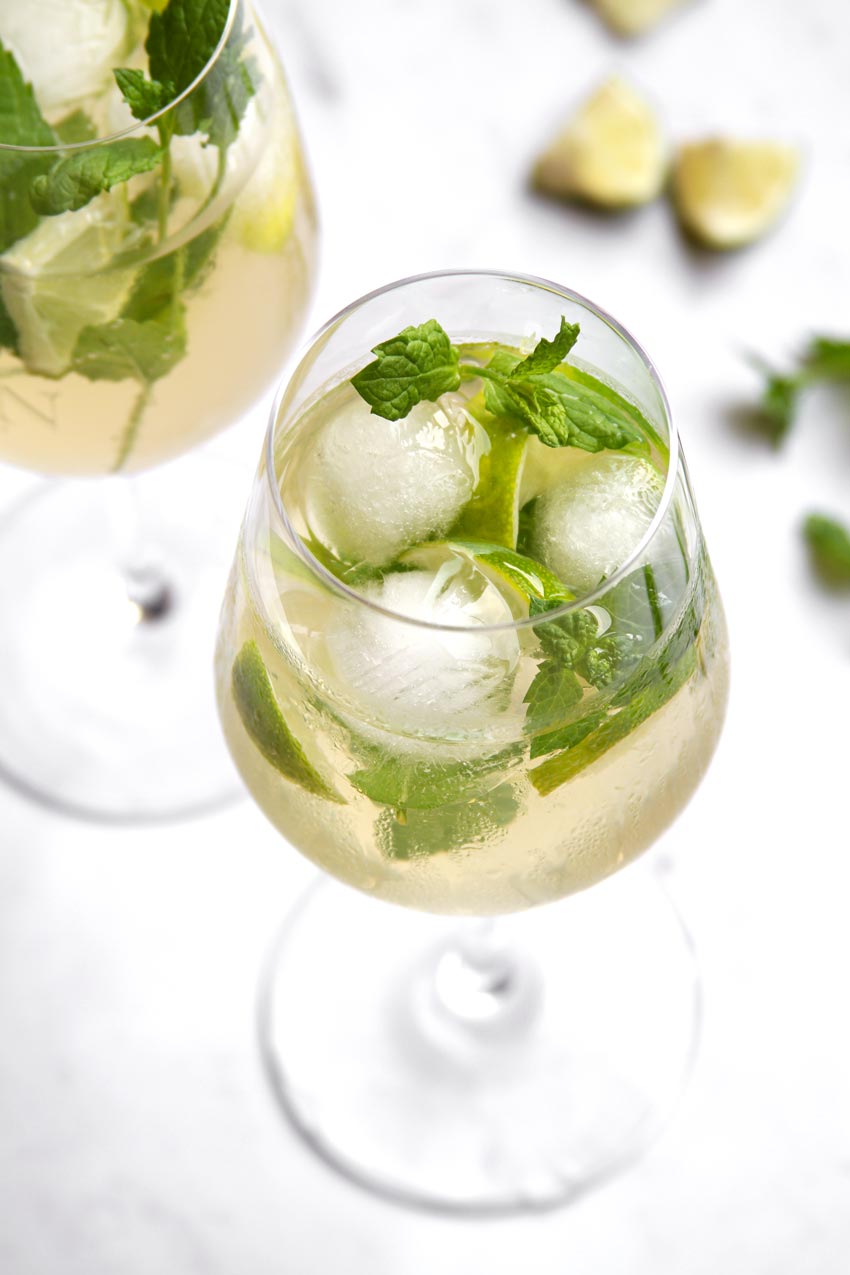 Yield: 1 cocktail
Hugo Cocktail – with Prosecco or White Wine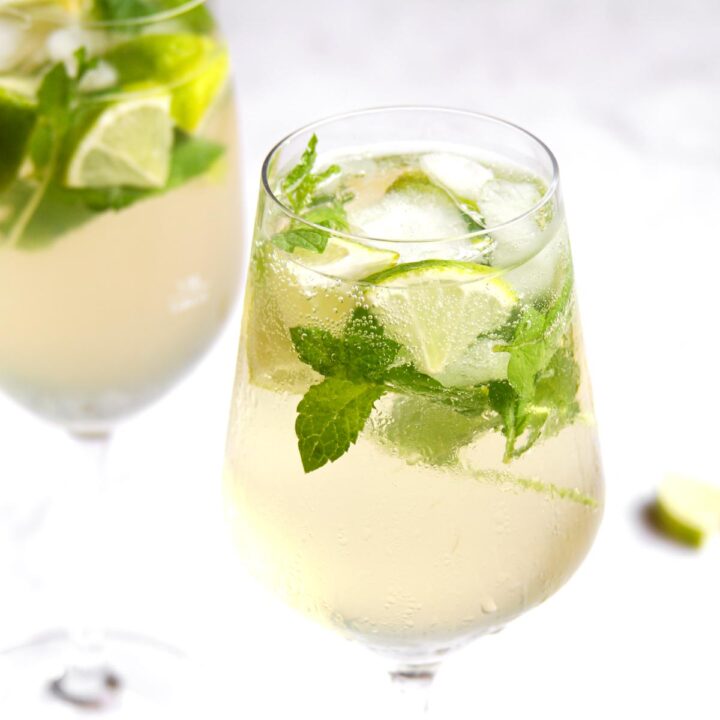 The Hugo Spritz Cocktail is the younger, hipper cousin of the Aperol Spritz. The refreshing and bubbly Italian cocktail contains prosecco (or wine), elderflower syrup, soda water, mint, and lime.
Ingredients
2 sprigs fresh mint
1/4 lime
2/3 cups (160 ml) chilled prosecco (or dry white wine)
1.5 tablespoons (20 ml) elderflower syrup/cordial (if not on hand use elderflower liqueur)
1/4 cup (60 ml) chilled sparkling water (= soda water)
Ice cubes
Instructions
Rinse mint. Pick 3 mint leaves from the bottom of the sprig. Gently muddle between your fingers to release the oils and place in a wine glass.
Cut a quarter of a lime into slices or small pieces. Squeeze out the juice of one or two of the pieces and add it to the glass together with the rest of the lime. You will not need to add more than ¼ of a lime cut in pieces/slices total per cocktail.
Add prosecco, elderflower syrup and sparkling water. Gently stir to combine.
Top with some ice cubes. Garnish with the remaining mint.
Notes
Non-alcoholic Hugo mocktail: For making a Hugo mocktail, replace the prosecco with white grape juice and add an additional squeeze of lime juice to make up for the sweetness of the grape juice. Or simply use non-alcoholic sparkling wine.
Hugo Cocktail – with Prosecco or White Wine
was last modified:
August 23rd, 2023
by