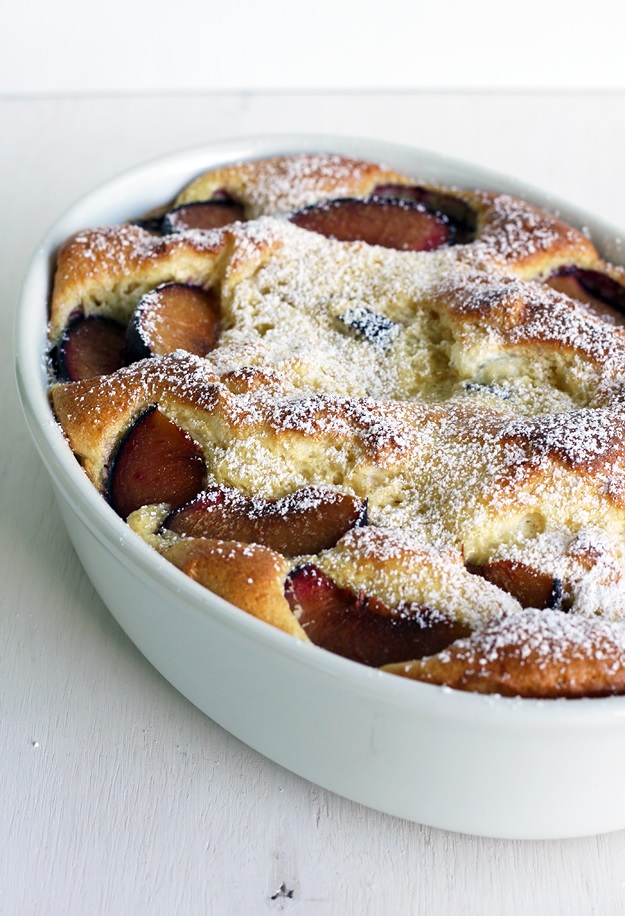 It's still plum season, and since they are easier to carry than pumpkins, I recently bought a couple of them. Back home I thought about what to do with them and suddenly the Clafoutis idea popped into my mind.
Since I haven't had this typical French dessert for quite some time, I went for it – with a few tweaks to the original recipe of course.
I substituted yogurt for milk and plums for cherries. The yogurt gives this (pan)cake-like dessert a nicer flavor. In the recipe below I used 2 huge black plums, about ½ lb in total, but you can also bake Clafoutis with every other type of plum or even other fruits. If your plums are rather tart than sweet, add a little more sugar. The authentic French Clafoutis is originally made using unpitted cherries, but Clafoutis isn't picky at all.
I also added some vanilla extract, a pinch of baking powder, and folded in beaten egg whites for a nice fluffy batter, almost soufflé-like in texture. But other than that, the rest of the recipe is really authentic :-).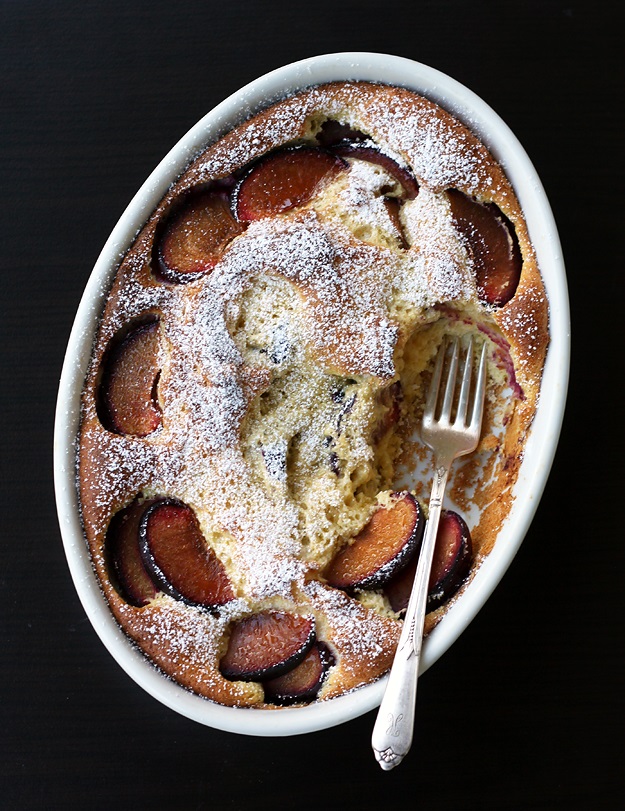 Ingredients
2 big firm black plums or 3-4 smaller plums (½ lb)
3 large eggs, separated
5 tablespoons sugar (65 g / 2 ¼ oz), for a moderate sweetened dessert
½ cup plain yogurt; I used non-fat (100 g / 3 ½ oz)
¼ teaspoon pure vanilla extract
1 pinch of salt
½ cup all purpose flour (70 g / 2 ½ oz)
1 teaspoon baking powder
1/4 cup confectioners' sugar, for dusting
Butter for greasing the pan
In addition: Ovenproof dish (at least 8 x 11 inch) or several individual ramekins
Instructions
Half the plums, pit them and cut them into ¼ inch slices.
Separate the yolks from the egg whites.
In a large bowl beat the yolks together with the sugar (set 1 tablespoon aside) with a mixer until lemon color.
Add yogurt, vanilla and salt and mix until combined.
Mix flour and baking powder. Add the flour to the batter and mix for a few seconds until just incorporated. Do not overmix the batter.
In a separate bowl beat the egg whites together with the remaining 1 tablespoon sugar, using clean and dry beaters until stiff.
Gently fold the stiff egg whites into the batter with a spatula, trying to maintain the batter's volume as much as possible.
Butter the pan and pour in the batter.
Arrange the plum slices on top of the batter. If you do a double-layer of fruit, put the second layer rather on the outer edge than the center (the center will be moist anyway, even too moist if there is a double layer of fruit).
Bake in the 375°F (190°C) preheated oven (middle rack) until lightly browned on top, about 30 to 40 minutes, until a wooden skewer inserted into the center comes out clean.
Take Clafoutis out of the oven and let it cool slightly, then dust with confectioner's sugar.
https://www.lilvienna.com/french-plum-clafoutis/
Did you follow this recipe? You could share your result here. All you need to do is take a picture with your smartphone and send it to 

[email protected]
French Plum Clafoutis (Clafoutis aux prunes)
was last modified:
July 6th, 2017
by